Tim Tebow and Other Deserving AFC Pro Bowl Skill-Position Players
December 24, 2011
Doug Pensinger/Getty Images
I'm excluding the offensive linemen here, sorry guys.
Offense
Quarterback: Tom Brady, New England Patriots; Ben Roethlisberger; Pittsburgh Steelers; Tim Tebow, Denver Broncos
Tebow doesn't have the most attractive statistics, but no one can argue with the one stat that really matters—seven wins and three losses.
Running Back: Arian Foster, Houston Texans; Maurice Jones-Drew, Jacksonville Jaguars; Ray Rice, Baltimore Ravens
MJD hasn't been getting the credit he deserves. If Fred Jackson or Darren McFadden had stayed healthy, I might have given one of them the nod over Rice.
Fullback: Vonta Leach, Baltimore Ravens
Leach paves the way wherever he goes. He deserves another trip to Hawaii.
Wide Receiver: Wes Welker, New England Patriots; Mike Wallace, Pittsburgh Steelers; Vincent Jackson, San Diego Chargers; A.J. Green, Cincinnati Bengals
Welker is really the only pick I'm comfortable with here. Wallace and Jackson are two of a handful of AFC wide receivers with over 1,000 receiving yards and eight or more touchdowns. Green, a rookie, has tallied over 1,000 receiving yards and seven touchdowns.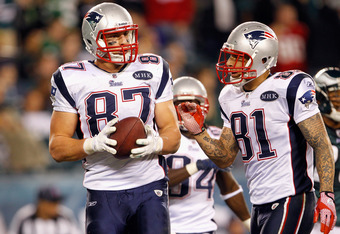 Rich Schultz/Getty Images
Tight End: Rob Gronkowski, New England Patriots; Aaron Hernandez, New England Patriots
These were the easiest choices so far.
Defense
Defensive End: Andre Carter, New England Patriots; Elvis Dumervil, Denver Broncos; Robert Mathis, Indianapolis Colts
What?! A Patriots defensive player in the Pro Bowl?!  He won't be my only defensive Patriot either...
Defensive Tackle: Haloti Ngata, Baltimore Ravens; Geno Atkins, Cincinnati Bengals; Ahtyba Rubin, Cleveland Browns
Ngata anchors a defensive line that has allowed the fewest rushing yards in the AFC. Atkins and Rubin lead the conference in sacks and tackles, respectively.
Inside Linebacker: Brian Cushing, Houston Texans; D'Qwell Jackson, Cleveland Browns
Cushing is the leader of a much improved Houston defense and Jackson is a tackling machine, leading the AFC in the category. Pat Angerer is a very close third.
Outside Linebacker: Terrell Suggs, Baltimore Ravens; Von Miller, Denver Broncos; Tamba Hali, Kansas City Chiefs
These picks were fairly easy in my opinion, although Miller's teammate, D.J. Williams, is also deserving.
Cornerback: Darrelle Revis, New York Jets; Jonathan Joseph, Houston Texans; Kyle Arrington, New England Patriots
Joseph is arguably the best defensive back in a Houston secondary that is second in the NFL against the pass.
Strong Safety: Troy Polamalu, Pittsburgh Steelers
Who else?
Free Safety: Eric Weddle, San Diego Chargers; Antoine Bethea, Indianapolis Colts
I understand the Colts defense is on the field a lot, but Bethea is fourth in all of football with 129 tackles on the season. He's a safety for crying out loud!
Here are my 2011 NFL Awards.