2012 NFL Draft Order: League Confirms Colts Still Leading Suck for Luck Race
December 23, 2011
Thearon W. Henderson/Getty Images
Suddenly, the Indianapolis Colts are on fire.
For those who agree that Stanford quarterback Andrew Luck is the greatest quarterback prospect of all time, that's a bad thing.
In case you missed it, the Colts won their second game in a row on Thursday night against the Houston Texans, winning 19-16 thanks to a late touchdown pass by the great Dan Orlovsky. They are no longer alone at the bottom of the league, as the St. Louis Rams and Minnesota Vikings also have two wins.
Conceivably, this means no No. 1 pick for the Colts, and that means no Andrew Luck.
But those who are pulling for the Colts to land Luck should fear not. Peter King of Sports Illustrated has good news: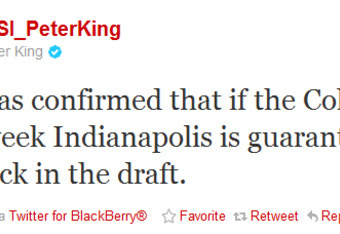 So all the Colts have to do is lose on the road to the Jacksonville Jaguars, and Luck (presumably) will be theirs.
How does this work, you ask?
In the event that the Colts, Rams and Vikings all finish with two wins, the draft order is determined by strength of schedule. Indy's SOS right now is .547, St. Louis' is .566 and Minnesota's is .587.
A loss to the 4-10 Jaguars will lower Indy's SOS even further, putting the Colts out of St. Louis' and Minnesota's reach.
Exactly why the NFL needed to come out and confirm all this is beyond me. It seems pretty obvious once you do the somewhat complicated math.
Regardless, the question is whether or not we can count on the Colts to lose. After all, they've beaten AFC playoff contenders in the last two weeks, and the Jaguars are well south of being an AFC playoff contender. They could easily lose to the Colts.
There is hope for the Suck for Luck supporters, though, and that's that both of Indy's two wins have come at home. The Colts could regress on the road, especially if Maurice Jones-Drew finishes strong in his quest to win the NFL's rushing title.
For now, I'm going to avoid making a pick. But if you don't mind me stating the obvious, what I will say is this:
It's going to be very interesting.