Andrew Luck: Matt Barkley's Decision Improves Value of Top Pick in NFL Draft
December 23, 2011
Jeff Zelevansky/Getty Images
Matt Barkley's decision to return to USC for his senior season certainly won't have any effect on whether or not Andrew Luck is the first pick in the 2012 NFL Draft, though it may well impact who ends up with the Stanford star.
The pool of quarterbacks in this year's draft class is significantly diminished without Barkley, who would've easily been a top 10 pick. Barkley's absence will be a boon to Baylor's Robert Griffin III and Oklahoma's Landry Jones, assuming they both decide to jump into the draft.
And now that the Indianapolis Colts aren't a lock to finish with the worst record in the NFL, ownership of the first pick may come into question. Indy's shocking win against the Tennessee Titans brought the Minnesota Vikings and the St. Louis Rams, both at 2-12, back into the picture.
The Vikings probably wouldn't hesitate to go with Luck if they ended up with the top pick. Christian Ponder has shown some promise under center this season, though considering the reasonably small financial hit they'd take for letting him go, there likely wouldn't be much second thought about bringing in the best college quarterback prospect since Peyton Manning.
The Rams, on the other hand, might be more inclined to wheel and deal if they wind up with Luck in their lap. Sam Bradford's cap hit will be much more reasonable to deal with in the years to come, though it would seem a bit hasty for the team to part ways with the No. 1 pick in the 2010 NFL Draft so soon. True, Bradford's 2011 season has been something of a disappointment compared to his Offensive Rookie of the Year performance in 2010, albeit on account of injuries suffered behind an inept offensive line and an absolute glut of quality receivers.
Surely St. Louis would be better served flipping the top pick to a quarterback-starved team like the Miami Dolphins or the Washington Redskins for a host of other draft picks and players if the opportunity arises. The Fins and the 'Skins figure to go head-to-head for RG3, with the loser either settling for Landry Jones or going for broke if Luck is out there.
Again, thanks to Barkley.
Of course, the Colts are hardly a safe bet to hang onto the pick themselves assuming the standings hold true to form from here on out. They still have to deal with the potentially explosive question of what to do with Peyton Manning. At this point, GM Bill Polian could opt to keep both, using Manning as a sort of mentor to groom Luck a la Brett Favre and Aaron Rodgers in Green Bay.
Except Manning might actually teach Luck a thing or two rather than antagonize him.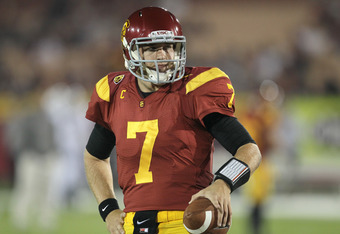 Stephen Dunn/Getty Images
Then there's the scenario in which Manning gets dealt to a QB-hungry team (i.e. Washington, Baltimore, Miami, etc.) for a package of picks and players to speed up the rebuilding effort with Luck under center.
And, last but not least, there's the off chance that the Colts, with everyone expecting that they'll take Luck, will drive up the asking price for the pick before trading it away to make another run or two at a Super Bowl with Manning.
In any case, with one less quality quarterback prospect on the board, the bounty that any team could get for the top pick is now significantly greater than it would've been had Barkley chosen sound business over collegiate lore.