Calculating Green Bay Packers' Title Chances After Embarrassing Loss to Chiefs
December 18, 2011
Wesley Hitt/Getty Images
Sometimes, things seem a lot easier than they actually are. 
Making good coffee. Reading a book without pictures.
Going 16-0 in the NFL.
Sure, no one really looks at 16-0 as a breezy task that can be accomplished by trying pretty hard and using your teeth, but there's still gasping when a formerly invincible team falls to a lesser opponent, an opponent starting a castoff quarterback with no running game and a fired head coach.
And, in the same way people overreacted to Green Bay's 13-0 start, there are bound to be a few detractors who will point to today's loss to the Kansas City Chiefs as unimpeachable evidence of the Packers' 2011 demise.
After all, you can't lose to Iowa State and play for the national title, right?
The Chiefs are a bad team this season. They've been stingy, and they've certainly kept things closer with the league's elite teams, at times, but they're not a good football team. 
They have one of the worst offenses we've seen since Derek Anderson left Arizona, and they've been forced to play most of the season without their starting running back or quarterback.
On Sunday, they welcomed Green Bay into Arrowhead with Kyle Orton, a newly-minted journeyman who'd already thrown three interceptions against the Packers this season, taking the snaps. And they won. In Week 14, the Chiefs were better than Aaron Rodgers, Jordy Nelson, Jermichael Finley, BJ Raji, Clay Matthews, Charles Woodson and the rest.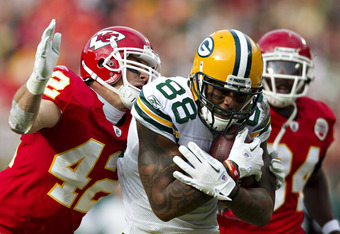 Wesley Hitt/Getty Images
And although at first glance, that seems to be pretty stout evidence that the Packers have lost a step, let's remember who we're talking about.
Green Bay was good enough to win the Super Bowl last year, when they dropped six regular-season games and limped into the playoffs with more injuries than the smart kid in a Lifetime movie. They played today without Greg Jennings, clearly Rodgers' most-trusted target. They played through even more trouble on the offensive line.
The defense was better, too. Not great, by any means, but holding the Chiefs to 19 points should have been easily enough to pick up win No. 14. 
But one game does not define an NFL season. Few would argue with the strength of the Baltimore Ravens right now, but they lost to the Tennessee Titans back in September. The same Titans who were soft enough to hand Indianapolis their first win of the season on Sunday.
The San Francisco 49ers lost the Arizona Cardinals; the Saints couldn't handle the Rams. The Falcons were beaten by Tampa Bay.
You could make a convincing argument that all three of those teams represent more glaring losses than the Chiefs, especially the Rams and Buccaneers.
The Green Bay Packers are the best team in the NFL this season. There's no real doubt. They've beaten Detroit, New Orleans, Atlanta, Denver, the New York Giants and Oakland Raiders.
They have the league's best player in Rodgers, an opportunistic defense led by Matthews and Woodson, and the experience gained by winning it all in 2010.
In fact, the only thing the Packers didn't have heading into today's game was a wake-up, remember-what-it-takes-to-win-it-all moment. 
They have that now. 
Today's loss unraveled Green Bay's hopes of going 16-0. It aided feeble hands wrapped around champagne corks all over South Florida. It gave Romeo Crennel something to get misty-eyed over, and proved that touchdowns aren't illegal in Missouri.
But it didn't damper the Packers' chances of winning it all. If anything, this loss, to a team that had no business coming with 40 points, made Green Bay angry. 
And if the league's learned anything over the past two seasons, it's that you wouldn't like Green Bay when they're angry.