Sam Hurd: Have You Hurd How Dallas Cowboys Beat Chicago Bears Black and Blue?
December 16, 2011
Jonathan Daniel/Getty Images
Sam Hurd, that is.
By now, you know the story. Hurd was busted for allegedly trying to set himself up as a major player in the Chicagoland drug distribution business.
The following is an excerpt from a Washington Post report on Hurd's arrest:
Hurd told the [undercover federal] agent that he was interested in buying five to 10 kilograms of cocaine and 1,000 pounds of marijuana per week to distribute in the Chicago area...
This goes way beyond the recreational drug use of a young, spoiled, rich athlete. This is reportedly a man intent on a significant illegal business venture.
All over the Dallas/Fort Worth Metroplex and around the country, Dallas Cowboys fans heaved a sigh of relief that this happened on another team's watch. Those of us old enough to remember the "White House" days of the early '90s—when, along with other teammates, Michael Irvin maintained a party house where hookers and cocaine could be had in ample supply—know this is news better brought from afar than from your own backyard.
ESPN.com has this little tidbit to remind us all of those halcyon days:
Irvin celebrated his 30th birthday with former Cowboy Alfredo Roberts. According to Texas Monthly, "Party favors included 10.3 grams of cocaine and more than an ounce of marijuana, assorted drug paraphernalia and sex toys." He was also a regular at the "White House," a private pleasure palace near the team's training facility, where he and many teammates enjoyed their R&R, which apparently included just about any wanton activity you could imagine.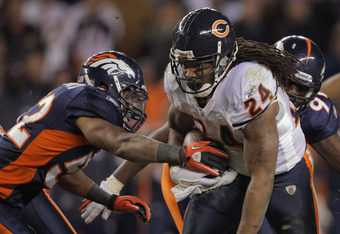 Doug Pensinger/Getty Images
Sam Hurd, however, is just the injury that was added to the insults former Dallas Cowboys have brought to the Windy City and their beloved Bears.
Let's not forget Roy Williams and Marion Barber. 
Roy Williams is a supremely gifted athlete, physically. He has all the tools that seem to point to great success in the NFL. This is why Cowboys owner Jerry Jones felt confident in forking over a first-, a third- and a sixth-round pick in the 2009 NFL draft to acquire the receiver from the Detroit Lions.
Three years later, Jones admitted it was a mistake, cut the underachieving receiver and the Bears scooped him up.
How has Williams panned out in Chicago so far? About like he did everywhere else. He has caught, to date, 26 passes for 357 yards and one touchdown.
The Bears also snatched up RB Marion Barber when the Cowboys released him this past offseason. The man Cowboys fans once called "the Barbarian" has repaid his new team with a pedestrian effort most of the time and a disastrous meltdown Sunday past.
When the Bears faced off against the NFL's version of Clark Kent, rising superstar Tim Tebow, and his mighty Denver Broncos, it was not Tebow that was most responsible for the unlikely Broncos comeback victory.
It was Marion Barber.
The game was won. The Bears had the ball and needed but to run out the clock and go home mile-high victors. But Barber committed the cardinal sin of running out of bounds and killing the clock, leaving Tebow just enough time to captain another comeback. 
The Broncos sent the game into overtime and it appeared Barber might redeem himself on a breakaway run, but he fumbled at his own 34 and cost his team the game.
Williams and Barber deal the Bears misery on the gridiron. Meanwhile, Hurd is accused of dealing drugs on the side...which deals the franchise and the NFL a huge black eye.
While the Chicago brass contemplate the wisdom of signing Cowboys castoffs, somewhere far away, Jerry Jones is sighing his relief.