2010 NFL Draft QB Comparison: Tim Tebow, Colt McCoy or Sam Bradford?
December 14, 2011
Doug Pensinger/Getty Images
I'll go ahead and let you guys in on a little secret of mine, I'm a big fan of Tim Tebow.
Why? Because the guy wins football games.
Not to mention he's fun to watch and is a great role model for people of all ages. That's not enough for some people though, so I'm here to try and change your opinion just a little bit on the guy. People like/dislike him for different reasons, whether it's how he carries himself off the field or if it's how his stats aren't good enough to be a quarterback in the NFL.
So I did a little research, and here is what I have found.
In the 2010 NFL Draft, there were 14 Quarterbacks selected overall. Of those 14, there are only three that are currently starting for their respected teams. The three are Sam Bradford, Colt McCoy, and you guessed it, Tim Tebow.
With that being said, let's take a look at their stats and see how each compare to one another.
Colt McCoy:
Rating-74.6
Completion Percentage-57.2
Touchdowns-14
Interceptions-11
Fumbles- 5
Avg- 5.90
Yards Per Game-210.2
Attempts Per Game- 35.6
Rushing- 3.5 Yards Per Carry, 0 TD, 17 First Downs, 6 Fumbles(1 lost)
Sam Bradford:

Rating-70.5
Completion Percentage- 53.5
Touchdowns- 6
Interceptions- 6
Fumbles-6
Avg- 6.06
YPG- 216.4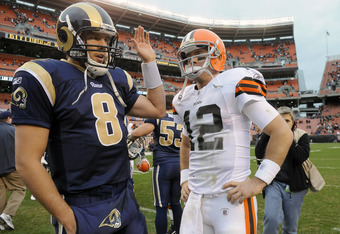 Jason Miller/Getty Images
APG- 35.7
Rushing- 1.4 YPC, 0 TD, 3 FD, 4 Fumbles(2 lost)
Tim Tebow:
Rating- 83.9
Completion Percentage- 48.5
Touchdowns-11
Interceptions- 2
Fumbles- 4
Avg.- 6.52
YPG- 117.2
APG-18
Rushing- 5.4 YPC, 3 TD, 25 FD, 3 Fumbles(0 Lost)

I know I don't have total yards listed on here, but they have all played a different amount of games due to injuries, and with Tebow not being named starter till the 6th game, I just did the averages.
Yes, Bradford and McCoy both have about 1,000-plus more yards then Tebow, but as you can see, they also average two times the amount of throws per game.
To be fair, I also didn't put in total rushing yards because obviously Tebow dominates that category. On average, though, Tebow is ahead in every single category except for completion percentage.
Yes, he has accuracy issues, but it's his first year as a starter. His owner, John Elway, one of the greatest QB's of all time, only completed 47.5 percent of his passes in his first year. Overall, though, it seems that Tim Tebow is doing fine for himself, and if people choose to critique his game, they should show equal if not more criticism, to the other two as well. 
I think the most important stat missing here is wins, of course. Tebow is 7-1, this year. That alone is more wins than McCoy (4-9) and Bradford (1-9) have combined. Bradford arguably has the best weapons, and he only has two in Steven Jackson and Brandon Lloyd.
Then it's a toss-up between the Browns and the Broncos; they both have good running backs and then a few receivers who would be lucky to be second on the depth chart on any good team.
Based on opponents' YPG, the Broncos have the second best D of the three teams (19th overall), yet the people who refuse to give Tebow credit give it to them. Yes, they have been amazing of late, but this is the same defense that was 1-4 under Kyle Orton.
Once again, Tebow comes out on top of the other two. 
Now on to the bigger picture. People look at his overall stats and compare them to the best in the league. How can a guy in his first year, in a brand new system with a mediocre, at best, offense, compare to those of Brady's, Bree's, and Rodger's?
They can't, so as he develops and continues to win, just sit back and enjoy the show.

*All stats are from ESPN.com