NFL Power Rankings: Giants Move Up 6 Spots with Dramatic Road Win
December 13, 2011
Tom Pennington/Getty Images
Once again, the NFL shows us why football is the most-watched sport in America. What a weekend it was. First and foremost, congratulations to the Houston Texans for winning their first division title in franchise history.
The only disappointing thing this weekend was that the Monday Night matchup may have been the least appetizing matchup of all time. Nonetheless, the weekend was outstanding.
That guy in Denver did it again. The Packers and Colts did what they do best and for the first time in NFL history, we had five comebacks of 12 or more points in the same week.
The injury bug struck once again as the Packers and Cowboys lost critical offensive players.
And perhaps, most importantly, heading into the Sunday Night game, I trailed by 80 points in my fantasy league, and came back to win and secure the final playoff spot in my league. Anyways, back to the important stuff. Here are the latest power rankings!
Teams' previous rankings in ( ).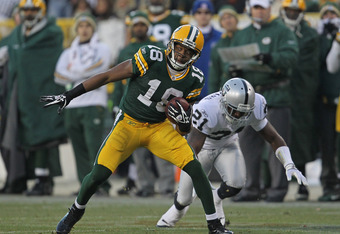 Jonathan Daniel/Getty Images
1.       Green Bay Packers (1): After losing Greg Jennings to an injury, you have to believe they may start resting players in these final few games.
2.       New Orleans Saints (2): The Saints are just a different team when they play on the road. Nonetheless, Drew Brees and the offense had a dynamite second half and secured a playoff berth.
3.       Pittsburgh Steelers (3): Big Ben might be the toughest quarterback the league has ever seen not named Brett Favre.
4.       Baltimore Ravens (4): Get Ray Rice the ball, and you win a lot of football games. The Ravens are coming on strong at the right time.
5.       New England Patriots (6): Rob Gronkowski is simply a man among boys. With that said, is New England seriously a Super Bowl threat with that defense?
6.       Houston Texans (7): Everyone has injuries, but it is scary to think where this team could go if they had a healthy Matt Schaub and Andre Johnson.
7.       San Francisco 49ers (5): Losing to the Cardinals is a troubling sign. Let's see how they rebound against the defending AFC Champs next week.
8.       Denver Tebows (8): He completed just three passes in the first three quarters. He led his team to precisely 0 points in the first 12 possessions, or 57 minutes. But, he won the game. The kid has some magical moments. But in the end, sometimes it's just better to be lucky rather than good.
9.       New York Jets (9): Perhaps it's an obvious statement, but the Jets' final three games will decide their season. Road games against the Eagles and Dolphins sandwich a home game against the Giants. The Jets could conceivably go 3-0 or 0-3. They likely need to win at least two to make the playoffs.
10.   Atlanta Falcons (15): Julio Jones continues to show why the Falcons spent a high draft pick on him. This could be a sleeper team come playoff time.
11.   New York Giants (17): I'm still not sure I've digested that Sunday Night game. Somehow, the Giants came away with a win and saved their season.
12.   Detroit Lions (13): The Lions look for their first winning season since 200 as they travel to Oakland this week.
13.   Dallas Cowboys (10): As a diehard sports fan myself, I cannot help but be sympathetic to Dallas fans. Back-to-back excruciating losses. If Dallas fails to make the playoffs, Tony Romo is going to spend the entire offseason thinking about the slight overthrow on third down late in the game that would have been a sure 80-yard touchdown.
14.   Chicago Bears (12): They got Tebow-ed, sort of. Marion Barber cost the Bears this football game on two separate occasions. The Bears' playoff hopes may have come to an end.
15.   Cincinnati Bengals (14): Cincy has lost 4 of 5 but hope is not lost yet. They have a great chance at being 9-6 as they head into their season finale against the Ravens.
16.   Tennessee Titans (16): Tough loss to swallow for the Titans. For the second time this season, Jake Locker came in and played extremely well. Tennessee has a bright future with Locker, Kenny Britt and Chris Johnson, if he can get back on track.
17.   San Diego Chargers (18): After an ugly six game losing streak, could the Chargers run the table and find themselves in the playoffs?
18.   Oakland Raiders (11): The Raiders take a big tumble in this week's rankings. Carson Palmer has really struggled lately. The must get back on track against Detroit if they want to take part in playoff football.
19.   Arizona Cardinals (20): Don't look now, but after being 1-6, the Cardinals could finish 9-7 and grab that final wild-card spot.
20.   Seattle Seahawks (21): Seattle has a much tougher schedule than Arizona, but if they can run the table, they too could sneak into that final playoff slot.
21.   Buffalo Bills (19): Six straight losses has Buffalo out of the playoff picture. If they don't figure things out in a hurry, they could lose their final three as well.
22.   Philadelphia Eagles (23): It's a long shot, but the Eagles still have playoff hopes as they are two games behind with three to go in the division.
23.   Kansas City Chiefs (22): Injuries have clearly hurt the Chiefs this season. I'd like them to be a playoff contender next season. I don't like their decision to fire Todd Haley. I understand it, but I don't like it.
24.   Carolina Panthers (24): The defense and an ill-advised pass by Cam Newton helped the Panthers blow a big second-half lead.
25.   Jacksonville Jaguars (29): Maurice Jones-Drew undoubtedly helped numerous fantasy teams reach the playoffs with his four total touchdowns.
26.   Miami Dolphins (26): For the first time in almost two months, the Dolphins looked bad. As a result, Tony Sparano was shown the door.
27.   Tampa Bay Buccaneers (25): Being outscored 41-0 and committing seven turnovers isn't usually the blueprint to getting a win. It's tough seeing the Bucs getting any more wins this season.
28.   Washington Redskins (28): In what many thought would be a blowout, this game came down to the final moments when Washington had a chance to tie. The Redskins are playing hard for their coach, who may be coaching his final games in Washington.
29.   Cleveland Browns (27): The Browns have scored more than 17 points just twice this season. The offense just doesn't have enough talent to compete with most teams.
30.   Minnesota Vikings (30): The Vikings are starting to show some spark on offense and should focus on improving their defense in the offseason.
31.   St. Louis Rams (31): The Rams have issues on both sides of the ball. At this point they have easily emerged as the worst team in the division.
32.   Indianapolis Colts (32): The Colts should simply begin preparing their game plan for Week 17 against the Jags, because that is their only chance at getting a win this season.