Philadelphia Phillies: 5 Realistic Offseason Moves the Phils Need to Make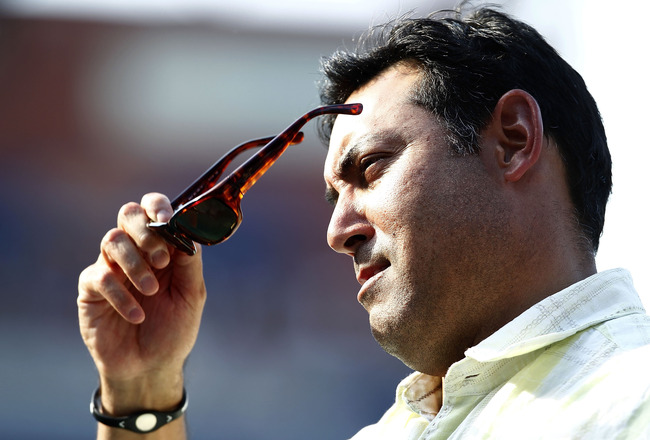 Ruben Amaro is not done yet, despite the succesful start
Jeff Zelevansky/Getty Images
The Phillies have often followed up Winter Meetings with substantial moves the following week. They use the meetings to set groundwork for moves, and they finalize them once they return home.
With this being the week on the calendar which saw moves such as the Raul Ibanez signing, Roy Halladay trade and Cliff Lee signing, there is reason to believe Ruben Amaro will be active this week. We already have seen him move Ben Francisco as part of his reconstruction of the bench.
Monday night will also see the team tender contracts to their arbitration-eligible players. Matt Gelb reports that a source says the Phillies expect to tender contracts to Wilson Valdez and Kyle Kendrick.
Fans of Cole Hamels, as well as those who enjoy "Pence's Proverb," should have no reason to worry about Hamels and Pence being non-tendered. They'll be back.
So what could be next? Having already been active, the Phillies have addressed several spots on the roster. However, there are still five types of moves the Phillies will look into making during the remainder of the offseason, ranked in order of when you should expect to see them occur.
Sign a Left-Handed Reliever

Manuel would be aided having another lefty option
For whatever reason, this is something the Phillies have struggled to find any success in doing over the past few years. Their Dennis Reyes deal fell through and likely wouldn't have worked too well anyway, they outbid Atlanta for George Sherrill last season but did not sign him, the Jack Taschner experiment did not work and Arthur Rhodes was brutal in 2006. Matt Smith, the gem of the Bobby Abreu deal, lasted 23 games.
Aside from J.C. Romero and Scott Eyre, both of whom were handed to the Phillies in-season, the team has been awful at going out and acquiring left-handed relief pitchers.
With Antonio Bastardo set to be the only sure lefty in the bullpen, they could use a second one. Joe Savery and Jake Diekman could receive looks during Spring Training, but a stable veteran would provide more comfort.
It also would help provide depth for both injuries as well as for late games in which Manuel would like to play the matchups.
They have been linked to Sherrill again this season, so it would not be surprising to see him choose the Phillies this time.
Moving Dom Brown

Some of Brown's struggles

Take a look at the corner outfield positions on the organizational depth chart. In left field, you'll find the powerful John Mayberry Jr., under team control through the 2016 season. Mayberry is slated to be the team's opening-day left fielder after posting a .513 slugging percentage, providing steady defense in the outfield and even stealing a few bases last season.
Moving to right field, you'll find the two-time All-Star Hunter Pence. He is under team control for the next two seasons. Backing both of those players up is Laynce Nix, who recently was signed for two seasons. Nix bats left-handed.
Albeit terribly, Brown has played right field for most of his career but was moved to left field last season. He bats left-handed.
So does the corner-outfielding, left-handed batting Domonic Brown fit into the team's plans? It doesn't appear that he does.
Before his value slips any further, this offseason is the time to trade Brown. There are plenty of teams looking for raw outfielders. This is the same person who was requested for in return of Roy Halladay—twice. So there is reason to think he could again be wanted.
He was discussed at the Winter Meetings, being linked to a move for Gio Gonzalez.
Considering that he is no longer a fit, has a plummeting value and is appealing to other teams, do not be surprised if Brown is moved this offseason.
Re-Sign Jimmy Rollins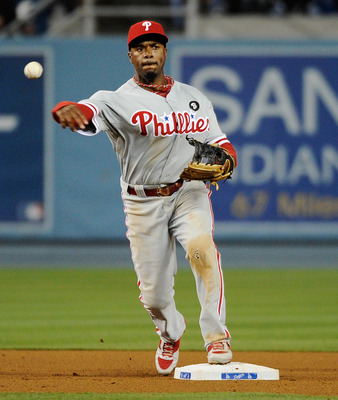 Kevork Djansezian/Getty Images
This one is growing increasingly likely to occur. The two other teams interested in Rollins this season, the Brewers and Cardinals, recently signed shortstops Alex Gonzalez and Rafael Furcal respectively. The Phillies' only other option at this point appears to be a Freddy Galvis/Omar Vizquel split of the position. That's unlikely to happen for a number of reasons.
While it is expected throughout the baseball world that this deal gets done, it may take some time. Rollins, understandably so, feels the team got the better end of his deal which ended up paying him $46.5 million over the past six seasons, after a 2011 option was exercised.
The team also wants to minimize the amount of years they guarantee to the shortstop. Rollins is looking for five years.
This could take some time, but expect a deal to get done.
Add to the Organizational Depth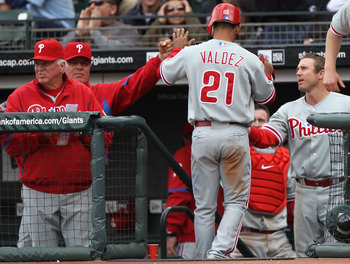 Jed Jacobsohn/Getty Images
The depth does not necessarily have to take place at the Major League level, but adding some possible major-league-ready players to the organization is key. These types of players usually fill out the AAA lineup but are adequate ball players.
It may be an afterthought, but it can go a long way in helping a team. Look at Wilson's Valdez 2010 season as an example of where this becomes useful. These players are good pieces to turn to in the case of a short-term injury, a need for extra depth on the 25-man roster when the schedule dictates or filling in for bereavement-type cases.
Who knows, maybe they find a niche when given a shot and become valuable pieces.
Remember, Howard is coming off a very serious injury, Placido Polanco is recovering from double hernia surgery, Shane Victorino has spent five stints on the DL the past five seasons and Chase Utley is dealing with a chronic knee injury.
Looking at the current group, it could use a few more bats, and maybe an arm or two. They brought back Dave Bush, but a need for another potential starter or long man could become exigent should Kyle Kendrick need to step into the rotation for an extended period of time. Guys they've used in the past, such as Rodrigo Lopez and those type of league veterans, will suffice.
Aside from signing them as free agents, a good place to look would be non-tendered players or those placed on waivers. Greg Dobbs is a former waiver pickup.
Again, these players are just for depth, just in case anything happens like it did to the 2010 infield.
This is something they can collect throughout the offseason, but do not neglect it.
Work out Long-Term Deals to Members of Current Roster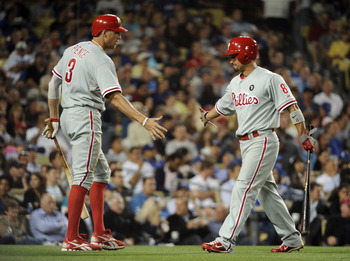 The team can benefit from giving Pence and Victorino long-term deals
Harry How/Getty Images
This is something the Phillies have done in January the past few seasons. They usually do it to avoid arbitration, but sometimes they will do it to secure a player for the future. An example of this is the oft-trending Joe Blanton contract of early 2010.
Three players that fit as candidates for these types of deals are Hunter Pence, Cole Hamels and Shane Victorino.
Pence and Hamels are arbitration-eligible. Victorino is entering the final year of his three-year deal he signed when in a situation similar to Pence, being two years away from becoming a free agent in January. Like Victorino, Hamels too can be a free agent following the season.
Getting a Pence deal would be nice simply to avoid having to potentially go to arbitration for the next two Februarys. Signing Hamels long-term would ensure having at least three aces under control for future seasons for ace-aholic Ruben Amaro Jr.
And although he's often part of fans' pipe-dream trades, Victorino is just as valuable of a piece to the overall team as anyone else. The team could benefit from having the three-time Gold Glover and two-time All-Star roam around centerfield for future seasons.
Because of the Phillies' history, especially recently, to take care of players in these types of situations with contracts, there's a good chance it will occur again this offseason, although maybe not until January.
Keep Reading

Philadelphia Phillies: Like this team?