Denver Broncos Football: Trent Richardson Best Draft Option for Tim Tebow
December 12, 2011
Kevin C. Cox/Getty Images
The Denver Broncos are having a magical season, but the 2012 NFL Draft is just around the corner. It's time for the Broncos brass to start planning ahead and decide whether or not to build around Tim Tebow.
At the moment, Tebow is their guy and likely will remain so next year.  The system they run is working, albeit in an ugly fashion. As time progresses, Tebow will have more and more passing attempts in a seamless transition from Red Grange football to John Elway football.  
With the Broncos' surprising success also comes the handicap in the draft. Even if the front office wanted to draft a franchise quarterback, there likely wont be anyone available worth using a first-round pick on. 
Andrew Luck, Matt Barkley, Robert Griffin III, and Landry Jones will all be off the board by the time the Broncos get their shot. To trade up is too risky. Only Luck seems like a sure-fire NFL quarterback. The Broncos would have to trade away half their franchise to the Colts to get him. As far as the other guys go, drafting quarterbacks is the biggest crapshoot in the NFL.
Denver also has some glaring issues in the future of the defense. Champ Bailey is 33 years old, as is Andre Goodman. Both of these starting cornerbacks aren't getting any younger. Do both of them have one more good year left in him? Should the Broncos trade their butts off to get Morris Claiborne?
Even with aging cornerbacks, the defense seems more than capable of holding its own heading into 2012. Especially with rookie Von Miller blowing up the line of scrimmage, that's a pick I had to eat crow on. I called them "idiots" for not taking Marcell Dareus.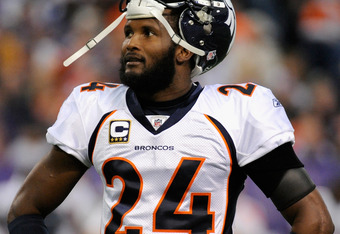 Hannah Foslien/Getty Images
What the Broncos need right now is more offensive power. What they need is someone they can instantly plug into the system and have success. What they need is a running back to help carry them into the 2013 NFL Draft.
As a third-stringer Willis McGahee may be the most surprising player on the team, even over Tebow himself. He may not be a household name, but he's carried the rock a lot in his career. He's had four seasons where he carried the ball more than 250 times, including 325 attempts in 2005 with the Buffalo Bills. He has never had fewer than 100 carries in a season.  
The running back position has the lowest longevity in the NFL. McGahee is 30 years old. Once a back eclipses the 30-year mark, it really starts to take its toll.  
Knowshon Moreno has been a great example of the kind of beating running backs take. He does not look to be the future back of the franchise.  
The Broncos are relying heavily on a strong running game this year. They will need it just as much next year. They need to draft a running back that can step in on Day one and be a contributor. No one in the nation is as NFL-ready (including Andrew Luck) as Alabama's Trent Richardson.
It's no secret that running back is the easiest role to step into from college to the pros. You need the body and the instincts. You either have them, or you don't. And boy does Trent Richardson have both.
He's fast, agile, and strong. He's stronger than many NFL linemen, and that is not an exaggeration.  
Richardson in the backfield would take an immense load off Tebow's shoulders. It would allow him to carry the ball a lot less, as well as producing solid yardage.  
So what should the Broncos do? They need to decide whose age will catch up with him first, Bailey's or McGahee's. To expect something out of Moreno in 2012 is quite a gamble.  
Should they take a fine cornerback, or take a running back that the NFL hasn't seen since Adrian Peterson arrived in 2007? Guys like Morris Claiborne show up just about every year, but guys like Richardson only come around once every four or five years, if that.  
Richardson can run, catch and block. He's nearly impossible to tackle alone. He has sure hands, and is deadly in space perfectly displayed in this video. As a blocking running back, he is unrivaled in all of college football, and possibly the NFL in the future.  
As stated before, he's stronger than many NFL linemen, rumored to bench over 475 lbs. and squat over 600 lbs—more than adequate to take on any blitzing linebacker.  
The Broncos need Richardson, and they need him bad. However, the question is not whether or not they need him, but how far will they go to get him?
Running backs don't turn franchises around like quarterbacks do. Even the legendary Barry Sanders couldn't help the Detroit Lions go anywhere meaningful. What happens when you already have a quarterback that turned the franchise around, and then you add a game-changer like Richardson?
One thing is certain, however, when you have a player like Tebow it may be a good idea to build around him.  His 7-1 record isn't a fluke. Maybe at 3-1, but not 7-1. He needs to be complemented. While McGahee has done a decent job, the Broncos need a little more "umph." 
The 2012 NFL draft is like playing pin the tail on the donkey. Although when it comes to drafting Richardson, it's like playing without the blindfold. Barring injuries, he may very well be the most surefire pick in the draft. 
If the Broncos are convinced that Tebow is magical and can evolve into an NFL quarterback, then they will decide to build around him. In the upcoming draft the best way to do that is to get Richardson.