Toronto Blue Jays: Winter Meetings Review According to TPR
December 12, 2011
Ezra Shaw/Getty Images
The golden boy, Alex Anthopoulos, didn't make any ground-shaking moves at the Winter Meetings, but he quietly made his team better. The Athletics and Mariners are finding out about how you survive in the same division is two heavyweights.
Anthopoulos (and Andrew Friedman) already have that experience.
He flushed out the bad contracts and now is prepared to spend some money. So far, there hasn't been anyone to pay, but he did make one significant trade to improve the back end of his bullpen.
Experience tells us that he isn't done.
Infield
Kelly Johnson accepted arbitration. That fills the only major hole that the Jays had on the diamond. Johnson had a horrible season last year, but he has impressive power and he is fairly affordable.
He is flanked by Adam Lind, Yunel Escobar, Brett Lawrie and Edwin Encarnacion. All of them bring offense to the table.
J.P. Arencibia is entering year two behind the dish. He needs to pick up the pace as prospects are on the come-up. Anthopoulos added Jeff Mathis in a trade with the Angels. If he starts any more than two games a week, it will be too many. Mathis is horrible at the plate, but he is great with pitchers and generally solid all the way around defensively.
Out of the others, Lawrie is poised to be a star. He put up unbelievable numbers in a short time. Encarnacion is a butcher with the glove, but that doesn't matter now. He can DH full-time, where he will contribute 20 or more home runs and solid run production.
Escobar was a brilliant move for Anthopoulos as he traded a bad bat/brilliant glove shortstop in Alex Gonzalez for a player that can do both.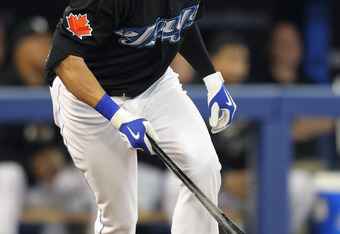 Claus Andersen/Getty Images
Outfield
It's funny how fans think Jacoby Ellsbury was robbed of the MVP award when they gave it to Justin Verlander. Bautista was the best player in the league by a very significant margin. He had the best TPR scores in all of baseball and more than 70 runs over Verlander.
Oh well, the voters very rarely support players on bad teams even when they are the best player in the league.
Colby Rasmus came over in a lopsided deal last July. The package indicates what the Jays think of him. Scouts are divided. Some believe he can still be a star, while others think he is what he will always be.
If he becomes a star, Anthopoulos will look like a genius. Otherwise, a little luster will be worn off the shine.
Eric Thames doesn't get a lot of pub, but he did look very good in left field at the end of the season. The emergence of Thames allows the Jays to sit Rajai Davis on the bench. He can't hurt the Jays there.
Plus, it gives the Jays a much deeper lineup that will come up to bite people if they aren't looking.
Starting Rotation
This is where the Jays come up short. They have Ricky Romero and Brandon Morrow at the top of the rotation. That's a good start, but there was a huge drop-off after those two. If Anthopolous can find even one solid starter somewhere, the Jays chances will be a lot better.
Kyle Drabek is an impressive prospect still, so his numbers may turn around. Henderson Alvarez and Brett Cecil are passable as fifth starters, but having both in the rotation is a drain.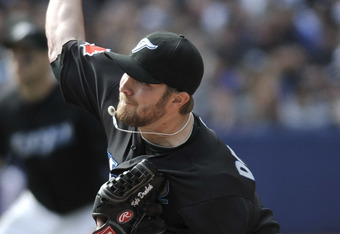 Brad White/Getty Images
Having Dustin McGowan anywhere near a mound is a bigger drain. He might have a comeback since he has been injured for much of the past half-decade. Either way, there is hope for a better rotation if they can just find one more above-average starter.
Bullpen
In a stroke of brilliance, Anthopoulos dealt a minor league arm for Sergio Santos of the White Sox. That move immediately gives them a quality one-two punch in Santos and Casey Janssen. Carlos Villanueva could become a quality reliever as well.
You need more than three relievers to make a go of it, so he will need to add at least one to the mix.
Rest of the Offseason
If Anthopoulos adds one quality starter and one quality reliever, the complexion of the AL East may change pretty dramatically. It is difficult to see the Jays passing three playoff-type teams, but stranger things have happened and they have enough pieces to make it interesting.