Hanley Ramirez Moving to Third? The 10 Best Players To Vacate Shortstop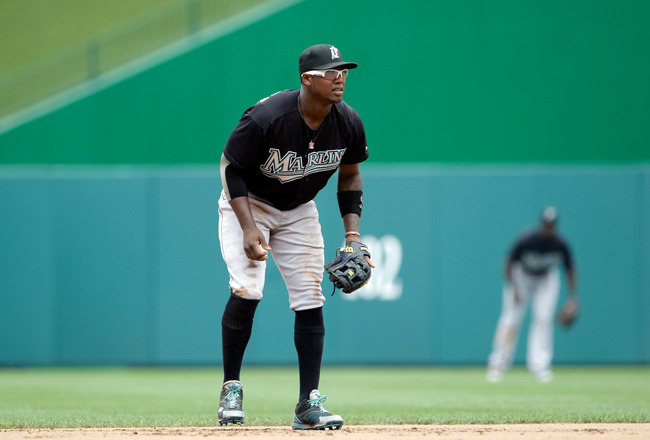 With the signing of Jose Reyes, the Marlins will be asking Hanley Ramirez to switch positions
Rob Carr/Getty Images
There have been so many great shortstops in MLB history. Many of them have been career-long shortstops. Players like Omar Vizquel and Ozzie Smith are mainstays up the middle.
There have been a select number of special players, however, who have been able to move from their position at shortstop to another spot in the field and be just as successful. In some cases, even more so. Before I begin this, let me lay down a few guidelines.
First, the player must have been a full-time, starting shortstop for his team. Secondly, he must have been in such position for at least the first three seasons of his career.
Third, he must be considered successful before the move. Not necessarily the best player, but at the very least a solid one. Finally, and this applies more to the final five on this list, the shortstops on this list must have had some level of legitimate success after their respective moves.
Whether the player was moved to make room for a younger prospect or the team wanted to save the player's body due to age, whatever the reason, the players on this list all fit the criteria.
No. 10: Hanley Ramirez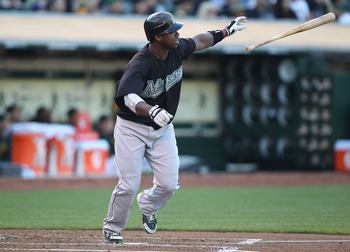 Hanley ranks just 10th because he has yet to make the move
Jed Jacobsohn/Getty Images
The new-look Miami Marlins have gone on a shopping spree this offseason. One of the prized catches they were able to reel in was Jose Reyes. It's widely agreed that Reyes will be the next shortstop in Miami. They have had a dynamic one for the past several years. His name is Hanley Ramirez.
There have been rumors that Ramirez, despite being very close friends with Reyes, is not happy with the team considering asking him to move positions. This has led to multiple days of "trade Hanley rumors."
If he ends up staying, accepting a move to another spot and understands the team's needs more than his own, his bat will surely be a continued, steady force in the lineup. In fact, he would be considered a better teammate for it.
Before last season, Ramirez hit no fewer than 17 home runs in 2006, only his second season, capping off at 33 long balls in 2008. His high for RBI total is 106 in 2009. He has never quite put all the numbers together because he never had a chance to get comfortable in one spot in the lineup.
With the addition of Reyes and Emilio Benefacio batting second, he would most likely settle into the three-spot quite well. He has posted a .306 AVG, 134 home runs and 434 RBI in just six full seasons. He has also been an All-Star game selection three times in that time.
With a secured role in the offense, a dear friend by his side and a physically less-demanding position, he would be able to relax more and perform better.
No. 9: Buddy Harrelson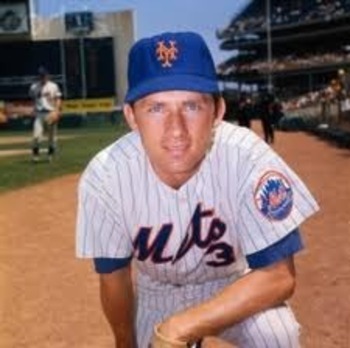 Buddy Harrelson was known for his passion and grit at the short stop position, then he made the switch
Coming in at No. 9 is Buddy Harrelson. The long-time New York Mets shortstop from 1965-1977 was a staple in the infield in Queens. To this day, he still ranks seventh in hits for that franchise and third in triples.
He was never a home run hitter, though. In fact, he only hit seven home runs in his entire career. He wasn't known for his hitting though. He was known for his fiery competitiveness and his fielding.
He won a Gold Glove in 1971, was an All-Star that same year and a World Series with the "Miracle Mets" in 1969. The moment he may be best known for, however, occurred in 1973 against one of the greatest names in MLB history.
During the NLCS that year, Harrelson and the Mets played Pete Rose and the Cincinnati Reds. Pete Rose, the man they call Charlie Hustle, slid hard into second base in an attempt to break up a potential double play.
Harrelson took exception to it, and the two began to exchange words which led to a full-out, bench-clearing brawl. Fans began throwing objects onto the field toward Rose, and the game was nearly cancelled by the umpires as a direct result of the skirmish.
Oddly enough, the two later became teammates in Philadelphia in 1979. When Harrelson was a member of the Phillies, he split time between shortstop and second base.
He did so for two years until he signed with the Texas Rangers as a backup short stop in 1980 and retired after that season. He later managed the Mets in 1990 and 1991.
No. 8: Miguel Tejada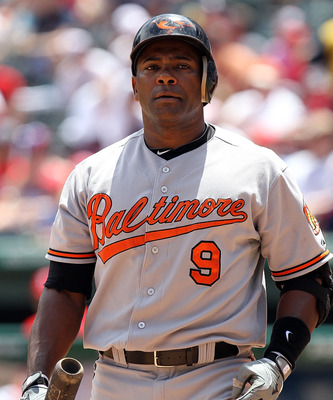 Miguel Tejada has become a journeyman, but he started as a promising SS for Oakland
Ronald Martinez/Getty Images
Coming in at No. 8 on the list is Miguel Tejada. Tejada started out in Oakland in 1997. Defensively, he was solid, but it was his offense that caught attention. His third season was his breakout year. In 1999, he hit 21 home runs to go with his 84 RBI and 93 runs scored.
As his numbers started to climb, his status as a top shortstop did too. When the so-called baseball "experts" mentioned the great shortstops in that era, they mentioned Derek Jeter, Alex Rodriguez and Tejada.
His A's teams made the postseason four consecutive seasons from 2000-2003, and he was a major part of the offense in that time.
He hit 27 or more home runs all four seasons and collected an All-Star selection and an MVP award in 2002. He left Oakland for Baltimore in 2004 and eventually Houston in 2008, where he remained a shortstop at both stops and racked up another five All-Star games.
To date, after 15 seasons, he has totaled 304 home runs and 1,282 RBI in 2,118 games. In 2010, he was traded from the Baltimore Orioles (during his second stint) to the San Diego Padres. The Padres moved him to third base.
From that point to present day, he has played more as a third baseman than a shortstop. He still has a few seasons left to build on his numbers, but all signs point to his full-time shortstop days being a thing of the past.
No. 7: Dave Concepcion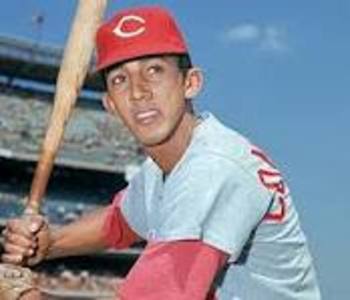 Concepcion was brilliant as SS for the Reds. He was only moved to make room for another potential HOF player
In the 1970s, the Cincinnati Reds were the premiere dominant team in the league. They had Johnny Bench, Joe Morgan, George Foster, Pete Rose and Dave Concepcion. They made four trips to the World Series, winning two of those in 1975 and 1976.
Concepcion was the starting shortstop from 1970-1986. In that time, he won five Gold Gloves (1975, 1976, 1976, 1977 and 1979) and was selected to nine All-Star games.
While he was never the great hitter that some other players on those Reds teams were, he still managed to get on base with a career .322 OBP and steal bases with 321 career swipes.
From the time he broke into the league in 1970 to the day he retired in 1988, he was the very essence of playing with heart and talent. His defensive abilities cause him to be a fixture in Cincinnati for nearly two decades.
The only way that the Reds organization could have moved him was if they had an even more brilliant shortstop than the great Dave Concepcion. They may have. In 1987, Concepcion was moved to second base permanently to make room for Barry Larkin at shortstop.
Larkin only went on to become a league MVP in 1995 and a three-time Gold Glove winner himself. The only reason he's not on this list, however, is because he never vacated the shortstop position to continue his career. Both are still waiting for a call from the Hall of Fame in Cooperstown.
As for Concepcion, he remains a legend despite being replaced by another legend. In particular, his legacy remains securely in tact with the fans of that 1970s Big Red Machine.
No. 6: Nomar Garciaparra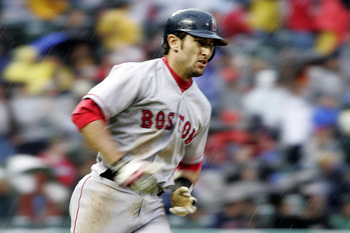 Nomar was a major part of the Red Sox resurgence in the late 1990's into the early 2000's.
Brian Bahr/Getty Images
Coming at Number 6 on the list is Boston Red Sox short stop Nomar Garciaparra. Garciaparra was a tough, hard-hitting short stop for a city that thrives on being tough. He made his impact felt immediately in 1997 when he won Rookie of the Year honors and was selected to the All-Star game.
He played in a time when the short stop was flourishing in the league. With the likes of Derek Jeter in his division, Alex Rodriguez and Miguel Tejada both in the A.L., the competition for awards and accolades at that position was tough. Garciaparra, however, seemed to rise to the challenge.
His Red Sox made the playoffs three times during his stint in Boston and later, he made the playoffs two more times as an L.A. Dodger. He enjoyed his finest seasons in Boston, however. He made five if his six All-Star game appearances as a member of the Red Sox.
He hit 178 of his 229 career home runs as a member of that potent Red Sox lineup. He posted six seasons of 96 or more RBI and a career .323 AVG while in Boston. In 2004, the Red Sox unceremoniously traded him to the Chicago Cubs.
It was a move that shocked the baseball world. New York Yankees star Derek Jeter said "You think Red Sox, Nomar's the first name you think of."
The Cubs made him split time between short stop and third base in the following season. In 2006, he signed with the L.A. Dodgers and took over the role of first baseman.
In 2006, he hit 20 home runs and 93 RBI in what was his best season away from Boston. His Dodgers made the playoffs twice and he made the All-Star game once more.
Overall, his numbers are able to stack up against some of the best short stops of his generation. He ended his career in 2009 with a lifetime AVG of .313, 229 home runs and 936 RBI while scoring a total of 927 runs.
He never reached the glory of winning a championship like his teammates in Boston eventually did, but he was a major part of why the Red Sox were in the position to make a run at the titles they did win.
He was a reason players wanted to come to Boston as free agents and the Red Sox were able to build a winning team because of him.
No. 5: Gary Sheffield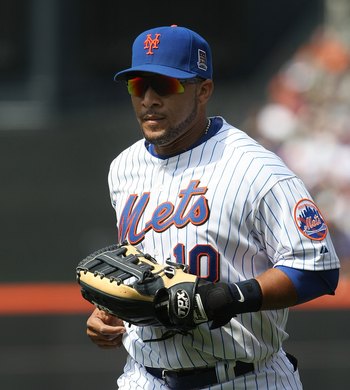 Even though he was remembered as an outfielder, Gary Sheffield started as a SS
Nick Laham/Getty Images
Of all the players on this list that barely meet the requirements, there may be one that I will have to make an exception for. His name is Gary Sheffield.
Why? Because in his prime, he was one of the greatest offensive forces in all of baseball and he started out as a short stop. The shortstop gig didn't last too long, though.
When he broke into the league with the Milwaukee Brewers in 1988, he was a skinny teenager that played 94 games between his first two years. In 1990, the Brewers did the wise thing and moved him to third base/DH, and the rest is history.
Before the move, he hit nine home runs. After it, he belted 500 home runs, was a nine-time All-Star and won a World Series in 1997 with a veteran Florida Marlins team.
Sheffield smashed more than 25 home runs in 11 different seasons. Six times, he hit more than 30 home runs. Twice he reached more than 40.
With the New York Yankees, he had arguably his best season. He finished second in the MVP balloting in 2004 when he hit 36 home runs and 121 RBI with a .290 AVG.
He played for three different teams in six postseasons and eight teams total. All totaled, he played 22 seasons, hit 509 home runs, had 1,676 RBI, stole 253 bases and had 2,689 hits in 2,576 games.
All of these were impressive. For a player in his prime, Gary Sheffield was a dominant and feared hitter. And it all started as a skinny shortstop.
No. 4: Robin Yount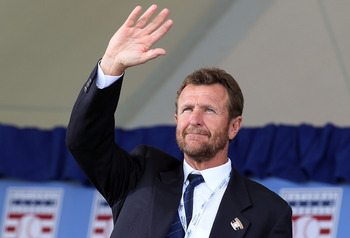 Robin Yount was the face of the Milwaukee Brewers for a generation. He was a HOF inductee in 1999
Jim McIsaac/Getty Images
For 20 years, the Milwaukee Brewers had one man that was their face, their icon. That man was Robin Yount. He was drafted third overall in 1973 and started a streak of 19 straight seasons in a Brewers uniform.
He played 2,856 games as a Milwaukee Brewer and led them to a World Series in 1982, where they eventually lost in seven games to St Louis. During his career, he won the MVP award two times, in 1982 and 1989. He was a three-time All-Star (1980, 1982, 1983) and a Gold Glove award winner in 1982.
After a decade of playing short stop, the Brewers made a team decision and moved him to the outfield. To this day, it is still a cause for debate as to why. His defense was actually better at short stop than it was in the outfield.
Even if his defense struggled, his bat never slowed down. He posted two identical seasons of 21 home runs and 103 RBI in 1987 and 1989. It was in the outfield that he won his second MVP award in 1989 with a .318 AVG to go with those 103 RBI and 21 homers.
When he retired after the 1993 season, he was a lock for the Hall of Fame. In 1999 they came calling. He finished with 251 home runs, 1,406 RBI and 3,142 hits. In fact, hits was the most impressive category of all.
He posted five season of 186 hits or more. Four of those were 190 or more and in 1982 he posted 210 hits. Only 28 players have accumulated 3,000 or more hits. He ranks number 17 on that all-time list.
He was a hitting machine with a career .285 AVG. He was one of those players that when you think of a team, you immediately think of that man.
Robin Yount was not only the face of the Brewers for those twenty years, he was the face of baseball for much of that time. A class act that received the honors he so richly deserved.
No. 3: Alex Rodriguez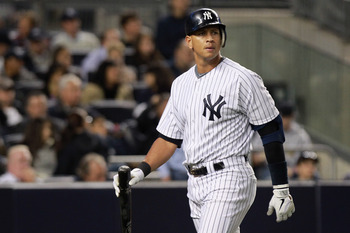 A-Rod got his start in Seattle where he was the best SS in the league.
Nick Laham/Getty Images
In the 1990s, there were short stops and then there was Alex Rodriguez. A-Rod became a statistical superstar in the sport of baseball. He transcended the game and became the face of the sport. A-Rod was the first pick overall by the Seattle Mariners in the 1993 draft.
He entered the majors with more hype than any player of his time. And he lived up to it. From the very beginning, he was a starting short stop. In his first full season of 1996, he hit 36 home runs with 123 RBI.
From 1996 until just last season, he had a stretch of seasons where he hit no less than 30 home runs, with the exception of 1997 (his second full season) where he hit 23. Also during that time span, he drove in over 100 RBI in every season, except for 1997 where he had 84.
In 2001, he signed a massive $252 million contract with the Texas Rangers. He responded by winning the MVP award in 2003 and hitting 156 home runs for the Rangers in three seasons.
He was traded in the 2004 offseason to the New York Yankees where he teamed up with the other top-tier shortstop of his generation—Derek Jeter.
The Yankees weren't about to displace their long-time franchise face, so A-Rod had to learn a new position. He moved to third base. He responded by winning two more MVP awards in 2005 and 2007.
He has been an All-Star 14 times and a World Series champion once. His teams have made the playoffs nine times. Overall, he has totaled 629 home runs, 1,893 RBI, 2,775 hits and a career .302 AVG.
Like a few others on this list, he still has several seasons left so his numbers have every chance to reach historic heights. As he reaches records, though, it will be as a former shortstop turned third baseman.
No. 2: Cal Ripken Jr.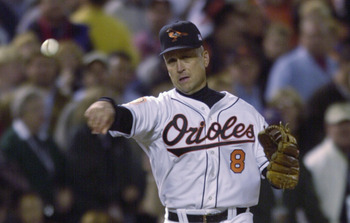 Doug Pensinger/Getty Images
The year was 1994. Baseball was reeling from a strike. They cancelled the World Series and alienated fans worldwide. When teams returned the following season, fans felt disconnected with the sport. They needed a reason to cheer.
Enter a record chase by Cal Ripken Jr in 1995. Ripken Jr tied and broke Lou Gehrig's record for consecutive games started with 2,131. The new all-time record was set at 2,632 when he finally missed a game in 1998.
Beyond that, Cal Ripken Jr did a lot more in his career. He was elected Rookie of the Year when he burst onto the scene with the Baltimore Orioles in his first full season of 1982. He was a 19-time All-Star and a two-time MVP in 1983 and 1991.
He also was a two-time Gold Glove-winning shortstop in 1991 and 1992. His total of 431 home runs and 3,184 hits combined with all of that led to his induction into the MLB Hall of Fame in 2007.
In 1997, when Ripken realized his range was declining, he kindly moved to third base. From that point on, he hit 17 home runs and continued hitting effectively to the day he retired in 2001.
He may be remembered as the new Iron Man, but he was a shortstop that transitioned into a legend.
No. 1: Ernie Banks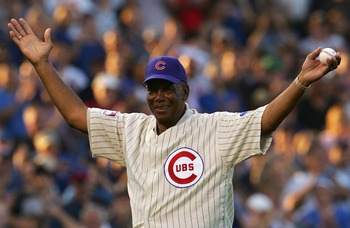 Mr Cub was the greatest player to move from the short stop position and still succeed. The numbers prove it.
Chris McGrath/Getty Images
The No. 1 shortstop to change positions and still be effective is Mr. Cub, Ernie Banks. When people think of Ernie Banks, they certainly don't think of shortstops. They think of offense and a dominant force for the Cubs from 1953-1971.
The legendary Mr. Cub was a clear Hall of Fame selection in 1977. He was a 14-time All-Star, a two-time MVP in 1958 and 1959 and a Gold Glove winner in 1960.
His No. 14 was retired by the Cubs in 1982 and for good reason. He hit 512 home runs, 1,636 RBI and 2,583 hits in his 19 seasons in Chicago.
He retired as one of the top players of all time in 1971. While his numbers were surpassed eventually by several players, he still remains a legendary god among mere mortals.
For the majority of his first eight seasons, Banks was the starting shortstop. During that time, he hit 41 or more home runs in five of the eight seasons. He won his two MVP awards during this stretch. In 1961, he split time between shortstop and the outfield.
The following season, he made the permanent move to first base. Even after the move, he had four seasons of 28 home runs or more and two of those were of 32 or more. He also had five seasons of 95 or more RBI.
When he retired in 1971, Banks ranked in the top 20 in home runs and RBI. He represented the Cubs franchise, the city of Chicago and the sport of baseball with class and dignity in a time when it was a more elegant game in an era of social upheaval.
Ernie Banks was the epitome of Cubs baseball since he made his debut. To this day, he embodies everything that is the Chicago Cubs.
When thinking of the top players in MLB history that switched positions in their careers, there are literally hundreds. When it comes to the shortstop position, there are around a dozen or so who were solid players.
From those players, we can clearly see that the talent truly rises to the top. In the case of Ernie Banks and the rest of the players on this list, the creme de la creme of the league is at the shortstop position.
Keep Reading