2012 NFL Draft: 7 Top Needs for the St. Louis Rams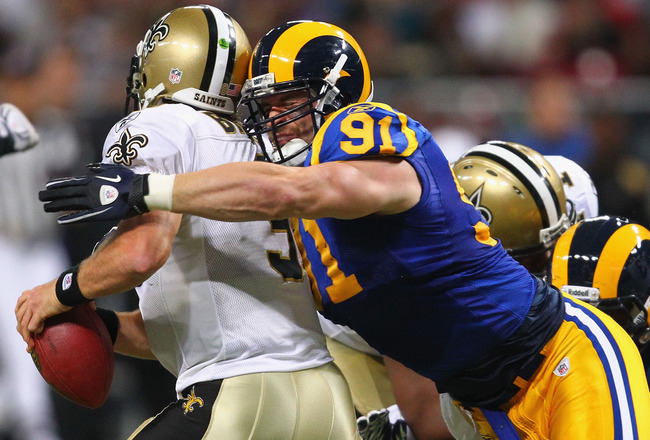 Chris Long, 2008 First Round Pick
Dilip Vishwanat/Getty Images
Regardless of the St. Louis Rams' eventual draft slot, it is certain they will be selecting in the top five once again, barring a trade down. St. Louis selected in the top two each from 2008 through 2010, drawing mixed results with those picks. This year, they selected Robert Quinn at number 14.
In 2008 the Rams chose Chris Long of Virginia at number two. Long has certainly blossomed.
His 12 sacks are amongst the league leaders this season.
Last year, Long led the NFL in quarterback pressures notching over 40 while collecting eight and a half sacks. This year, Long has a legitimate shot at the Pro Bowl. With four games remaining, attaining the rare accomplishment of fifteen or more sacks is possible.
It is all the more impressive considering the Rams are rarely playing with a lead. If St. Louis led more often, other teams would throw more, giving Long more chances to rush the passer.
In addition, Long doesn't have a Suh or Sapp pushing the pocket. Bottom line, he doesn't get as many opportunities or as much help as many of the other elite pass rushers get. And yet—he has reached the elite level as a pass rusher. His production speaks for itself.
The following year, St. Louis selected Jason Smith with the second selection.
Unfortunately for St. Louis and Smith, he has not played to the level that a franchise would desire of a number two overall pick. He has played inconsistently, particularly as a pass blocker, and has struggled to remain healthy.
At this point, his career could be in jeopardy. After landing on IR after yet another concussion, considerations of his long-term health are becoming more and more prevalent.
Thus far, it appears Smith is going to incur more concussions in his career than Pro Bowl berths.
Finally, the Rams chose Sam Bradford with the first overall pick in 2010. Bradford won the league's offensive rookie of the year, and was generally impressive considering the relative lack of talent surrounding him at wide receiver and a less-than-stellar offensive line.
However, Bradford has regressed in 2011.
To be fair, however, he had a very short time to learn and implement a brand new offensive scheme under new offensive coordinator Josh McDaniels.
Furthermore, the Rams again failed to adequately address the need to land a game-changing playmaker at wide receiver either through the draft or free agency.
In addition, top wideout Danny Amendola went down for the year at the beginning of the season. Amendola was Bradford's safety valve, and, without him, that valve has sprung quite a leak.
Bradford will likely develop into at least a better-than-average starting quarterback in the coming years.
To get there, he will need to improve on working through his progressions as he tends to lock into his first target far too often. He also needs to attain a greater pocket presence, feeling the pressure and making reasonable reactions and adjustments thereafter, like a Ben Roethlisberger, for example.
Looking back over the last three drafts, it appears the Rams have a hit (Long), a miss (Smith), and a maybe,(Bradford), who will likely end up being a hit eventually.
In 2012, St. Louis will be drafting a player in the top five for the fourth straight year, barring a trade. As discussed above, selecting high has yielded a mixed bag of results for the Rams.
What hasn't been a mixed bag is the salary cap implications of doing so: the Rams have a fortune of money tied up in these three players.
The rookie wage scale is team-friendly now with the new CBA, after being player-friendly before. The Rams will not endure a major cap hit selecting in the top five this year (or any thereafter), but are paying the price, literally, for having done so for three consecutive years (2008-2010).
Looking ahead to the Rams 2012 draft, St. Louis needs to solidify seven positions to help bolster and solidify the roster. It will be crucial, especially with the cap ramifications from the last three drafts coming into play, that St. Louis has a strong and productive draft.
The needs, from least to greatest, are as follows.
7. Cornerback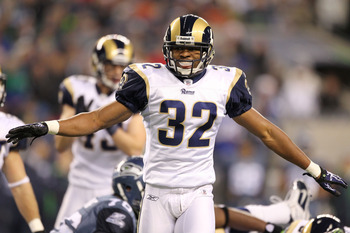 Bradley Fletcher, one of 10 Rams CB's on IR
Otto Greule Jr/Getty Images
It seems impossible, but St. Louis has indeed landed 10 cornerbacks on injured reserve. Entire teams manage to close entire seasons without placing 10 players on IR.
As absurd as it seems, it has happened.
Looking to 2012, there is much uncertainty in the defensive backfield.
Will Ron Bartell be able to return from a potentially career-threatening neck/spinal injury? Will the Rams bring him back at age 30 with uncertainty in his future? Bartell has one year remaining on a four-year, 25-million-dollar contract.
Will Bradley Fletcher bounce back from a second severe knee injury after looking like the eventual top corner in St. Louis?
How will projected nickel back Jerome Murphy, who thrives against the run, bounce back from his own season-ending injury? Will he continue to build upon a promising 2010 rookie season?
Will Al Harris retire? If not, will he have any juice left in 2012 at age 37 after suffering another season-ending injury this year just as he did in 2009?
There are more questions than answers in St. Louis at cornerback.
With so many uncertainties, selecting a corner in the draft, especially in the later rounds, is possible if not likely.
In spite of all the question marks, however, the Rams appear to have found at least one answer.
Josh Gordy has shown the ability to perhaps nail down a third or fourth corner spot next season. He has consistently played solid football in coverage.
Justin King has progressed some, although not as much as many fans would have hoped or expected.
King has a ways to go, clearly, but has shown some improvements and has the physical capacities to continue to improve. He needs to improve his technique and learn to avoid frequent penalties. He must learn to play better in deep man-to-man coverage as well, as he has beaten over the top too often.
Just ask Baltimore rookie wide receiver Torrey Smith, who set NFL rookie receiving records going up against Justin King earlier this year in St. Louis.
Looking to 2012, the Rams have to hope that at least two of this year's top-three projected corners (Bartell, Fletcher, and King) can bounce back at full health and productivity levels. If so, with the emergence of Gordy and the possible addition of a young corner in the draft, this could be a plus position for St. Louis in 2012.
Free-agent options could include Brandon Carr or Tracy Porter, among others.
6. Outside Linebacker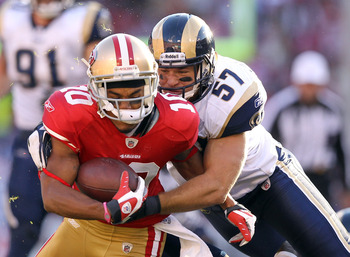 Chris Chamberlain, St. Louis Outside Linebacker
Ezra Shaw/Getty Images
For several seasons, St. Louis has fielded a subpar group at outside linebacker. That is the case, again, in 2011.
This year's linebacker corps, outside of stud-incumbent middle linebacker James Laurainitus, has struggled at times in both stopping the run, (particularly at the point of attack), as well as in pass coverage. The unit is not particularly speedy, either.
However, considering what appears to be a relative lack of talent at the position, the group has held its own as well as could be expected.
Interestingly, rookie Jabara Williams, who seemed to possess some legitimate athletic and playmaking potential, was cut. Ben Leber, a guy near the end of the line, was retained. Eventually, Leber was let go.
One has to question if cutting Williams, who landed on his feet in Chicago with a more talented linebacking group, was a mistake.
Ultimately, the Rams clearly could benefit from adding at least one good outside linebacker through the draft in 2012. It's possible that St. Louis will look to add an outside linebacker in the mid to late rounds.
If they look for fortification through free agency, some options could include Anthony Spencer or Manny Lawson, among others.
5. Backup Running Back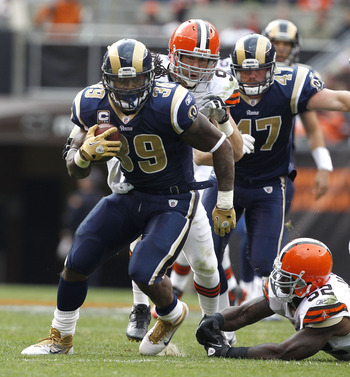 Steven Jackson
Matt Sullivan/Getty Images
Before the 2012 season, Cadillac Williams will be 30. Jerious Norwood will be 29, and both will be free agents.
Both running backs have been in and out of the lineup this season with injury concerns. Each has a history of injury issues throughout their careers.
Looking to next year, there is nothing to suggest that either can be relied upon to consistently take the field and contribute at a high.
Both will not return. Perhaps one of the two will. Either way, the Rams need a young back capable of staying healthy and carrying the load if Steven Jackson goes down or begins to drop off next year.
Jackson has played at a high level in 2011 and one would expect that will continue in 2012.
However, Jackson will turn 29 next season, and age 30 is often a wall that many running backs can't quite climb over. In addition, Jackson has amassed over 2,000 carries. One can only hope that he will be the same Steven Jackson next season, but there are no guarantees at this stage of his career.
With all that said, the Rams will be looking to at least add a solid backup running back who can spell Jackson week to week. It's also possible that the Rams will look to find the eventual successor to Jackson in the upcoming draft.
If St. Louis looks to simply land a legitimate backup running back, the Rams may look to the mid to late rounds for help.
If they are thinking successor to Jackson, an early-round pick is likely.
Free-agent alternatives could include Ryan Grant, Tim Hightower, and Tashard Choice.
4. Offensive Guard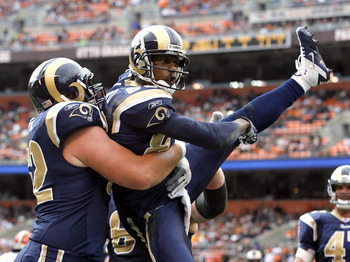 Guard Harvey Dahl with Brandon Lloyd
Matt Sullivan/Getty Images
St. Louis inked mauling guard Harvey Dahl to a long-term deal to solidify the right side of the line. Dahl has been a bright spot amongst an underperforming offensive line. His toughness has been noted, and his performance has been good, if not great.
The problem is that Jacob Bell has again failed to live up to the expectations that led St. Louis to sign him to a huge six-year, 36 million dollar contract as a free agent out of Tennessee in 2008 .
All indications would point to the Rams looking to upgrade at left guard. The Rams are pleased with Dahl, but unimpressed with Bell or any other options at left guard on the roster. Bell will be a free agent in 2012. It's uncertain where he will line up next year, but it is certain that it won't be in St. Louis.
It's tough to gauge how highly the Rams will value the urgency to upgrade at guard. With a young quarterback in Sam Bradford who took a beating this season, St. Louis will likely value upgrading the line and specifically the guard position as a priority.
Will St. Louis look to do this internally with someone they already have? The answer to that would be a resounding no as the Rams lack quality depth or at least starting quality-potential depth at the position.
That leaves free agency and the draft.
The surest and quickest way to solidify the line would appear to be through free agency just as the Rams did this year in adding Dahl. However, the Rams have missed more than they have hit (Bell, Jason Brown) when adding offensive lineman through free agency.
Some wonder if that points back directly at offensive line coach Steve Loney. There has been one constant in regard to the Rams' largely woeful and inconsistent performances over the last several seasons: Steve Loney.
He has failed to develop Jason Smith. And, when the Rams have added offensive line talent that was highly regarded and productive in other cities such as the aforementioned Bell and Brown, their play has diminished in St. Louis, for whatever reason.
If the Rams attack this position via the draft exclusively, one would think a pick would come as early as the third round or so.
Free-agent options look strong this year at the top with the likes of Carl Nicks and Ben Grubbs slated to hit the open market.
Regardless of how the Rams approach this area of need, it will undoubtedly be addressed.
3. Tackle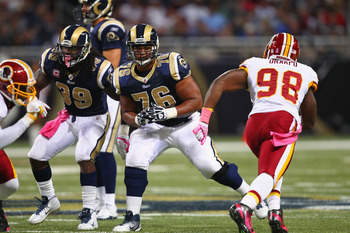 Rodger Saffold, Tackle St. Louis Rams
Dilip Vishwanat/Getty Images
Rodger Saffold, St. Louis' left tackle, struggled early with his play and injuries. It is very likely that several nagging injuries led to his downgraded performance this season. He bounced back late to play better before landing on injured reserve with fellow tackle Jason Smith.
Smith, the Rams' right tackle, struggled throughout overall, in an abbreviated season that left more questions than answers regarding both his play and his health.
As for health, he has had at least two serious concussions in his young career. Some are wondering if his long-term future will include the Rams or the NFL. It's far too early to accurately assess and project this situation.
As for his play, it has been disappointing, to be blunt. Although solid in the run game, his pass protection has been inconsistent and underwhelming. He gets beaten far too often.
Saffold should be back, and, if healthy, will be very solid on the left or right side of the line.
He should continue to improve. During his rookie campaign last season, he was impressive. He was banged up this year and regressed a bit. Look for him to bounce back and play very good football in 2012.
If Jason Smith returns to the Rams next year, he may have to fight for a job. He will not be handed the starting job, assuming he is on the roster. Considering his contract, injury, and performance concerns, it is not a given that he's back.
Possessing quality at both tackle spots is a must for this franchise going forward with former number-one pick Sam Bradford. Right now, that quality is lacking on the right side, unless Smith somehow returns healthy and much improved in 2012.
If Smith is not retained or cannot return, look for tackle to be a high priority for the Rams in the upcoming draft. It is not out of the realm of possibilities that the Rams could look at adding a player in the first round, depending on draft slot and who is or isn't available.
There is nobody on the roster that would be considered a future building block at tackle.
If Smith is not back, the Rams will have no choice but to look at tackle early in the draft if they do not choose to solve the issue via free agency.
Free-agent possibilities might include standout Demetrius Bell. Other options could include Mark LeVoir or Brandon Keith.
2. Defensive Tackle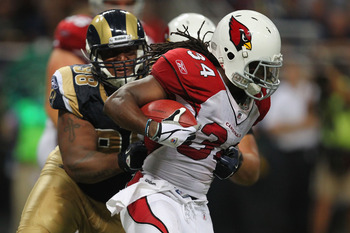 Fred Robbins, St. Louis Rams Defensive Tackle
Dilip Vishwanat/Getty Images
In 2010, Fred Robbins was terrific. He pushed the pocket, made plays, wreaked havoc, and made his presence known regularly.
This year, unfortunately, he has done more to make it known that he's likely ending the line as a prominent, consistently productive player. Robbins has one year remaining on his three-year deal. If he returns, look for his role to be reduced next season.
At 34, that wasn't unexpected. However, it does point to the fact that St. Louis needs to add quality and youth to the position.
Free-agent addition Justin Bannan has been solid at defensive tackle, holding down a starting spot and playing respectively. However, Bannan himself is 32 and getting a bit long in the tooth. He has two years left on his contract and will likely be back in the rotation next year.
Backup Gary Gibson will be a free agent. He has provided some decent rotational play and could return.
Second-year man Dorell Scott has two years remaining on his rookie contract. If the Rams like what they see in his future, he stays. If not, when considering his low salary and minimal cap hit, he's gone.
With the declining Robbins leading the way, it's obvious that St. Louis must add a starting caliber defensive tackle to this roster.
A guy who can hold up against the run would be valuable, considering the Rams have once again struggled mightily in run defense. If they find a guy who can also push the pocket consistently, that will be a welcomed plus.
Chris Long and Robert Quinn would be very appreciative of the Rams' adding someone who could minimize the times that quarterbacks can step up and avoid pressure when they come around the edge in pass rush situations.
Look for the Rams to consider taking a defensive tackle in round two or three. If a defensive tackle is the best player available on the board in round one, it's not impossible that the Rams grab one there.
With the new rookie wage scale, there will likely be more teams moving around and jockeying for position at the top of the draft this year. St. Louis, as with any team, could be drafting just about anywhere in round one when considering how much easier it will be to switch slots in the draft.
If the Rams go the free-agent route, possible additions could include Antonio Garay, Aubrayo Frankin, and Sione Pouha.
1. Playmaking, Game Breaking Wide Receiver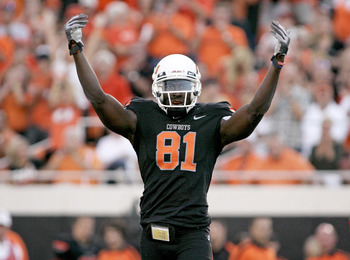 Justin Blackmon, wide receiver Oklahoma State
Brett Deering/Getty Images
St. Louis has not had a game-changing, play-making wideout since Torry Holt and Isaac Bruce left the team.
It's time for that to change. Immediately.
When Danny Amendola went down for the year, the Rams lost their leading receiver and Sam Bradford's safety valve and most trusted asset in the passing game.
Amendola will return to the slot next year, but the other pieces to the puzzle are yet to be determined.
The Rams brought in Brandon Lloyd via trade midseason and he has performed well, as expected. St. Louis will likely attempt to lock him up for the next several years in the offseason. If offensive coordinator Josh McDaniels returns, (Lloyd's former head coach in Denver), then the odds that Lloyd returns likely escalate.
At age 31 next year, Lloyd should have a few good years left in those quick, youthful legs, just as the similarly-built Isaac Bruce did as he moved into his early 30's.
Rookies Greg Salas and Austin Pettis have flashed some ability to make plays in the passing game.
In particular, Salas was making great strides showing a knack for attaining yards after the catch. He looks like a keeper. Pettis has shown enough to offer some hope that he continues to progress. Of the two, Salas looks to be the catch, no pun intended, so far, of the two.
Rounding out the receiving corps are Danario Alexander and Brandon Gibson.
Alexander made some eye-popping plays earlier in the season before injuring a hamstring. He obviously has the talent to be a solid if not spectacular contributor, but health is always the nagging issue.
Will the Rams bring him back? These next four games may go a long way in determining that.
Considering his low salary and high talent level, it wouldn't be surprising at all if the Rams feel he can work on his body with a full offseason without any new surgeries (hopefully), giving his body a legitimate chance to progress.
Gibson has continued to be Brandon Gibson, making some solid plays along the way.
He is fine as a fourth or fifth receiver and would be an asset in that role. When relied upon as a starter, however, he is below average. He is not a legit starter in the NFL. If he is starting for your team at wide receiver, your team needs an upgrade.
Gibson has one year remaining on his four year, 1.85 million dollar deal. Again, if the Rams like him, he stays; if not, he could easily be released due to his low salary.
Looking ahead to the draft, one would think the Rams would consider a wide receiver on the first day, whether in round one or two.
Justin Blackmon, the stud wideout at Oklahoma State, could be an intriguing option in round one.
The free-agent receiving pool is pretty deep this offseason. Likely free agents include DeSean Jackson, Dwayne Bowe, Vincent Jackson, Stevie Johnson, Marques Colston, Reggie Wayne and Pierre Garcon, among others.
Whether through the draft, free agency or both, it is time and past time that the Rams adequately address the wide receiver position, giving Bradford upgraded weapons, the offense a boost, and St. Louis fans a show on turf.
Not necessarily the greatest show, but at least some kind of show again, one that is worth watching and one that produces enough points to consistently give the team a chance to win.
Shane Gray is a passionate St. Louis Rams fan and covers the Rams year round. To check out the rest of his work, go here.
Keep Reading

St. Louis Rams: Like this team?