New York Yankees Should Finish Off Season STRONG: Pettitte & Manny or Giambi
December 28, 2008
Washington DC
Dec. 28, 2008
It was in 1992 when a young Andy Pettitte was finally drafted by the New York Yankees, who were starving for a left-handed ace in their rotation. 
In his first year of Single-A ball Andy went 10 & 4, then in 1993 he went 12 & 9 and he ended his minor league career in 1994 with a record of 14 & 4 before getting called up in 1995. 
He never fell back to the minors again...
It only took Andy 3 years to become a staple in the Yankee rotation and in Pettitte's first year on the team (1995) the Yanks got a sniff of the World Series, but lost the ALDS to Seattle. NY went onto snag their first baseman, TINO.
One year later, in 1996,  Pettitte had the low ERA on the team, threw over 220 innings and the Yanks won the World Series ending an 18 year Championship drought - the first since my friend Thurm was the Yankee Captain. 
Since his arrival the Yankees have gone onto 13 consecutive post seasons, but haven't won one World Series Championship without him - call Andy a good luck charm.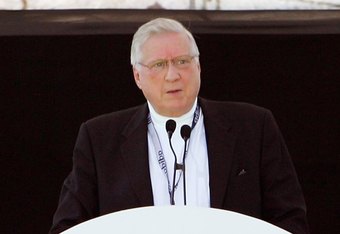 Ezra Shaw/Getty Images
The Boss once said, "It's all about pitching. Pitching. Pitching. Pitching" and Pettitte fills the expectations.
He would go onto become the epicenter of the Yankee Rotation and of what would become known as the Yankee Core Players - Pettitte, Jeter, Posada, Williams & Mo.
The Yankees have kept their "home-grown" stars (core players) in tact more so than any other team in baseball and their core players are still together and playing for the Yanks (save Bernie - who may end up on the Yankees bench as a switch hitting pinch - pending his performance in the WB Classic). 
Even though many fans and some writers whine about the Yankees not "growing talent" or that "they're trying to buy it;"  it is clear to see that the Yankees already grew them because they're still on the team and winning...it would be a mere cop-out to say otherwise.
Some suggest that Andy Pettitte is done - washed up, over the hill & that it is time for him to just move on.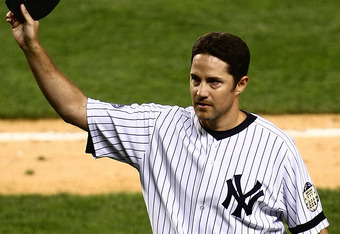 Chris McGrath/Getty Images
I would remind these people that the same thing was said of Mike Mussina last off-season -  just before he went on to win 20 games and was in line for the Cy Young. 
It was most likely said by the same people now saying the same thing of the 36 year old Yankee Great, Andy Pettitte. 
These are typically your garden variety Phil Hughes fans - or "youth movementeers."  What a sham that turned out to be - youth movement my foot.
It should also be pointed out for these young-bucks what Pettitte did for NY two years ago, when Mussina wasn't himself.  Lefty virtually carried the team into the Post Season where he once again put on a clinic in the now infamous "bug game," giving-up only one run through seven innings work - regardless of Cleveland's little helpers.
Come to think of it - exactly one game later Phil Hughes came in relief of Roger Clemens and threw five shut out innings.  Hughes was in the pen...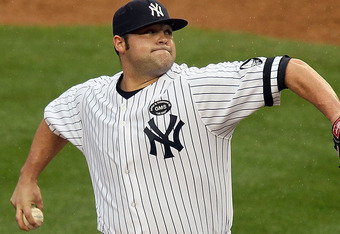 Jim McIsaac/Getty Images
Considering his stats it might be a good idea to keep Hughes in the minors for one full year, but on the other hand it might be best for the Yanks to use Hughes in their Bull Pen, especially as NY has already said that Joba will start off in the rotation.  He proved in 2007 that he can come in from the pen and dominate.  He did it on the biggest satge of his life - post season play in the AL.
Plenty of other pitchers have made their way to the rotation from the Pen (David Cone comes to mind) and Hughes could benefit the Yankees while pitching in relief and developing under the watchful eye of Girardi, Eiland, Wang, Mo & Pettitte as opposed to trying to develop while pitching to lesser players.
If Phil is promising, then let him learn up in the "bigs." Where better to learn how to pitch in the big leagues - than in the big leagues?
"Lefty" would allow the Yankees to stagger their starting pitchers right handed to left - which is a big advantage.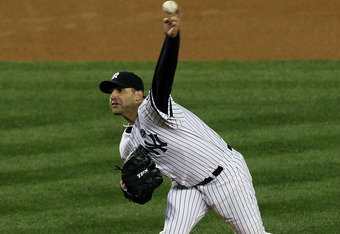 Jim McIsaac/Getty Images
The last time the Yankees had two lefties in their rotation they won the World Series (Pettitte & Wells).
The Yanks could secure Pettitte if they added some incentive for Andy to reach for - much like they did for Joe Torre. 
Some say that the Yankees showed Joe the door by offering him a cut in pay - even though he could have made 2.5 million more if he achieved his "goals."
"Showing someone the door" is cutting their pay by 6 million (a third of his total pay) and then stating that his last year's performance warrants such a cut in pay.
Why not offer the same carrot-on-a-stick to Pettitte, a performance based contract?

The Yanks could offer 10 mill base and an additional million for ERA achievement, another bonus for record achievement (as if ones record determines their worth - which it doesn't Hank, especially when your team cant score any runs) and finally a bonus for post-season success as well.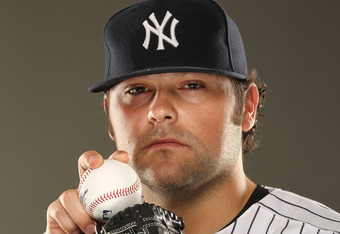 Al Bello/Getty Images
The only way the Yanks would have to pay-off the contract is if Andy delivers in 2009, which would make the money spent well worth it.
Andy - unlike other stars - didn't go on the DL once last year. He pitched through the pain and had a relatively average year.  It wouldn't be considered a bad year if he weren't Andy Pettitte. 
I thought Pettitte would have won more than 16 games last year too, but then again - no one thought the Yankees would score 200 less runs in 2008 than they did in 2007. 
Hank said that Andy's record was the concern and reason for the cut in pay - which is complete and utter BS.
Hank, I give you Joba Chamberlain - who had a 2.60 ERA and only went 4 - 3.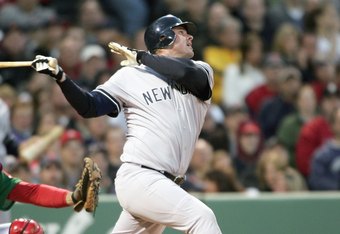 Elsa/Getty Images
How did that happen, you might ask?  It happened because the offense gave no support to the starters.  In this game pitchers still rely on the offense to score runs. 
The answer isn't to cut your pitchers, the answer is to get people that can hit the ball.
Last year starting pitchers lost thrity games (30!) when giving up less than 3 runs. 
Does Cashman expect us to believe that it was all the starters (Pettitte) fault for ending the post season streak?  What, is 3 runs too high a number for the Yankees offense to overcome?  I would have never thought so, but it's exactly happened last year.
If the Yankees have to cut one's pay, then dock Cano, Cabrera and Molina because Pettitte doesn't get to hit.
Jeff Carlick/Getty Images
The Yanks should just say no to the Training Wheels and stick with what is already a known quantity.  Chose Andy Pettitte over Phil Hughes.
It's hard enough to produce one star pitcher from the Minors, the Yanks have only produced three in 30 years - Guidry, Righetti and Pettitte.  Now we're supposed to believe that the Yanks have 3 home-grown Aces from the Minors, right now? I gotta bridge for sale....
The only new, home-grown star in NY is Joba.
Of course last year the Yankees lack of offense was giving away wins like they were fliers at an Obama rally and thus far the Yankees answer to an ailing offense last year is to get rid of 2 one-hundred RBI guys (Abreu / Giambi) and replace them with one (Teixeira).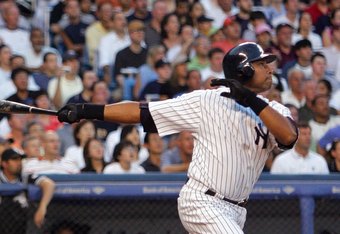 Al Bello/Getty Images
WITH OVER 90 MILLION OFF THE BOOKS, NY STILL HAS 20 PLUS MILLION LEFT .......
                         Should they just pull up and not spend it? 
Just like every other team in the MLB, when NY loses players to Free Agency they usually replace them. 
At the end of this off season the Yanks lost Abreu (100 plus RBI, 20 plus HR), lost Giambi (100 plus RBI and 25 plus HR), Carl Pavano, Mike Mussina, Ivan Rodriguez, Wilson Betimit etc
They've replaced 2 big-bats with Mark Teixeira.
Anyone can see - one bat is not two bats, so who will be the next bat that averages more than 100 RBI per year that the Yankees sign? Again - they had 200 less runs last year than the had in 2007.
Signing Manny to three years should be a no-brainer, unless the Yankee Brass allow themselves to be bullied by the pop-sports media who are in the bag for their own teams anyhow.
If NY pulls up, and doesn't sign Manny (who said he wanted to be a Yankee, before Hank said that he wanted Manny to be a Yankee too)  then they have to either sign Adam Dunn or Re-Sign Jason Giambi in order to retain the RBI lost from last year's team.
Swing for swing Giambi is one of the most productive hitters on the Yankee Squad - regardless of his low batting average, which doesn't account for walks or hit by pitches. 
Giambi had 4 less RBI than Abreu last year, but had more HR, a higher On Base Percentage, and scored more runs all while getting more than 150 less at bats than Abreu - the former right fielder.
He's also one of the most underrated players in all of baseball & we all know why - of course in retrospect his seven yr $120 mill seems like child play now.
Yankee fans do not expect to see Melky in the Out Field this year & at least Dunn or Manny could play right field, with Nady in Center (a familiar position to him) and Damon/Matsui in Left. This type outfield allows NY to play the best bats and also leaves the DH open for Damon or Matsui (depending on who plays the field). 
If NY did re-sign Giambi, obviously he would DH and the Bench would finally get a make over - something that has been a long time coming.  Matsui or Damon would be on the bench for a pinch, as opposed to Molina and Moeller - like last year. 
I say thank goodness because I remember the bench during the 90s and how it was used. Back then NY used to stock pile seasoned players on their bench, where the likes of Dave Justice, Daryl Strawberry, Cecil Fielder, Tim Raines, Jim Lehritz & Ruben Sierra all did serious (series) damage for the Yanks. 
If the Yanks were trailing or the game was close - by the 6th inning the opponent would have to deal with an onslaught of pure hitters in the pinch - brilliant!
My motto for the 90s used to be, "don't worry - its not even the 7th inning yet."  The Yankees were always in the game because of their offense - and the game would end after the 6th because of their SOLID BULL PEN.
An aging Bernie could be just what the Doctor ordered & just in time for the new house....
                                                Burn Baby, Burn ...

After two years and at the age of 41, Bernie still wants to play and will appear at the World Baseball Classic playing for Puerto Rico.
What happens if the old switch hitter does really well during the off-season games?  Could NY use an aging bat on their bench who is a switch hitter - has the most success in Yankee Post Season History & is a REAL Yankee with four rings? 
Or would he command too much respect from his team mates, fans & opponents?  He might inspire some of the youth to play all the muchharder (Cano / Cabrera).  He is Legend.
Is keeping a core together necessary?
Could the New House be one that a team built - as opposed to just one player - comprised of Yankee Core Players & the New Core(Joba, Tex, A-Rod and CC) too? 
Will it be, The House that George (Steinbrenner) Built or Brian Cashman's house?
Bring Bernie Back to "bailout" the burned-out bench.