San Diego Padres: Upgrade from Anthony Rizzo, Kyle Blanks and Jesus Guzman?
December 9, 2011
Stephen Dunn/Getty Images
First base was a bit of a black hole for San Diego in 2011. Anthony Rizzo, a top prospect, was supposed to take the place of all-star Adrian Gonzalez who was traded to the Boston Red Sox prior to the '11 season. Rizzo fell flat on his face, though.
Former prospect darling Kyle Blanks spent much of the year rebuilding his value after suffering numerous injuries, and spent the majority of his time in left field when he played at the MLB level.
To this point in the 2011-12 offseason, San Diego has yet to upgrade the first base position.
The big questions are: Do they really need to? And can they find someone better on the free agent or trade markets?
Anthony Rizzo: One of the key parts of the Gonzalez trade with Boston, Rizzo had a bumpy introduction to major league ball, hitting just .141 in 128 at-bats.
The left-handed hitter showed some signs of life with an impressive 13.7% walk rate but he struck out almost a third of the time (30.1%).
The good news is that he's just 22 years old, so youth is on his side, and he hit very well in AAA (1.056 OPS).
Truth be told, Rizzo doesn't have much else to prove in the minors but a few months in AAA might help rebuild his confidence.
Kyle Blanks: At one point, Blanks—now 25 years old—was the indisputable future first baseman in San Diego.
But injuries crept into the landscape. He suffered from plantar fasciitis in '09 and then blew out his elbow and had Tommy John surgery in '10.
Blanks also had a position switch from first base to left field when it became clear that Adrian Gonzalez posed a serious roadblock at Blanks' natural position.
He played at two minor league levels in 201—AA and AAA—posting solid numbers at both levels.
Unfortunately, he hasn't hit in three MLB attempts and has a career .219 batting average.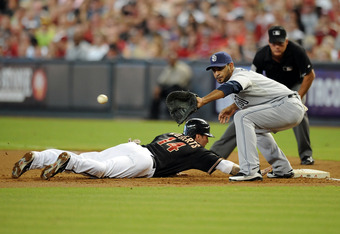 Norm Hall/Getty Images
Jesus Guzman: Guzman is the dark horse candidate. He was a 27-year-old rookie for the Padres in 2011, playing first base and a little outfield.
At just 5'10", he's not your prototypical slugger, but he hits for average (.312) and plays respectable defense.
Although he doesn't have much home run pop, Guzman has displayed gap power (22 doubles in 247 at-bats) and does a number of other things well. He's a smart base runner (nine steals in 11 tries) and takes a decent number of walks (8.1%).
Looking outside the organization, the market for first basemen is relatively thin. A player such as the Los Angeles Angels' Kendry Morales, who comes with injury concerns after missing all of the '11 season, but has a 30-plus home run season to his credit, would cost at least $1 million and has never produced more than 3.6 WAR (Wins Above Replacement).
Mark Trumbo: Fellow Angel Trumbo would cost less, but he produced 2.3 WAR in 149 games during his rookie season. Guzman had a 2.3 WAR in just 76 games.
San Diego would also likely have to give up prospects to obtain either player (unless Morales is non-tendered next week).
Rizzo is too young and too talented to give up on, so San Diego doesn't need to find a long term solution at first base. The top prospect just needs time to rebuild his confidence before he takes over the role permanently.
Guzman is the perfect player to fill in the gap while the first base prospect hangs out in Tucson honing his skills.  
Guzman has consistently shown the ability to hit well—at both the minor and major league levels—so 2011 does not appear to be a fluke.
His ceiling is modest but he does a number of things well and, in terms of financial commitment, he doesn't cost much more than the league minimum.
I think the Padres' front office should sit tight on the first base situation and rely on Guzman for the 2012 season—or until Rizzo forces their hand.
There are a lot of other holes on the club that need addressing before it even sniffs a playoff race.