Los Angeles: The December 2011 Sports Capital of the World
December 8, 2011
Ezra Shaw/Getty Images
Remember back in 2001 when baseball's playoff season was delayed due to the September 11 attacks pushing World Series games into November? That series pitted the New York Yankees against the Arizona Diamondbacks. Even though the Yanks fell to the 'Backs that year, Derek Jeter supplied one Yankee highlight with a game-winning home run in Game 4.
He instantly became Mr. November!
Us media types have a way of throwing labels on teams and/or players. Some stick, some don't. Here in Los Angeles, back in the '80s, they tried to tag Fernando Valenzuela as "El Zordo," the lefty. It crashed harder than Herman Cain. 
More recently, over the last decade, they've tried several different monikers for Kobe Bryant, one being "The Dagger." None stuck until Kobe decided to proclaim himself the "Black Mamba."
It's just a tried and true fact that when you start to excel at something, people want to give you a nickname. It's a rite of passage, an honor really. That being said, it's clearly time to name Los Angeles the Sports Capital of December 2011.
Sure, it's not as catchy as "Black Mamba," but it beats "El Zordo" by a mile.
OK, not every sports team is contributing to the title, but some are doing above and beyond their part to make up for the slackers—yes, we are talking to you, Kings and Ducks. Take the Los Angeles Angels of Anaheim, for example.
Arte Moreno's first official act as team owner was to lower beer prices. That alone gave him years worth of grace with the good people of the OC, but every good deed has an end and the lower beer price goodwill was nearing its own. Moreno needed to make a splash; he needed to bring Los Angeles—well, the greater Los Angeles area—a winner.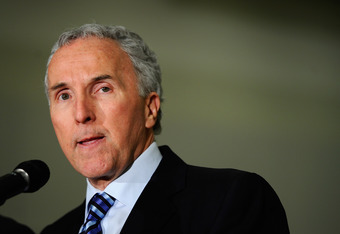 Kevork Djansezian/Getty Images
MLB: Hi, welcome to MLB, can I take your order?
Moreno: Ummm, hi, thanks. I'll take a Fielder please.
MLB: Would you like to supersize that to a Pujols for $100 million extra?
Moreno: Ummm, sure, OK. Oh, and can you add a Wilson to that too?
BAM, the Angels did their part in making LA the December capital of the world in 2011. Heck, even the Dodgers are interesting.
Look, you don't have to necessarily do something good to draw attention to the great city of Los Angeles. Any attention is attention, right? The Dodgers' odd state of affairs right now is riveting. Who will buy the team: Steve Garvey? Magic Johnson? Larry King? Peter O'Malley?
The MLB world is watching Dodgers, thank you!
Shifting to football...ummm, well, let's just take the same stance on football that the NFL has for Los Angeles and skip it.
Basketball, however, is another story.
The Lakers are riveting because, well, they are the Lakers. It's amazing to me how a team that went to three straight finals is suddenly proclaimed as "done" after a less-than-stunning playoff run. Sometimes, the best move to make is no move at all, but it seems like the team is primed to shake things up in the land of Purple and Gold.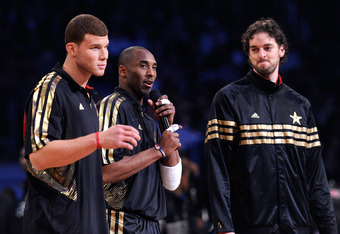 Kevork Djansezian/Getty Images
So, while the buzz in Lakerland is more about the past, the buzz in Clipperland is about the future.
Honest, there is a buzz surrounding the Clippers, and it's all good. The Clippers have never entered an NBA season with prospects and expectations like this. Even after 2006, when they had their best run into the playoffs coming within one game of the Western Conference finals, the buzz around the club wasn't like it is today.
Every day there is another newsworthy post from a player or free-agent possibility. Whether it's Mo Williams guaranteeing a long playoff run with a possible championship or players like Caron Butler actually considering making the Clippers their home, the buzz is palpable.
Heck, even the Los Angeles Galaxy are still coming down from the high of winning the world super soccer championship thingy those crazy soccer teams win.
So, let's proclaim it from the rooftops, Angelenos—this is our month! Thanks to the Angels, Dodgers, Clippers, Lakers and Galaxy, all eyes are on our fair city—the December 2011 Sports Capital of the World!