Albert Pujols, CJ Wilson to Angels: 10 Best Free Agent Coups in MLB History
Pool/Getty Images

Albert Pujols and C.J. Wilson just might be enough to restore the Los Angeles Angels of Anaheim to their recent glory. After two years without a playoff appearance, the Angels have a chance to regain their former place atop the AL West hierarchy.
It's not the first time a team with a history of dominance within a division used a few down years as motivation to spend huge money and turn around their franchise overnight. It's been only three years, in fact, since the New York Yankees went wild on the free-agent market and added Mark Teixeira, CC Sabathia and A.J. Burnett.
Nor was that the first such spree. Teams regularly dive into free agency in search of answers to their problems, and one elite free-agent signing often augurs another. Here are the 10 best such coups in the history of MLB free agency.
Begin Slideshow

»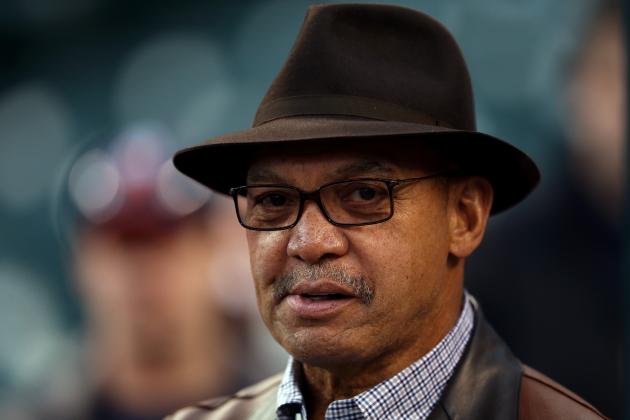 Leon Halip/Getty Images

It's no secret the Yankees are the kings of free agency. They are baseball's richest team, and they enjoy throwing their weight around when great players hit the market.
Back in 1977, the market was still in its infancy. Free agency netted the Yankees Catfish Hunter before the floodgates really opened, but they really made their mark (and changed the course of baseball history) beginning in 1976-77. That was when the team signed both Reggie Jackson and Don Gullett.
Having won the pennant the year before, this was the Yankees' way of staking a claim to the World Series title in 1977. It worked. Gullett went 14-4 for the Yankees that year. Reggie Jackson hit 32 home runs. And the Yanks won the Series in both 1977 and 1978.
Chris Trotman/Getty Images

The Mets finished below .500 in 2004 and seemed in danger of not catching the Atlanta Braves during their window of vulnerability. GM Omar Minaya knew the iron was hot, and he struck.
First came Pedro Martinez, who was past his prime but nonetheless energized the team and gave them a pitching boost they sorely needed. To him, Minaya then added Carlos Beltran, the absolute cream of the position-player crop. Beltran and Martinez led the Mets to an 83-79 record in 2005, then to within one inning of the World Series in 2006.
Elsa/Getty Images

Little mystery surrounded the Houston Astros missing the playoffs in 2003. They could hit as well as any team in the league, with Lance Berkman, Jeff Bagwell, Richard Hidalgo, Morgan Ensberg and Craig Biggio leading the way.
But they lacked pitching. Wade Miller was the default ace of their staff. They simply weren't going anywhere with the starting rotation they had in place.
So they simply rebuilt it. The Astros got more than aggressive—they got wild. They signed both Andy Pettitte and Roger Clemens, and with those two at the head of the rotation, the Astros reached the NLCS in 2004 and their first World Series in 2005.
Todd Warshaw/Getty Images

Every expansion team must suffer through a season of trial. Most must deal with three or four such years. The Arizona Diamondbacks, though, decided to buck that system.
They won 65 games in their inaugural 1998 season, with a lineup anchored by Jay Bell and Kelly Stinnett, and a pitching staff led by Andy Benes. That simply would not do.
Arizona spent big that winter. They added Randy Johnson. They signed Steve Finley. They spent big money in the amateur market to acquire Erubiel Durazo and Byung-Hun Kim. The result of it all was a 100-win season in 1999, and by 2001, they won the World Series.
Stephen Dunn/Getty Images

By contrast with the Diamondbacks, the Florida Marlins dutifully spent four year wallowing below .500 before they made their move in 1997.
After going a promising 80-82 in 1996, Marlins owner Wayne Huizenga felt the time was right and authorized big spending. Moises Alou, Alex Fernandez, Bobby Bonilla and Jim Eisenreich headlined a class of elite free agents who became the cornerstones of Florida's World Series run. Of course, Huizenga blew it all up a year later, but it was fun while it lasted.
Otto Greule Jr/Getty Images

During their run of success in the late 1980s and early 1990s, the Toronto Blue Jays were baseball's most fearsome giant. They were shape-shifters, enabled by the league's biggest payroll to adapt and make up for losses by spending big money on elite talent.
In the winter of 1992-93, for example, the Jays bid a fond adieu to Jimmy Key and David Cone, only to replace them at the front of the rotation with Dave Stewart. They also pilfered Paul Molitor and re-signed Joe Carter. It turned out to be a true coup, as they successfully defended their World Series title in 1993, largely thanks to Molitor and (at the end) Carter.
Jim McIsaac/Getty Images

Despite the aggressive acquisition of Ozzie Guillen as their new manager, the Miami Marlins had a credibility problem only a week ago. Many felt they simply would not pony up the huge money it would realistically take to land big-name free agents, despite their public insistence to the contrary.
They quickly disproved that notion. Heath Bell led the way, followed by Jose Reyes and Mark Buehrle. In total, the Marlins have already spent $191 million this winter and figure to add something else before winter's end. With a new ballpark opening in 2012, it's the dawn of a new era in South Florida.
Ezra Shaw/Getty Images

A mere $191 million on three players? Hah! The Angels have made the Marlins look miserly with their actions over the past 24 hours.
For Albert Pujols and C.J. Wilson, they have ponied up a combined $327.5 million over the next 10 years. They will join a talented core (Jered Weaver, Dan Haren, Howie Kendrick, Torii Hunter, Peter Bourjos, Mike Trout, the list goes on from there) and try to unseat two-time defending AL champions, the Texas Rangers.
It's a big risk, but new Angels GM Jerry DiPoto clearly intends to be aggressive.
Chris Chambers/Getty Images

In 2006, the Chicago Cubs went 66-96. They seemed to be years from a legitimate return to contention.
Jim Hendry, though, is not patient by nature. He decided to go the other way. Beginning with the hiring of Lou Piniella as the new manager, Hendry built a winner overnight. He paid:
$136 million over eight years for Alfonso Soriano
$75 million over five years to keep Aramis Ramirez
$40 million over four years to sign Ted Lilly
$27 million over three years for Jason Marquis
$13 million over three years for Mark DeRosa
The stated goal of the gambit was to win the World Series, by which measurement the effort failed. By any fair standard, though, it worked well, as the Cubs won 85 games in 2007 and 97 in 2008. They reached the playoffs both years.
Nick Laham/Getty Images

In the Bronx, nothing short of a World Series title constitutes success. Winning division titles would not have been sufficient return on a major investment for the Yankees. So when they signed Mark Teixeira, CC Sabathia and A.J. Burnett prior to the 2009 season, they were taking a marked risk.
It paid off. Sabathia and Burnett combined to win 32 games, Teixeira posted a .948 OPS and the Yankees cruised to the World Series. They beat the Phillies in six games, thoroughly validating the moves right away.