Justin Blackmon: Eager WR's Draft Stock Not High Enough to Ditch Oklahoma State
December 8, 2011
Brett Deering/Getty Images
Oklahoma State's Justin Blackmon may be in a hurry to run to the NFL, but he's going to be sorely disappointed when he sees just how unimpressive his NFL draft stock is.
A season ago, we saw the Falcons trade up to snag Julio Jones and A.J. Green went No. 4 overall. While playmakers are highly sought after, Blackmon's ridiculous production won't impress teams enough to expend a top five pick on him.
Blackmon has 3,378 yards and 37 touchdowns over his career. ESPN's Andrea Adelson indicates that Blackmon has alluded to the Fiesta Bowl being his last game, and he's proven himself game in and game out, even against first-round talent Prince Amukamara last season. So what's the hold up?
Blackmon isn't tall. The receivers drafted in the top five over the past 10 years are  Green (6'4"), Larry Fitzgerald (6'3"), Calvin Johnson is (6'5"), Braylon Edwards (6'3"), Charles Rodgers (6'3"), Andre Johnson (6'3").
Notice a pattern? All of those guys are giants. Some will argue that Blackmon is a different breed and that he plays far bigger than he is.
Michael Crabtree saw the adverse effects being 6'1" can have on a player's draft stock. He went with the 10th pick in the draft to the 49ers after racking up over 3,000 yards and finding the end zone 41 times.
With the same height, questionable attitude and crazy production in a pass-happy offense, Crabtree and Blackmon are alike in more ways than one.
Their draft day experience will inevitably be the same. While there may not be a Darrius Heyward-Bey wild-card pick in this year's draft, Blackmon is going to find himself slipping down the board.
This year features two, possibly three tackles who are surefire top 10 picks. Struggling teams will be more tempted by the idea of locking up insurance policies Matt Kalil, Jonathan Martin and Reilly Reiff for their young quarterbacks than hooking them up with a short wide receiver with upside.
With quarterback-starved teams littering the top 10 and Andrew Luck, Matt Barkley, Landry Jones and Robert Griffin III coming out, you can expect these future franchise quarterbacks to hear their name called quickly.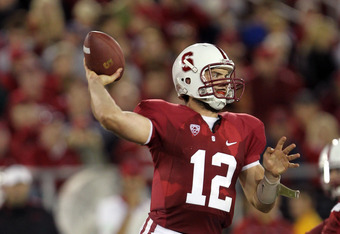 Ezra Shaw/Getty Images
We saw four quarterbacks go in the first round last season and all of them were taken in the top 12. This year's class dwarfs that one from a talent perspective.
Throw in the fact that guys like Quinton Coples, Trent Richardson and a slew of talented corners are coming out, and it's hard to think of a scenario where Blackmon hears his name called in the top 10, let alone the top five.
The Rams and Browns are obviously the teams to watch, as it's no secret that they are starved for weapons. Even so, would the Rams expend the No. 2 pick on Blackmon? Would the Browns be tempted to wait to select a playmaker like Michael Floyd with their second pick in the first round and draft a playmaker like Richardson with their first?
These are questions that are going to force Blackmon shooting down draft boards. He's the best wide receiver in the country right now, but he's nothing we've never seen before.
With Brandon Weeden leaving and the opportunity to make money right now available to Blackmon, it's easy to see why Blackmon would want to come out.
When he finds himself hanging out in the green room longer than he anticipates, hopefully he will be able to take refuge in the fact that the longer he sits there, the better his situation will likely be.