NFL Playoff Predictions: Tim Tebow, Denver Broncos Could Be Deadly in Postseason
December 8, 2011
Adam Bettcher/Getty Images
Since the Denver Broncos and Tim Tebow introduced their read-option offense in Week 9 they are 5-0.
Everybody knows that.
What we're yet to figure out is where this team will be when January and February roll around.
If the season started today, the Pittsburgh Steelers (9-3) would be traveling to Denver in the wild-card round.
This matchup could change, but it's likely that Denver will finish in the fourth division-leader position in the AFC. To move any higher in the AFC playoff picture the Broncos would need to gain two or more games on teams like the Ravens, Texans and Patriots.
That's not going to happen.
So, assuming they play well enough to keep their position at the top of the division, they would most certainly face either the Steelers or the Ravens—whichever wins fewer games down the final stretch.
What could the Broncos accomplish against a team of this caliber?
So far, it's hard to know if any team can beat the Broncos playing the Tebow-option—because so far, because no team has.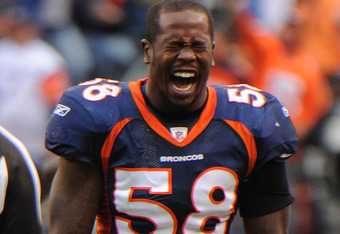 Bart Young/Getty Images
Every week we say this offense has to run its course, and every week the Broncos beat another team.
It would be foolish to rule out anything for this team right now.
Divisional round?
Sure.
AFC Championship Game?
It could happen.
Super Bowl?
Not out of reach.
Anybody can argue the Broncos haven't faced a legitimate team in this win streak, but nobody can argue as to whether or not they could beat one until they actually face one.
Two weeks from now, against the New England Patriots, the Broncos have the chance to silence their critics for what will then be seven consecutive weeks—assuming they take out the Chicago Bears as planned.
Watching this team over the last six weeks gives me enough confidence to say the Broncos have a tremendous chance of beating the Patriots at home.
This defense is playing too good.
The offense is working in every facet. The Broncos can run, they can pass and they're hardly turning the ball over.
A win against a team tied for the best record in the AFC will be plenty to propel this team even further into a season that nobody could have predicted earlier this year.
If the Broncos can beat the Patriots after a win against the Bears defense and finish the season strong against the Bills and Chiefs, there may be no team in this conference that could stop their roll.