NFL Week 14 Picks: Contenders with Most to Prove
December 7, 2011
Kevin C. Cox/Getty Images
With the playoffs just around the corner, it's important for more than a few teams to make a statement in their respective conferences.
As things stand now, only the Green Bay Packers, San Francisco 49ers, New Orleans Saints, New England Patriots, Baltimore Ravens and Pittsburgh Steelers have truly asserted dominance.
The Houston Texans have made a strong case as well, but they cannot be trusted yet.
Thus, there are several contenders who still have to prove their worth this week and in the coming weeks.
Atlanta Falcons
Atlanta hits the road in Week 14 and will battle the feisty Carolina Panthers. In a surprising stat, this is the first time the Falcons will play a legitimate outdoor game since Week 4. During their dome-to-dome stretch Atlanta went 5-3 with losses to the Packers, Saints and Texans.
Matt Ryan and company had a big chance to make a statement last week on the road against a damaged Houston team, but failed to rally and ultimately lost a game they need to win if they want to succeed in the postseason.
This week against the Panthers they need to show they can beat up teams, on grass, on the road, in games they are supposed to win.
Denver Broncos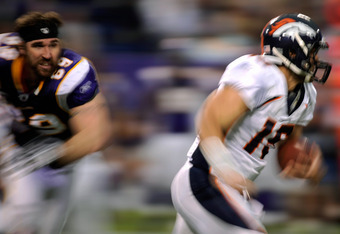 Hannah Foslien/Getty Images
Tim Tebow continues to win football games in spite of all the criticism. And, although it came against the Vikings defense, he proved he can score points and throw the football a bit when his defense caves.
Denver's shootout win over Minnesota on the road was a big step for Tebow.
Now he and the Broncos welcome in a floundering Bears team that doesn't know whether to use a lifeline or put itself out of its own misery.
Tebow's played every game down to the wire. This is a great opportunity to slam a former contender early and often and leave no doubts about the Broncos' playoff validity.
Dallas Cowboys/New York Giants
These two play each other twice in the final four weeks and the winner of this weekend's showdown will have a huge leg up in the NFC East race.
It is time one of these teams beats another meaningful team.
The Giants haven't won a game in four straight weeks, and the last time the Cowboys beat a potential postseason squad was Week 2.
One of these teams is going to win the NFC East whether it wants to or not, and it all starts this week. Both have talent and postseason experience, but they need to show they can win meaningful games.