Arizona's Miguel Montero and the Top Offensive Catchers in Major League Baseball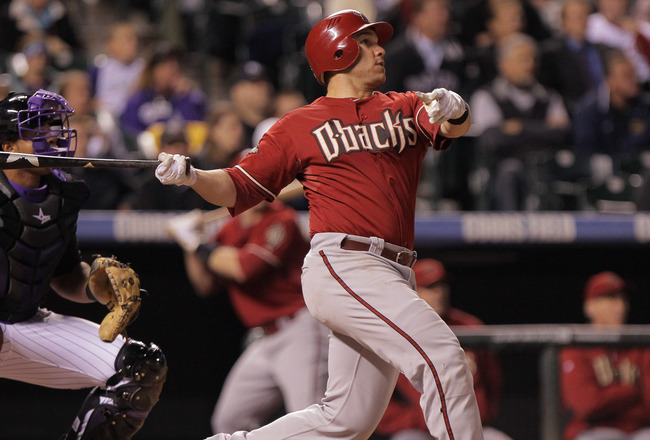 Miguel Montero could be in line for a long-term contract.
Doug Pensinger/Getty Images
Arizona has one of the best catchers in Major League Baseball and the organization realizes it.

Rumors at the MLB Winter Meetings in Dallas are circulating that the front office is focused on locking up catcher Miguel Montero to a multi-year contract. With a young team that features a strong core, securing the Venezuelan backstop would add him to a group of long-term, team-controlled players that includes outfielders Justin Upton (through 2015) and Chris Young (2013, option for '14).

Montero ranks among the top five to 10 catchers in the majors in multiple offensive categories. Let's take a look at the Top 10 catchers in Major League Baseball, according to the statistic known as Weighted Runs Created Plus (wRC+), which can be found at FanGraphs.com.

A brief explanation: Weighted Runs Created Plus (wRC+) - This statistic shows the number of runs that a given player created for his team, weighted against the league average, as well as park and league adjusted (A league average wRC is 100).
1. Mike Napoli, Texas (178 WRC+)**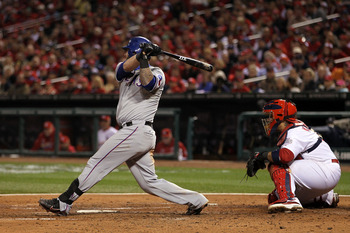 Mike Napoli of Texas
Ezra Shaw/Getty Images
Napoli played every day in 2011 but made just 61 appearances behind the plate due to poor defense. He's really a DH or first baseman that occasionally puts on the 'tools of ignorance.' He lead all "catchers" in batting average, on-base percentage, slugging percentage, home runs and batting average. Napoli doesn't truly deserve to by ranked as a catcher.
2. Alex Avila, Detroit (140 WRC+)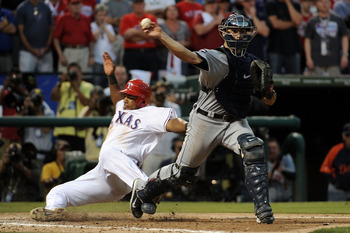 Alex Avila of Detroit
Harry How/Getty Images
Perhaps the biggest breakout catcher of 2011, Avila was a Top 3 finisher among backstops in all the key offensive categories: batting average, on-base percentage, slugging, RBI and doubles.
3. Nick Hundley, San Diego (132 WRC+)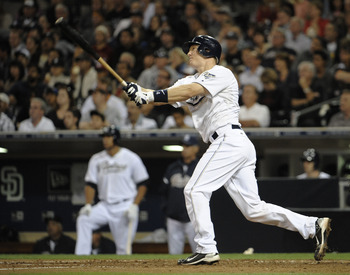 Nick Hundley of San Diego
Denis Poroy/Getty Images
Hundley gets overlooked by a lot of people because his numbers - especially power-based stats - are suppressed by playing in a massive home ballpark. Even so, he was still had the third highest slugging percentage by a backstop in 2011.
4. Yadier Molina, St. Louis (123 WRC+)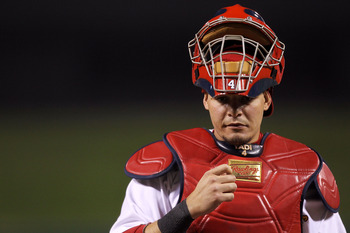 Yadier Molina of St. Louis
Ezra Shaw/Getty Images
Molina gets a lot of attention for his defensive work but he's made major strides with the bat since reaching the majors at the age of 22 in 2004. He had the second highest batting average (.305) in 2011 behind Napoli.
5. Brian McCann, Atlanta (121 WRC+)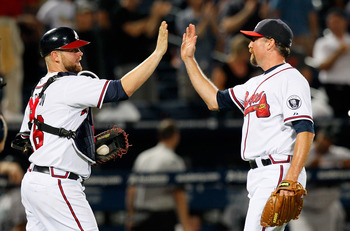 Brian McCann of Atlanta
Kevin C. Cox/Getty Images
McCann hit the third most home runs (24) of any catcher in 2011 and he's been one of the most consistent catchers over the past seven years. Impressively, he's still just 27 years old.
6. Carlos Santana, Cleveland (120 WRC+)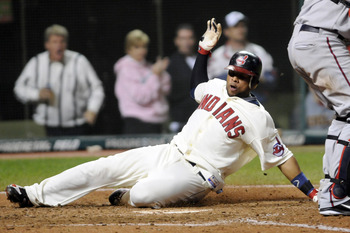 Carlos Santana of Cleveland
Jason Miller/Getty Images
One of the leaders of the "new wave" of big league catchers, Santana slugged 27 home runs and 35 doubles - good for second place among catchers in both categories - while also driving in 79 runs (third best overall). Even better: It was just his sophomore season in the majors.
7. Miguel Montero, Arizona (116 WRC+)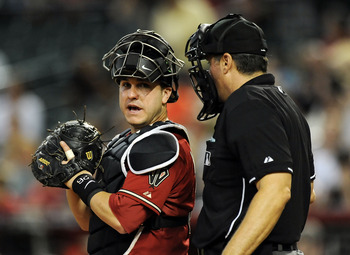 Miguel Montero of Arizona
Norm Hall/Getty Images
The Arizona catcher ranks seventh in wRC+, which is pretty darn impressive, but his name can also be found in some other impressive categories. He finished first among catchers in doubles with 36 and in RBIs with 86. He was eighth in batting average (.282) and in home runs (18).
8. Ramon Hernandez, Colorado (111 WRC+)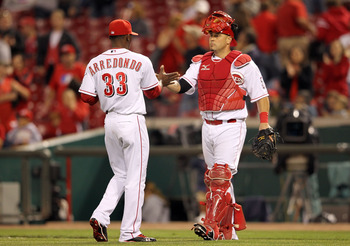 Ramon Hernandez, now of Colorado
Andy Lyons/Getty Images
Hernandez spent the 2011 season playing for Cincinnati in a very good hitter's park. He now moves to another decent hitter's park after signing with Colorado as a free agent. Hernandez has been a solid contributor for a long time but he'll turn 36 during the 2012 season so time is not on his side.
9. Matt Wieters, Baltimore (110 WRC+)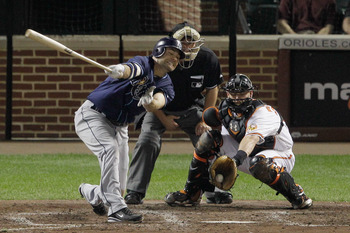 Matt Wieters of Baltimore
Rob Carr/Getty Images
Wieters entered professional baseball with perhaps as much fanfare as any other catcher over the past 10 to 15 years. He's performed well but has struggled to reach the lofty expectations that were bestowed upon him.
10. Wilson Ramos, Washington (109 WRC+)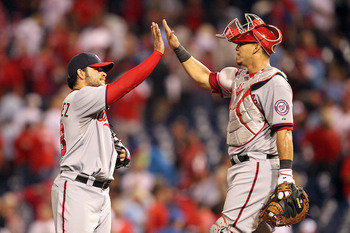 Wilson Ramos of Washington
Hunter Martin/Getty Images
Ramos' turbulent off-season, which included his kidnapping and eventual safe return, came after a freshman campaign in which he received Rookie of the Year consideration. His original club, the Minnesota Twins, is probably regretting the day it traded him to Washington.
Keep Reading