5 NFL Players We Want Our Kids Looking Up to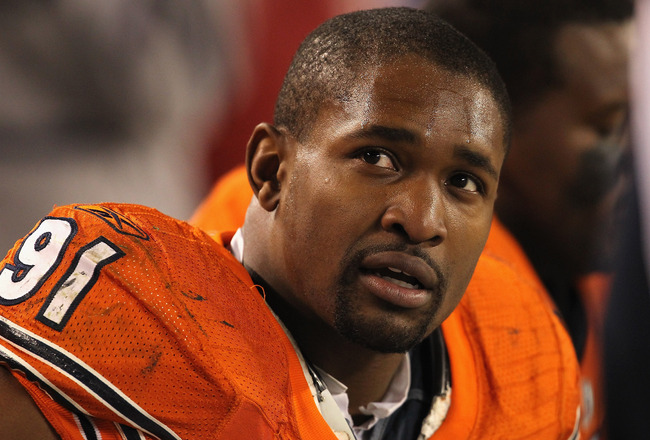 Jonathan Daniel/Getty Images
The character of a society is reflected by the people it chooses to admire. Professional athletes are often picked as recipients of that admiration
In many ways, they deserve it. They have beaten huge odds to play sports professionally. Nearly all of them possess the strong work ethic required to maintain the level of excellence demanded by membership into an elite group of athletes.
That being said, because of their vast exposure, sports figures are also looked upon as purveyors of society's mores.
Unfortunately, many of them are unwilling or unable to meet the challenge.
The NFL is not exempt from its share of individuals who fail the character test. From allegations of sexual assault to being proprietors and accomplices to the destruction of life, some NFL players have unfairly burdened the rest of the players in the league with guilt by association.
For the most part, however, NFL players are good individuals that make positive contributions to our society. In some cases, these players go above and beyond what is expected. As such, they are people who every parent can feel comfortable with their children admiring.
The following is definitely not an exhaustive list. Indeed, many may notice the admission of some easily recognizable players, such as Drew Brees, Tim Tebow and Nnamdi Asomugha, among others.
My purpose wasn't to slight them—they are good men who have done outstanding work. My purpose was to honor five players who may not be superstars on the field, but are Hall of Famers off of it.
George Wilson, Buffalo Bills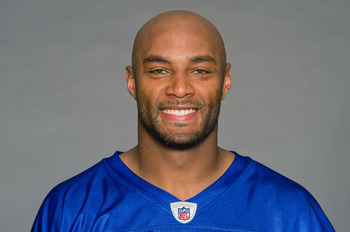 Handout/Getty Images
George Wilson's admirable characteristics are vast.
Wilson thrived academically at the University of Arkansas, where he was named to the Lon Farrell Academic Honor Roll in two consecutive academic years (2001-2002, 2002-2003).
In the NFL, Wilson was an undrafted free agent for the Detroit Lions in 2004. Later that year, he was signed to the Buffalo Bills' practice squad. Since then, he has started 35 games and has been named team captain four consecutive years (2007-2011).
In 2008, Wilson received the President's Volunteer Award, recognized as the highest service award given by the White House.
In 2009, Wilson was the Buffalo Bills Walter Payton Man of the Year, which recognizes a player's involvement in charity and volunteer work.
His has been involved in the NFL's Play 60 Challenge and the Community Ticket Donation Program as well as being a spokesman for the American Red Cross.
Wilson also owns his own foundation, the S.A.F.E.T.Y. Foundation, which strives to help adolescents survive in various challenging environments.
Amobi Okoye, Chicago Bears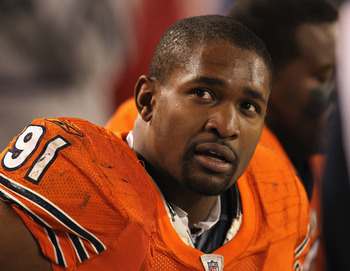 Jonathan Daniel/Getty Images
Amobi Okoye possesses brains, athletic ability and most importantly, a compassionate heart.
Okoye graduated from high school at the age of 15. Although receiving an academic scholarship to Harvard, he instead chose to attend the University of Louisville, where he graduated in 3.5 years.
He founded the Amobi Okoye Foundation, which has two major parts—the Kick 4 Kids Foundation and C.A.T.E (Changing Africa Through Education). The goal of these programs is to improve communities around the world through service and education.
Charlie Batch, Pittsburgh Steelers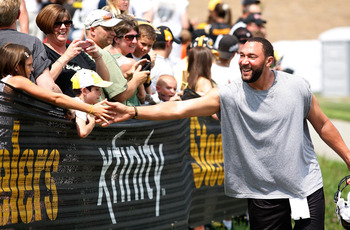 Jared Wickerham/Getty Images
Charlie Batch grew up in Homestead, Pennsylvania, a mere stone throw over the Monongahela River from Pittsburgh.
Batch got an opportunity to play for his hometown team in 2002, allowing him more time to make a difference in his community.
He founded the Best of the Batch Foundation, which offers programs to disadvantaged youth throughout the country.
Batch won the Pittsburgh Steelers Walter Peyton Man of the Year Award in 2006 and the Boys and Girls Club Outstanding Service Award in 2007.
Michael Oher, Baltimore Ravens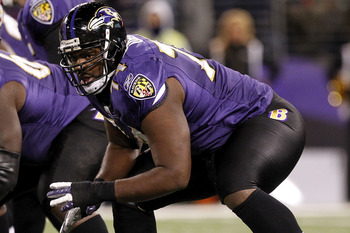 Geoff Burke/Getty Images
I chose Michael Oher strictly on his story alone, which is well documented in the book The Blind Side: Evolution of a Game by Michael Lewis and the movie The Blind Side.
The fact that Oher even survived his childhood is amazing, yet he did more than that.
He was born into a hostile environment, to say the least. His mother was a drug addict and his father spent time in prison.
Oher bounced around foster homes and at many points of his life was homeless. Despite all of this, Oher was able to make it with the help of the Tuohy family and his own determination.
He wrote an autobiography I Beat the Odds: From Homelessness to the Blind Side and Beyond with co-author Don Yaeger.
Calais Campbell, Arizona Campbell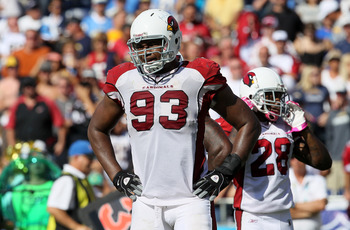 Stephen Dunn/Getty Images
Calais Campbell is a man that wants to make a difference.
He is co-founder of The CRC Foundation, named after his father, Charles Richard Campbell.
The mission of the organization is to provide life skills for young people so that they can grow up to be upstanding members of society and productive adults.
.
Keep Reading