Who Is Having the Best Season: Aaron Rodgers, Drew Brees or Tom Brady?
December 4, 2011
Leon Halip/Getty Images
What record with the potential to be broken is most impressive?
Dan Marino's single-season passing-yardage mark? Peyton Manning's single-season passer-rating mark? Or are the stats insignificant, and simply winning is what matters most?
It may be a matter of personal preference, but when it comes to Drew Brees, Tom Brady and Aaron Rodgers this season, the comparison between them all is brutal.
Drew Brees has once again set his sights on Dan Marino's 5,084 passing yards in a single season, and is almost a lock to destroy that record this season. Interestingly enough, that record may fall with little fanfare because of the outstanding play at QB throughout the league.
The Saints under Drew Brees are as scary a playoff matchup as anyone in the NFL right now. Darren Sproles has been reborn in the Saints offense, and having Brees throwing him the ball is making Jimmy Graham look like a lock for starting tight end in the Pro Bowl.
The only knock on Brees in this comparison is the fact that he has the fewest touchdowns and the most interceptions of the three—but compared to the rest of the league, Brees is leaps and bounds above the rest.
Tom Brady is also going to break Dan Marino's record for yardage this year, but his completion percentage is far behind both Brees and Rodgers. The explanation for that might be the fact that Brady is still breaking in young tight ends Rob Gronkowski and Aaron Hernandez, while also still working to insert Chad Ochocinco into New England's offense.
Make no mistake, though: Tom Brady is as close to a one-man show in the AFC as there is, considering the concerns about the Pats' defense. So to be where they are—in the second seed—is all thanks to Brady.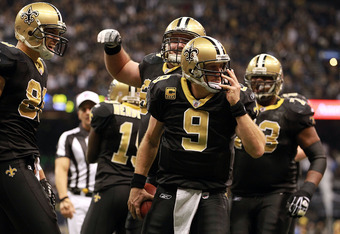 Ronald Martinez/Getty Images
It should come as no surprise that the bar for quarterback play is being set by Aaron Rodgers this year, which is really saying something, since Brady and Brees would be locks for the MVP in any other season. 
The most important argument to be made in favor of Aaron Rodgers is the fact that he literally has not done anything to put his team in jeopardy of losing this season. His 33 touchdowns to only four interceptions means that he has done nothing to put his defense in a tough spot. 
The only categories besides yardage in which Rodgers trails both Brady and Brees is completions and attempts, and yet he still leads both with an almost 72 percent completion rate. Rodgers is making more out of every pass than both Brady and Brees this season.
When the statistics of everyone considered are so outstanding, the bottom line has to be winning—and right now, Rodgers is pure perfection as a quarterback in that regard.