Cam Newton: Why He Is Even Better Than We Ever Thought He Could Be
December 1, 2011
Andy Lyons/Getty Images
Leading up to the 2011 NFL Draft, it seemed that hardly any man on Earth was sure that Cam Newton was a franchise quarterback. 
There were questions raised in nearly every aspect of his game. There were even more doubts about his character. Many scouts were overcritical of the Auburn University quarterback, and too eager to find fault in a player with supreme talent and great intangibles. 
Many watched Newton play at Auburn University, but refused to believe that he could make the transition from an exceedingly simple offense to a complex NFL scheme.  He dove into one of the most dense playbooks in the league with offensive coordinator Rob Chudzinski. 
Many conceded that he has the tools to become a great player, if he puts the hard work in. However, that statement was typically followed by a cynical analysis of his work ethic and personality. 
It's fair to say that Newton has proved a number of intelligent people wrong, but he's not done yet. 
Newton's arm strength is markedly impressive. He can attack a defense on any inch of the field in extraordinary fashion. Making the seemingly impossible throw separates the good quarterbacks from the great ones. Newton certainly has that inherent ability. 
Another trend that one will see when examining the historically elite quarterbacks in the history of the NFL is leadership; both by example and with words. It's a basic necessity that Newton has displayed early on in his career. He takes ownership of his actions. He doesn't blame his teammates in any situation. No matter how they've faulted. 
What will make Newton even more intriguing to watch over the subsequent seasons is his untapped potential. When you watch a highlight film of Newton it feels like you're watching the best quarterback in the NFL. His high moments are amazing.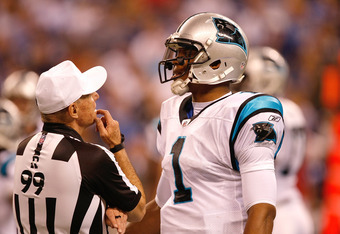 Scott Boehm/Getty Images
What Newton must do—and has the capability of doing—is transfer that ability into play to play consistency. 
Look what Aaron Rodgers is doing for the Green Bay Packers this season. You look first at his stunning array of great receivers, but receivers are nothing without a quarterback who knows how to utilize them. Every play that Rodgers lines up is a highlight waiting to happen. He plays extremely efficient. That's why he's on pace to shatter the record books with his season long performance. 
Newton is even more physically gifted than Rodgers, who was also late to get on the radar of NFL teams. The former California State University quarterback also was doubted for running a scheme based on quick passes and inconsistent footwork. He has unquestionably shattered any doubts with his performance this season.
Newton could do the same thing in the future. The Carolina Panthers' young quarterback has a larger stature to work with—6'5 compared to Rodgers' 6'2—and is a more natural passer. 
Newton can make hitting the deep out look easy. He has superior deep accuracy to that of Rodgers earlier in his career. The Green Bay Packers' quarterback now has great footwork, and an uncanny understanding of the game of football. Newton has every chance to make the same strides that Rodgers has. 
I have yet to mention Newton's ability to run the ball as well. It almost seems unfair that a player with all of his ability to pass the football, also can run through NFL defenses like a running back. 
Cam Newton is like no other player we have ever seen in the NFL. He's a winner, an incredible talent, and the face of the Panthers' franchise. Don't strain yourself by putting expectations on this player because there's no way of projecting just what he will accomplish.