Kansas City Chiefs: I Root for the Uniform, Not the Players
November 30, 2011
Kyle Orton brought this point home to me.  When he played for the Chicago Bears, I took no notice of him.
Then he was traded to the Denver Broncos.  That meant I paid more attention to him—and rooted against him.
Now, however, I am a fan of Kyle Orton because he wears the red and gold.
I've been a fan of the Chiefs since approximately 1965.  That's when I was old enough to have an idea of what was going on.
Ever since then, the arrowhead on the helmet, Arrowhead Stadium and the "sea of red" bring me memories, happiness, frustration and anticipation.
Players come and go.  The uniform has always been pretty much the same.  I've enjoyed some players more than others.  I respect some players more than others.
But the last player that meant as much to me as the team itself was George Brett.
To me, Brett exemplified what a professional athlete was all about.  If you want to know how competitive he was, all you have to do is watch him come out of the dugout in the so-called "Pine Tar Game."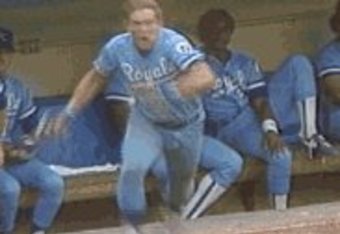 He didn't wear batting gloves, he spent his whole career with the Royals and he made a living out of beating the hell out of the Yankees.  What more could you ask for?
I've been to Arrowhead Stadium, as many of you have.  It's exciting.  It's exciting before the game in the parking lot, during the singing of the Star-Spangled Banner and during the game.
The current Chiefs team has a number of talented, exciting stars.  Dwayne Bowe is one of them.  If they don't sign him, he will no longer be a member of the Kansas City Chiefs.  If that's the case, so be it.
That is my point.  It may very well happen. 
From my vantage point, many Chiefs fans are very pessimistic and cynical.  I suppose that's to be expected after not winning the Super Bowl since 1970.  (Gives you a little sympathy for Chicago Cubs fans, doesn't it?)
Personally, I still love watching the red and gold line up.  Obviously, I want them to win every time they hit the field, but I can live a happy life if they don't.
I am a Chiefs fan now and I imagine forever.