Colorado Rockies: Winter Meetings Preview According to TPR
November 29, 2011
Jack Dempsey/Getty Images
The Rockies made a habit of making late season dashes to the playoffs. It is one of those habits that causes fans to expect.
When the Rockies went quietly into that good night, the fans were left wondering what happened. Simply put, the Rockies did not have the talent to stay in the game. So, they finished in fourth place.
Moreover, there doesn't appear to be much room for optimism. Their farm system doesn't have a lot in terms of position players, and they have a few holes on the diamond they need to address. Then, there is always the nearly annual search for pitching that seems to be a staple in the rarified thin air.
Infield
The infield in Colorado can charitably be called a mess. A trainwreck might be a more apt name for it. Mark Ellis came in and solidified the second base spot for more than half of the season, but he is a Dodger now. Kevin Kouzmanoff came late in the year and did OK at third, but he was designated for assignment and might be on his way to selling insurance.
Those left behind couldn't hold down the fort in the first place. Ian Stewart won the third base job in camp and proceeded to make Mario Mendoza look like George Brett. Ty Wiggington served some, but he was traded to Philadelphia for a player to be named later. Meanwhile, second base will belong to Jonathan Herrera until someone better comes along.
The strength of infield lies at shortstop and behind the plate. Chris Iannetta has been much maligned in season's past, but he quietly put up very good numbers behind the plate and at the plate.
Meanwhile, Troy Tulowitzki is a bonafide star. He won another Gold Glove while leading the team in most hitting categories. The ageless Todd Helton might be in his last season at first. While he is not the force he once was, he is still a very good two-way (hitting and fielding) player.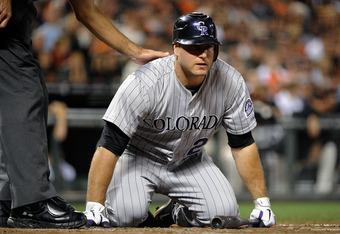 Thearon W. Henderson/Getty Images
Player to Watch: Ian Stewart
Outfield
The Rockies outfield is pretty settled these days. There are always rumors about upgrades, but the combination of Carlos Gonzalez, Dexter Fowler and Seth Smith are certainly good enough. Out of the group, Gonzalez is the most talented. He was a darkhorse MVP candidate in 2010, but returned to Earth last year. Of course, back to earth means he hit nearly .300 with almost 30 home runs.
Fowler is the stereotypical speedster in center field. Like most athletes, he didn't get it right away, but in the second half, seemed to show the talent everyone in Denver knew he had. He should be a fixture in center field.
Smith is the one people talk about replacing. He puts up solid numbers, but never can seem to gain traction. It will be a situation to watch in the winter meetings.
Player to Watch: Dexter Fowler
Starting Rotation
The Rockies and Houston Astros had a 72-hour dance in August concerning Wandy Rodriguez. Neither dance partner pulled the trigger, so they likely will be on each other's dance card again at the winter meetings.
With interim management in Houston, it is unclear as to what will happen with Rodriguez. He would round out the rotation nicely, though.
The Rockies have depth on their side. If you include Alex White and Drew Pomeranz, you see them with seven or eight legitimate rotation candidates.
They don't have any legitimate top of the rotation starters. Jhoulys Chacin was the best story from the last season. Otherwise, you have guys like Jason Hammels and Aaron Cook. They are nice end of the rotation guys, but none of them really move the needle.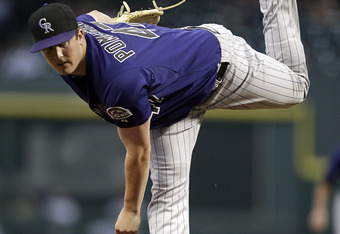 Bob Levey/Getty Images
If Jorge De La Rosa can return at 100 percent, that could change things some, but they don't want to bank on that. Kevin Millwood also looked good in a brief stint with the team, so they could conceivably bring him back. As you can see, a trusted veteran would really come in handy.
Player to Watch: Jhoulys Chacin
Bullpen
On the flip side, the Rockies have an overabundance of relief pitchers. Rafael Betancourt took over as the closer late in the year and performed well. This makes Huston Street expendable. He likely will be dangled as trade bait for anyone willing to help the Rockies out with one of their holes. Street should have some decent value for a team with problems at the end of their bullpen. He has been linked to Florida in addition to some other spots.
Matt Belisle, Rex Brothers and Matt Lindstrom all turned in good campaigns and look to be back in the fold. They will likely seek a solid left-hander to compliment this group of pitchers, but other than that, their bullpen appears to be an area of strength.
Player to Watch: Rafael Betancourt
Winter Meetings Win
The Rockies come in with three gaping holes on their team. It is too much to ask for them to fill all of the holes next week, but if they can get two of them knocked out, they could get themselves back into the NL West discussion. Getting a starting pitcher is on a lot of team's list, so that might be a daunting task, but if they can find a serviceable third baseman or second baseman it will be a good week.
They had been linked to David Wright early in the offseason, and getting an impact player like that would be a game changer. They don't have to get a game changer to be successful, but you never look a gift horse in the mouth.