Boston Red Sox: Why Red Sox Owners Should Ignore Red Sox Nation This Offseason
December 4, 2011
Rob Carr/Getty Images
One would think making the playoffs six out of the last 10 years, winning two World Series Championships, and winning no fewer than 86 times during this span, would cure 86 years of mostly futility.  Apparently not. 
Red Sox Nation is a jumpy lot.  If you look at the history of the Boston Red Sox, one can understand why.  While the 2011 version of the Red Sox was a champion on paper, there's too many great players on this team to make any major changes. 
Red Sox Nation needs to step back and take a deep breath.  There were a lot of positives during the 2011 season.  What this team lacked was consistency: Other than the first two weeks and the last four weeks, the Red Sox had the best record in baseball. Unfortunately, those six weeks are part of the season and the Red Sox came up one game short to qualify for the playoffs.
I will admit, at first I really thought it was a bad idea to get rid of Terry Francona.  If you look at the history of all sports, there are teams that have played badly and collapsed at the end of a season.  As more came out about what was going on behind the scenes, my opinion changed.  There is such a thing as a coach losing his team and I think this was the case in Boston. 
The Red Sox need someone to crack the whip and right he ship.  The choice for the next Red Sox manager was down to Gene Lamont and Bobby Valentine.  It's widely believed that Lamont is more a "player's manager" and Valentine has a much heavier hand and isn't afraid to call out any player if the situation warrants it. 
Elsa/Getty Images
When I first heard Valentine's name mentioned, I wasn't too keen on him.  I wondered if his ego would clash with Red Sox management.  Now, I wonder if it's more of a front and wonder if he's just that way to keep the heat off of the players.  I have to admit, I've warmed up to the idea and feel he is the best one for the job.  After all, Terry Francona was thought to be a "player's manager", so logically, why would the Red Sox hire another one in Lamont?
Valentine was unveiled as the new Boston skipper on December 1st. 
What went right for the Red Sox in 2011?  The offense was what we thought it was going to be and more.  The Red Sox were in the top three of most every major offensive category in all of the MLB this past year.  Even with Carl Crawford underachieving, there weren't any weak links. There's already a lot of media calling Crawford a "bust."
First off, Crawford's track record is too good to think that the 2011 version of Crawford is what we've got going forward.  If he gives us the numbers that he normally put up in Tampa from here on out, he won't be a bust.  The Red Sox may well have overpaid him for what he brings to the table, but that's not his fault. Red Sox ownership should be taken to task for that.  I expect him to make a full recovery if the manager sticks him in the number two slot and leaves him there. 
The one player who overachieved and had what I believe was his career year was Jacoby Ellsbury.  If anyone looked at their crystal ball and saw what was coming in 2011, I applaud you.  Not many did, especially the power. There was nothing in his minor or in his two-plus years in the big leagues that showed that he was capable of hitting more than 20 home runs in a season, much less 32.  I have to wonder though, is it the right time to possibly trade Ellsbury?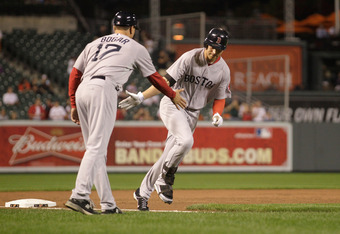 Rob Carr/Getty Images
At the end of 2010, there were questions circulating on the topic of Jacoby Ellsbury's "toughness" about playing with pain and whether he is a "team" player or not.  Even Kevin Youkilis made a comment about not seeing Jacoby around the clubhouse rehabbing or anything.  Maybe it wasn't meant to be slight in any way, but it certainly was interpreted that way.  The Red Sox would've been foolish to attempt a trade of Ellsbury after 2010 while selling at his lowest point. 
The Red Sox have Jacoby for two more years at a rising cost (estimated salary for the upcoming season has been in the $7.5 - 8.5 million range).  Would the Red Sox be foolish NOT to trade Ellsbury now while his value is at its highest? Unless there's a team I overlooked, I didn't see one where Ellsbury would fit.  It would have to be a team that would sacrifice prospects and/or young players for two years of Ellsbury if they thought he was the piece that would put them over the top for a run at the title.
What went wrong for the Red Sox in 2011?  It was mostly pitching.  It now looks like the Red Sox lacked conditioning this year.  Now, I'm not blaming everything on the beer and chicken that was consumed on occasion.  I do believe that it was a symptom of a problem though.  Pretty much every starter, including Jon Lester, missed time on the DL. Dice-K & Clay Buchholz missed over half of the season. John Lackey was ineffective for pretty much the whole season.  Josh Beckett was lights out for over two thirds of the season and faded late.  Jon Lester stunk in four of his last 5 starts too.  Even with all of these injuries and let downs, all ownership gave us was Eric Bedard at the trade deadline.  Unfortunately, he wasn't 100% and he didn't offer up much in September either. 
In my opinion, the fact that the Red Sox didn't get enough innings out of the starters is why the bullpen was equally ineffective during the month of September.  They brought up Scott Atchison, Michael Bowden, Kyle Weiland, Junichi Tazawa, and Felix Doubrount from AAA.  Some had success, others not so much.  To bring them up in this fashion and throw them into the firestorm that was forming was not good. 
The holes that need to be filled by the Boston Red Sox this offseason are RF, DH, two starting pitchers, closer, and a couple of bullpen arms.  Sounds like a lot, but it's not as bad as it looks.  What the Red Sox don't need to do is panic and think they need to sign the top free agents at each position.  They have the following players in AAA that have little left to prove and are capable to fill in some or most of these holes:  Josh Reddick, Ryan Kalish, Ryan Lavarnway, Lars Anderson, Michael Bowden, Kyle Weiland, Junichi Tazawa, and Felix Doubrount.  If these guys are not the answer, are they possible pieces in a trade? 
For better or worse, Dice-K should be back sometime between June or August to the Red Sox.  Since he's in his last year with the Red Sox, he should want to get back as soon as he can to showcase what he's got left for his next contract, or at least to save face on a not so graceful return to Japan. 
I believe one of the starting holes can be filled internally by the Red Sox, either by Alfredo Aceves, Daniel Bard, or Doubrount (wouldn't be bad to add another lefty in the AL East).  The other will most likely need to come by a trade.  The Red Sox need another stud in the rotation, one that can get us 220-230 innings.  I say that because if anyone thinks that any of our current starters, outside of Jon Lester, is capable of this in 2012, you're fooling yourself. 
Josh Beckett has gone over 200 innings three times in his career and the most he's thrown in a season is 212 1/3 innings.  Clay Buchholz is coming off an injury and will most likely be babied this season.  He threw 173 2/3 innings in 2010 and only 82 2/3 innings in 2011.  If he goes over 170-180 innings this year, it would surprise me.   
Most of the top pitchers are locked in with their respective teams for a few years.  There are very few teams out there with a surplus of pitching or are in rebuilding mode.  Of those teams, I believe the two pitchers that match up the best with the Red Sox are Matt Garza & Wandy Rodriquez. 
As everyone knows, the Red Sox and Cubs are still lamenting over what compensation the Red Sox should get for letting Theo Epstein go to the Cubs.  So, they've already given the Cubs something.  Who knows, maybe Theo will want the Red Sox to also take on one of their two bad contracts, Carlos Zambrano or Alfonso Soriano?  If the Cubs paid 50%, maybe they wouldn't have to give up as good of prospects in a prospective trade? 
One thing I do hope is that the Red Sox organization doesn't fall into the trap of thinking they will have to give up as much or more to get Matt Garza than what the Cubs gave up to Tampa.  Garza is a very good pitcher, but much like CJ Wilson, he's not an ace.  He's a number two or three at best (his best WAR season was 3.8 in 2009 and he had a 2.9 WAR in 2011).  Some of the Red Sox upper level prospects that haven't cracked the lineup may work better in the NL than in the AL East.  A trade centering around Josh Reddick, Lars Anderson, and a pitching prospect or two should do the trick. 
When you look at the Cubs' offense, it's in REALLY bad shape.  Their best two offensive players this past season, Aramis Ramirez and Carlos Pena, are both free agents.  The only top notch players left on their roster is Starlin Castro and Geovany Soto.  Alfonso Soriano still puts up decent numbers, just not good enough for the amount of money he makes.  The rest of the offense is filled out with just pieces. 
Their farm system is a train wreck too.  Brett Jackson looks to be ready to help out at the major league level and Josh VItters is about a year away.  There's really not a whole lot of anything in the upper tier of their minor league system.  That's why, in my mind, I don't see the Cubs as major players for free agents like Albert Pujols or Prince Fielder.  Even if the Cubs want them, why would either of these players go there?  Especially when they know it will be several years before they are competitive? Unless either of these players are only in it for the money, they won't be wearing a Cubs uniform next year.
The Houston Astros on the other hand would like to be where the Cubs are at currently.  Before they traded away some of their better players, their minor leagues were bare of any talent.  What's there is what they received in the trades of Hunter Pence, Michael Bourn, and Jeff Keppinger.  Some of the pieces that were dealt to Houston in 2010 in the Roy Oswalt and Lance Berkman deals hit the big club during the 2011 season.  This club is at least four years away from being a solid contender again. 
The Astros have been trying to trade away Wandy Rodriguez since the trade deadline this past season.  Colorado is the club that has been tied to Rodriguez the most and they even tried to cut a deal through the waiver wire after the trade deadline.  Not sure if the Astros were wanting too much or what, but a deal wasn't made. 
Rodriguez's Interleague numbers are not that impressive.  In 22 starts, he's 8-10 with a 5.25 ERA and 1.42 WHIP.  While these numbers don't make me giddy, compared to what John Lackey brought to the table for most of 2011, this would actually be an improvement.  With the Red Sox lineup around him, I would figure he could be at least a .500 pitcher with a 4.00 - 4.50 ERA, which is very serviceable.
I don't believe the Red Sox would trade for both of these players, I figure it would be one or the other.  It shouldn't take nearly as much to get Rodriguez.  A trade changes his contract a bit; he's signed through 2013 with a team option in 2014.  If he's traded, the team option turns into a player option.  Considering the amount of money is 13 million in his age 35 season, I would suspect that Rodriguez would take that in a heartbeat.  I would much rather have Garza, but Theo will most likely want too much for him. 
Of the free agent pitchers out there, none of them is a number one starter.  CJ Wilson is looking to get paid like one, but the numbers are just not there.  I don't think the Red Sox can afford him at this point either.  The rumor mill has floated a contract over 100 million, and I'd say to that, let some other sucker pay.  If we didn't have Dice-K & Lackey's contract still on our books, that would be one thing.  We're going to pay out close to 30 million for two pitchers and one isn't going to pitch at all this year and the other one won't be ready to go until June or August at the earliest. 
The best candidate for RF would be Ryan Kalish.  He had an injury plagued 2011, but he is exactly the kind of "dirt dog" type of player that we need on the field. If he's ready to go after having season ending neck surgery, we should give him every chance to be the right fielder.  Even if he struggles a bit early on, the Red Sox should let him work it out.  With the core star players the Red Sox have, they can afford to let him work things out like Dustin Pedroia was allowed to during his rookie season.  After a rough first month, he finished strong and was Rookie of the Year. 
I'm beginning to think that the Red Sox were protecting themselves by offering arbitration to David Ortiz.  While Ortiz had a great comeback year in 2011, we cannot forget about his dreadful 2009 and first month of 2010.  If Ortiz wants a three-year deal at his age, he's dreaming.  At this point, a one year deal based off of arbitration (which will be expensive) may be a way that Ortiz gets paid the bucks he wants and the one year the Red Sox want.
If David Ortiz does sign elsewhere, the only free agent that I would sign is Josh Willingham.  Other than his strikeout rate, all he does is hit for power.  If given 120-140 games to play, he's virtually a lock to have 20-30 home runs and knock in 80-90 runs.  He's never been on a winning ballclub team or had the lineup around him like the Red Sox have.  It also wouldn't take as much money to sign him and the best thing is he's right handed.  Other than Youk & Pedroia, all of the top hitters for the Red Sox are left handed.  He would also add some insurance in case Kalish takes a little longer to rehab and can play right field. 
While the holes being filled and trades I'm proposing are not as sexy as a top notch pitcher like Felix Hernandez or signing a big time free agent like Jose Reyes, Carlos Beltran etc., These moves would help the club move forward, shore up some holes and not have to sign another big time 15-20 million per season player.  The organization needs to get the best mix of players they can and try not to give Red Sox Nation another wow signing.  We have enough studs on this team.  Let's fill out the roster with players that are hungry and want to win a Championship!