MLB Free Agency 2012: Ranking the 25 Best Pitchers Still Available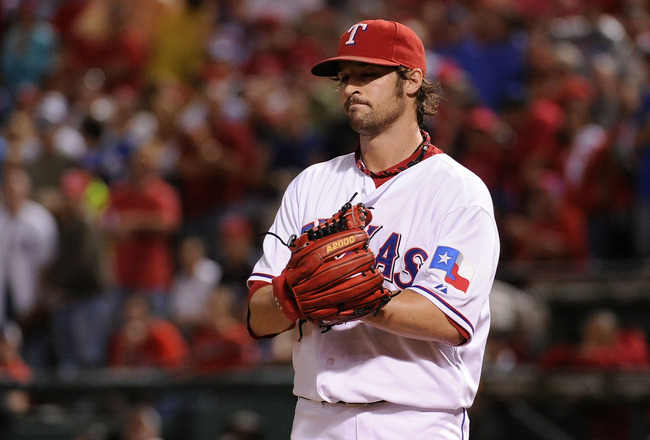 Harry How/Getty Images
As MLB free agency continues, many of the big names out there are still without new contracts. One area of interest that has remained in the shadows of big names like Albert Pujols and Prince Fielder is the free-agent pitching market. Despite seeming shallow, this group of available free agents has some names that could demand a big contract.
Headlining the free-agent pitchers is left-hander C.J. Wilson (pictured), who will surely demand a high salary after posting two effective seasons as a starter for the Texas Rangers. He has already drawn interest from teams like the Miami Marlins and Los Angeles Angels.
That being said, let's dive...er...slowly step into this seemingly shallow pool and look at the 25 best pitchers who are still available.
No. 25: Bartolo Colon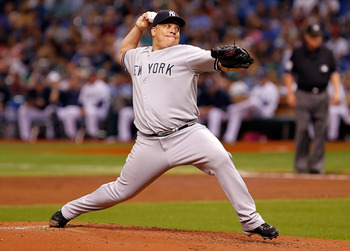 J. Meric/Getty Images
2011 was a good year for Bartolo Colon. Despite missing all of 2010 with shoulder injuries, the New York Yankees signed him to a minor league contract and down the stretch, he became a valuable member of the starting rotation.
For most of the season, Colon looked just as strong as he did in the prime of his career as he went 8-10 with a 4.00 ERA and 1.29 WHIP in 26 starts. On May 30, he threw his first shutout since 2006.
Yet, with the rotation already crowded in the Bronx, Colon could find himself looking for a new team in 2012 and that might prove to be tough. He will turn 39 in May, so how much gas does he really have left in the tank?
On top of that, there is always the issue of his conditioning, seeing as how he stands 5'11" and weighs in at a portly 265 pounds. Still, based off of the effectiveness of last season alone, Colon should find himself another one-year deal.
No. 24: Brad Lidge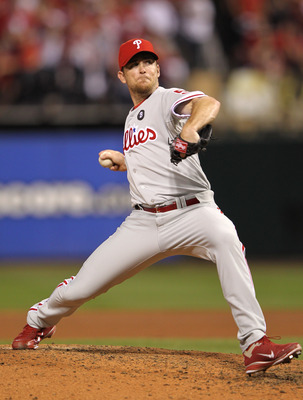 Jamie Squire/Getty Images
Overall, 2011 was a season to forget for Brad Lidge. He posted a 1.50 ERA, but only in 25 games as he did not pitch until August due to persistent shoulder trouble. Due to his long absence, he lost his closer's role to Ryan Madson. Sure enough, the Philadelphia Phillies declined his option at season's end.
Thus, only one question remains: is Brad Lidge still durable enough to be a valuable asset to a team? Well, seeing as how he will be 35 at the start of next season, only time will tell.
If he does get an offer from any team, chances are it will be for just one year at a salary much lower than the $12 million he earned last season.
No. 23: Jon Garland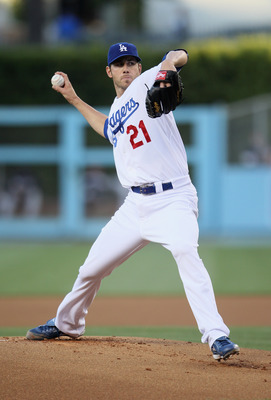 Jeff Gross/Getty Images
Like Brad Lidge, Jon Garland missed most of last season with a shoulder injury. Playing for the Los Angeles Dodgers, he went 1-5 with a 4.33 ERA in nine starts before having surgery.
Still, let's not forget that Garland was effective before his injury and could be a good middle of the rotation option for teams in need of pitching. If his shoulder is healthy, then he could turn into a free-agency steal.
If he does receive an offer, I'd be shocked if it was longer than one year for about $4 million.
No. 22: Jeff Francis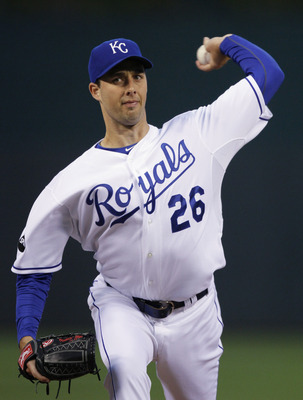 Ed Zurga/Getty Images
After six years playing in homer-friendly Coors Field for the Colorado Rockies, Jeff Francis signed a one-year deal with the Kansas City Royals prior to the 2011 season. Combined with low run support, Francis showed some signs of rust from a 2009 shoulder operation and went just 6-16 with a 4.82 ERA and 1.44 WHIP.
Still, that isn't to say that Francis can no longer be effective. He'll turn 32 soon and still may have some strength in that left arm of his. That being said, look for him to sign another one-year deal with a team that expresses interest, particularly the Royals.
No. 21: Tim Wakefield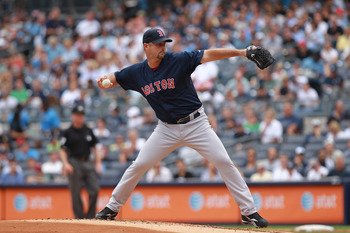 Nick Laham/Getty Images
At age 45, there's no doubt that Tim Wakefield's arm is running on borrowed time. Last year, in his 17th season with the Boston Red Sox, the knuckleballer went 7-8 with a 5.12 ERA.
If you asked someone if Wakefield could still be effective as a full-time starter, their answer would probably be no. Yet, the veteran could be a reliable option out of the bullpen, not to mention a great clubhouse presence on a young team.
If he's looking to continue pitching in 2012, he should be able to do so on a simple one-year deal.
No. 20: Aaron Harang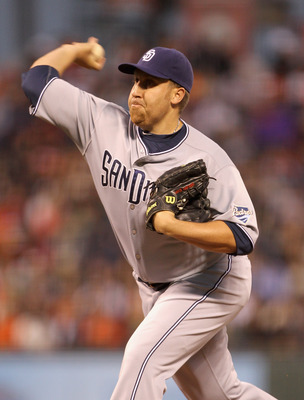 Ezra Shaw/Getty Images
Playing in pitcher-friendly Petco Park proved to be a blessing for Aaron Harang. The 6'7" righty went 14-7 with a 3.64 ERA and 1.37 WHIP in 28 starts for the San Diego Padres. It was his best season since 2007, when he went 16-6 with a 3.73 ERA for the Cincinnati Reds.
Looking forward to next season, there are only two questions surrounding Harang: his age and his durability. The man will turn 34 next season and has a propensity for being banged up.
Still, in the right ballpark and with the proper amount of run support, he can certainly still be effective. At this rate, I'd anticipate him to get a one-year deal with incentives, plus an option for a second season.
No. 19: Hisashi Iwakuma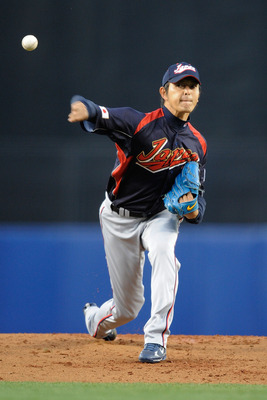 Pool/Getty Images
The story of Hisashi Iwakuma is an interesting one. He was posted last offseason by his team, the Rakuten Golden Eagles, and the Oakland Athletics won the rights to negotiate with him. Unfortunately, both sides could not come to terms on a contract in the 30 day negotiating period.
Still, the man has a lot of talent at age 30 and is more than likely to be posted again this year. In 11 seasons in Japan, Iwakuma has gone 101-62 with a 3.22 ERA and 1,085 strikeouts in 1,422 innings. His pitching repertoire is highlighted by a mid-90s fastball and a biting splitter.
If and when he is re-posted, he surely will find himself in the majors this coming season.
No. 18: Octavio Dotel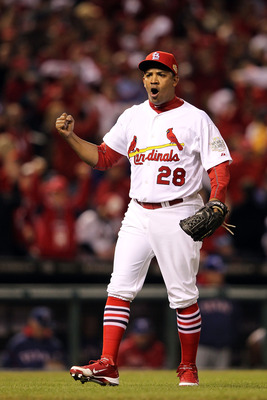 Jamie Squire/Getty Images
Chances are that this offseason, Octavio Dotel will receive a contract based off of his epic postseason. As he helped guide the St. Louis Cardinals to a World Series championship, Dotel posted a 2.61 ERA in 12 games and struck out 14 batters while walking only two in 10.1 innings.
That being said, I'm anticipating that the 38-year-old Dotel will receive a two-year deal for way more money than he's worth. Still, if he maintains his postseason form, the investment could prove fruitful down the stretch.
No. 17: Jonathan Broxton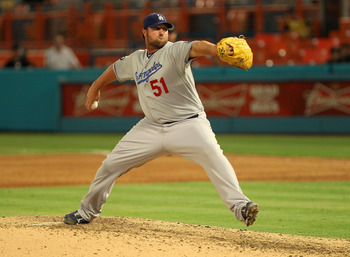 Mike Ehrmann/Getty Images
For the past two seasons, Jonathan Broxton has not been at his best. In 2011, elbow injuries limited him to 14 games and he posted a 5.68 ERA with just seven saves. Sure enough, the Los Angeles Dodgers chose not to bring him back.
Still, despite his last two seasons being less than average, ESPN's Jerry Crasnick has reported that a number of teams have shown interest in the big right-hander and that he will pick a team before the Winter Meetings.
Given his past history, I'm anticipating Broxton will sign a one-year deal with an option for a second, plus incentives.
No. 16: Erik Bedard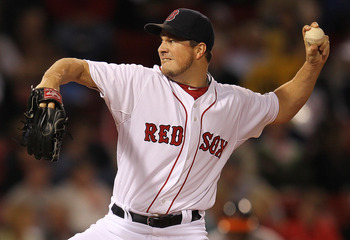 Jim Rogash/Getty Images
The Boston Red Sox traded for Erik Bedard at last year's trade deadline in hopes that their high-powered offense would provide him the support he needed so that they could take the AL Eastern Division flag. Instead, the entire team choked down the stretch and Bedard went just 1-2 with a 4.03 ERA and a 1.55 WHIP in eight starts. On the season, the oft-injured lefty went 5-9 with a 3.62 ERA and 1.28 WHIP.
Given the questions surrounding his health on top of his unpredictable results, the market for Bedard will be thin this offseason. Considering how he will be 33 next year, the best he'll be able to get will be a one-year deal laden with incentives.
No. 15: Kerry Wood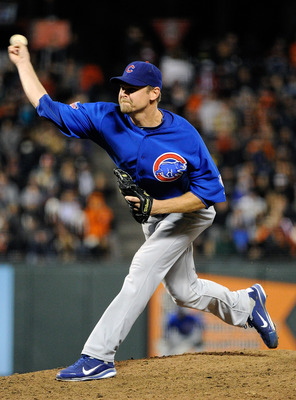 Thearon W. Henderson/Getty Images
Kerry Wood was a reliable setup man in his first season back in Chicago, posting a 3.35 ERA in 55 appearances. As of now, considering how he and his family reside in the area year round, chances are that he will want to remain with the team.
That decision lies in the hands of new front office duo Theo Epstein and Jed Hoyer, who have been tasked with bringing the Cubs back into playoff contention. Given Wood's ties to the organization, it's only right that he be brought back.
Given his sometimes questionable durability and that he'll turn 35 next year, another one-year deal sounds just right for Wood.
No. 14: Paul Maholm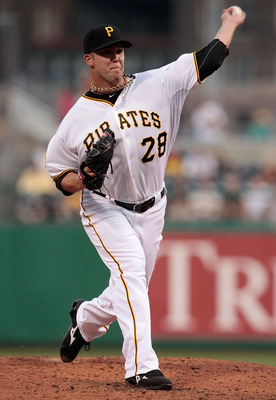 Jared Wickerham/Getty Images
Technically speaking, the Pittsburgh Pirates have yet to decline the $9.75 million option on Paul Maholm's contract. Despite this, chances are that this course of action will be taken, what with the team looking to get younger and move on from players that were part of the worst losing eras.
That isn't to say that Maholm is a bad pitcher. Before a shoulder injury shut him down last season, he went 6-14 with a 3.66 ERA and 1.29 WHIP, the high loss count existing due to low run support.
On a one to two-year deal, Maholm could easily be an effective starter at the front end of a team's rotation. His dynamic repertoire would be a welcome addition to any squad and if given the proper support, he could have an All-Star type season.
No. 13: Javier Vazquez
Marc Serota/Getty Images
Based on the start to Javier Vazquez's 2011 season, it wouldn't surprise me if some thought him to be done. Given how he was 3-6 with a 7.09 ERA, I too thought his career was close to being over. Yet, from that point on, Vazquez looked like a different pitcher.
The right-hander went 10-5 with a 1.92 ERA over the rest of the season and ended his year on a 29 scoreless inning streak. He proved to all the haters that he still had some gas left in the tank and was going to be around for at least a few more years.
Seeing as how he ended his season on such a high note, ultimately finishing 13-11 with a 3.69 ERA and remarkable 1.18 WHIP, he will be due a raise from the $7 million he made last season.
No. 12: Francisco Cordero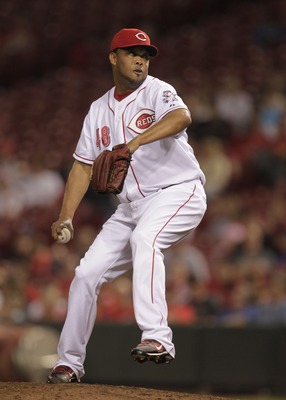 John Sommers II/Getty Images
The Cincinnati Reds may have declined his $12 million option, but that doesn't mean that Francisco Cordero is out of the running to be the team's closer next season. Even as he approaches age 37, it's clear that the man has still got it. Last season, Cordero posted a 2.45 ERA and 1.02 WHIP while recording 37 saves, bringing his career total to 327.
Seeing as how he's still a very effective stopper out of the bullpen, I'd be shocked if Cordero's age kept him from getting a multi-year deal. He is still effective and a great leader who is a benefit for any team. If you ask me, I see him getting a three-year contract.
No. 11: Matt Capps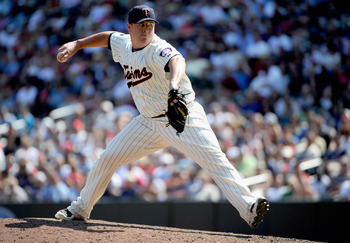 Hannah Foslien/Getty Images
On last year's numbers alone, it's easy to say that Matt Capps does not deserve a long-term deal. The 28-year-old posted a 4.25 ERA and only had 15 saves, including nine blown ones, in the closer-by-committee system employed by the underachieving Minnesota Twins.
Still, Capps deserves at least a two-year contract. First, his high blown-save count can be attributed to his team's practically nonexistent offense. On top of that, let's not forget that he saved a total of 42 games between the Twins and the Washington Nationals in 2010.
Simply put, the guy has great stuff if he's on the right team. If he could move to a squad whose offense consistently produces, not to mention has good defense in the field, then he could find himself among the elite closers of baseball once again.
No. 10: Jason Marquis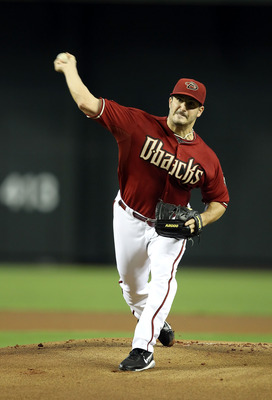 Christian Petersen/Getty Images
Don't let last year's below-average numbers fool you. Jason Marquis is a great pitcher to have on any team. In 2011, split between the Washington Nationals and Arizona Diamondbacks, the 33-year-old righty went 8-6 with a 4.43 ERA and an inflated 1.49 WHIP.
The stats that will scare people courting Marquis will be his line in Arizona. He only started three games there and went 0-1 with a 9.53 ERA and 2.29 WHIP before breaking his leg in mid-August and being placed on the disabled list for the rest of the year.
Despite the fact that he's had a rough past couple of seasons, Marquis isn't done yet. He'll find a new team who will offer him a one-year deal full of incentives and with the right amount of support, he will be back to his old form in no time.
No. 9: Roy Oswalt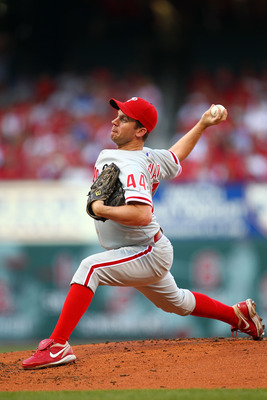 Dilip Vishwanat/Getty Images
The biggest question surrounding Roy Oswalt and his free agency is his health. The scrappy righty went 9-10 with a 3.69 ERA for the Philadelphia Phillies last season, but only made 23 starts due to back problems.
Still, Oswalt still could have a lot to offer at 34 years old. He was effective down the stretch last season when he was healthy and on the right team, he could be a great middle of the rotation option.
He'll get a two-year deal from a rebuilding team and if all goes according to plan, he'll bring back memories of his days in Houston.
No. 8: Edwin Jackson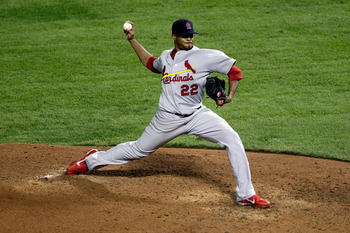 Rob Carr/Getty Images
There are two keys to making sure Edwin Jackson has an effective season: reliable run support and effective defense. Both problems plagued him last year as he went 12-9 with a 3.79 ERA, but with an inflated WHIP of 1.44.
Still, Jackson has a lot to offer a team in need of pitching and at age 28, his career is far from over. A team that is close to a championship and in need of pitching could give him a chance and if everyone does their part down the stretch, Jackson might be in for a career season.
When push comes to shove, he'll get a three-year deal with an option for a fourth. The only issue might be that he'll be asked to take a pay cut from the $8.75 million he made last year.
No. 7: Francisco Rodriguez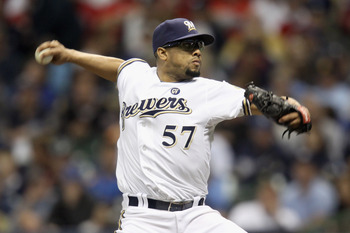 Christian Petersen/Getty Images
After being traded to the Milwaukee Brewers from the New York Mets, Francisco Rodriguez was beyond effective. As a setup man, he posted a 1.86 ERA with 33 strikeouts in 29 innings over the course of 23 appearances.
However, the man known as "K-Rod" was not satisfied with his new role. The man wants to close and given how he has the dominant repertoire necessary to hold that role, a team will give him that opportunity. The only red flag surrounding the soon to be 30-year-old from Venezuela are his attitude, seeing as how he found himself on the disqualified list in 2010.
If he can get a contract with a consistently good team and not one mired in drama and uncertainty, as was the case with the Mets, then we could see the K-Rod who broke the single-season saves record in 2008.
No. 6: Ryan Madson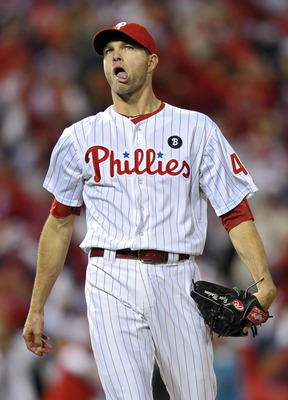 Drew Hallowell/Getty Images
Ryan Madson stepped into the closer's role in Philadelphia last season with Brad Lidge injured and was simply unbelievable. In 62 appearances, the tall right-hander posted a 2.37 ERA and 32 saves. At long last, he proved that he was a viable option in the ninth inning.
However, instead of re-signing Madson, Phillies' management opted to sign Jonathan Papelbon to a long-term deal, essentially telling Madson that his services were no longer needed. There's no doubt that the man can close, so teams needing help in that department will surely give him a call.
Once the dust settles, expect him to get a three-year deal to be a team's fireman out of the 'pen.
No. 5: Heath Bell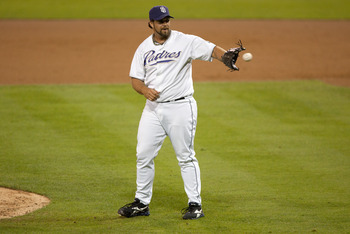 Kent Horner/Getty Images
Even though he's 34 years old and wanting more money than most teams would be willing to pay, Heath Bell is easily the best closer available on the free-agent market. He has been the big man on campus (literally) for the San Diego Padres, at least among the pitchers, having saved 132 games the past three years.
Bell has expressed a desire to remain with the Padres, but chances are they just don't have the money to retain him, even at the hometown discount. Teams in need of bullpen help will break the bank to sign the hefty righty and at the end of the day, I'm expecting him to be on a new team.
In terms of his contract, he'll almost definitely get a four-year deal.
No. 4: Hiroki Kuroda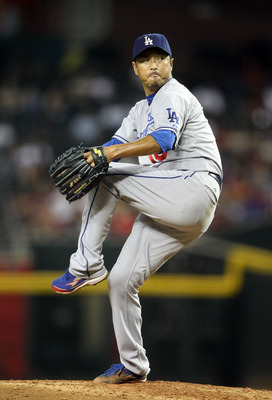 Christian Petersen/Getty Images
At last year's trade deadline, Hiroki Kuroda's name was floated around a lot. Many teams wanted his services, but he ultimately invoked his no-trade clause as he wished to remain in Los Angeles. That appears to be the case again this offseason, but the organization declined to offer him arbitration in the wake of the team being sold.
That isn't to say that Kuroda isn't effective. He went 13-16 last season with a 3.07 ERA and 1.21 WHIP. If he had better run support, he probably would have contended for the NL Cy Young.
Still, at this point, it looks as though Kuroda will do one of two things: accept that his days in Dodger Blue are over and sign with another team, or go home to Japan. Should he choose the first option, the 36-year-old should be able to land a three-year deal.
No. 3: Mark Buehrle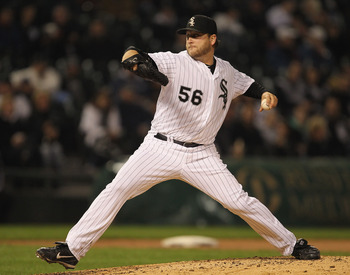 Jonathan Daniel/Getty Images
Even though the White Sox underachieved last season, Mark Buehrle managed to be one of the team's few bright spots, going 13-9 with a 3.59 ERA. As he played out his contract season, people expected him to do one of three things come the offseason: stay in Chicago, sign with his hometown St. Louis Cardinals or retire.
However, multiple teams have shown interest in Buehrle, from the White Sox to the Miami Marlins to the Washington Nationals and it looks like he'll be playing baseball somewhere else next year. It's only a question of where.
Whichever team wins the bidding for his services will garner not only an effective southpaw for the front end of their rotation, but a fine leader in the clubhouse. Buehrle is a charismatic, team-first individual who brings a Mike Mussina-like repertoire to the rotation, and if he has the proper run support and defense behind him, only good things can come from his being on the team.
No. 2: C.J. Wilson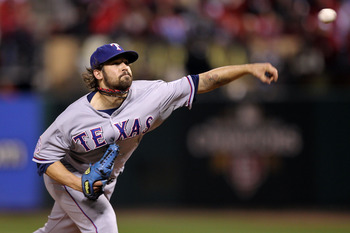 Ezra Shaw/Getty Images
Following the 2009 season, C.J. Wilson approached the Rangers front office and expressed his desire to move from the bullpen to the starting rotation. Since assuming that role, the man has been phenomenal, going 31-15 with a 3.14 ERA and helping his team to two consecutive World Series appearances.
Sure enough, now that he is a free agent, Wilson is demanding top dollar for his services, as in over $100 million over five or six years. Thus far, he has met with teams like the Los Angeles Angels and most recently the Miami Marlins.
While I do believe that Wilson will ultimately get a long-term contract, he won't receive the money he's asking for. As effective as he has been as a starter, the man simply isn't what most would consider an "ace."
On top of that, his postseason performance is a major red flag. For the past two seasons, he has gone just 1-5 with a 4.82 ERA and 1.43 WHIP in the playoffs, probably because of the Rangers' philosophy of not being married to pitch counts.
Still, on a team that will monitor his work closely and not tire out his arm, Wilson will be a more than welcome addition.
No. 1: Yu Darvish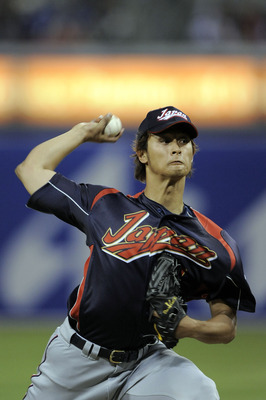 Kevork Djansezian/Getty Images
Here, we have quite possibly the most talked about international prospect since Ichiro Suzuki. Yu Darvish is a 25-year-old pitcher from Japan whose repertoire is headlined by an electrifying fastball that has been clocked in the mid-90s. On top of that, he throws a biting slurve and a number of breaking pitches, including a two-seamer and a changeup.
Darvish has yet to be formally posted but at this point, but it seems like only a matter of time before he is. Once a team wins the rights to negotiate with him, there is no reason that negotiations should end up the way they did with Hisashi Iwakuma. Darvish is so good that the team that wins the rights to him should just say, "Here's a blank check. Write how much money you want per year and it's done."
In seven seasons for the Nippon Ham Fighters, Darvish has gone a phenomenal 93-38 with an incredible 1.99 ERA and 0.98 WHIP, not to mention 1,259 strikeouts in 1,268.1 innings. Should he come to the MLB, it will be on a multi-year contract probably worth around $8 million a season.
On top of that, whichever team signs him will be considered the luckiest in all of baseball.
Keep Reading