Boston Red Sox: Please, Just Say No to Bobby Valentine
November 29, 2011
As of Monday, the Red Sox managerial search is officially down to two men: Gene Lamont and Bobby Valentine. A decision is expected before the winter meetings commence in Dallas next Monday.
After whiffing on Mike Maddux and Dale Sveum, Boston GM Ben Cherington has one card left in his hand in Lamont. Across the table, team president Larry Lucchino drew Valentine from Cherington's discard pile.
Who trumps who?
As Yahoo! Sports Tim Brown argues, the Red Sox are faced with a choice of style—Valentine's brashness versus Lamont's understatement.
Valentine's been to the World Series, won the Japan Series and survived seven seasons in New York. 
Lamont took the White Sox to the ALCS in 1993, winning the AL Manager of the Year award. However, his stints at the helm both in Chicago and in Pittsburgh were rather pedestrian, if not subpar.
He hasn't managed since the Pirates fired him after the 2000 season. 
Valentine seems like the sexy and smart choice for the position. However, he fails on both of these fronts.
Valentine's not the sexy pick.
Some folks, obviously Lucchino among them, go weak in the legs for Valentine's suave and shiny persona. He's frank with the media, which seems to carry a lot of weight on Yawkey Way.
But Valentine is often too outspoken.
Remember when he got into hot water for discussing Mets' front office decisions at a college lecture in 2000? Gordon Edes does.
This incident wasn't the only spat between Valentine and then-Mets GM Steve Phillips, who ultimately fired Valentine in 2002.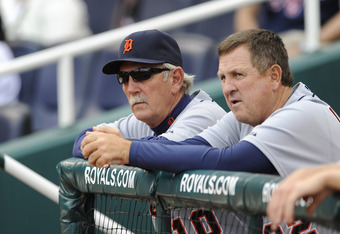 G. Newman Lowrance/Getty Images
In fact, everywhere he's gone, both here and abroad, Valentine's managerial tenures have ended with pink slips. To say he has a knack for picking fights with his superiors is an understatement. 
Doesn't look like Bobby V's exactly a PR darling, huh?
Valentine's not the smart pick, either.
His gaffes and personality clashes could be overlooked if he were a proven winner, but that he is not. In 12 full major league seasons, Valentine has only won at least 90 games twice.
Similar to his relations with management, Valentine's loud and aggressive presence polarizes his players. 
Josh Beckett and David Ortiz—if he's back—might respond well to Valentine, but many other important players would wilt under his thumb, including Jacoby Ellsbury, Adrian Gonzalez, Carl Crawford and Kevin Youkilis.
Is this the right fit for a clubhouse that supposedly fell apart down the stretch? 
Red Sox owners have every reason to go with Valentine. He's their guy and they want to clean up what they perceive to be their mess.
However, if ownership truly wants to swab the decks in wake of 2011, they need to trust Cherington to make baseball decisions.
They need to go with Lamont. 
The owners have hired Cherington to be their GM, so the least they can do is give him some respect, trust his judgment and get their new professional relationship with him off on the right foot.
Lamont isn't Cherington's No. 1 choice—that would be Sveum—but he is a man respected everywhere he's been. 
And then there's Valentine—the guy Lucchino wants—who attracts criticism and scathing commentary everywhere he's been.
We'll know which man the Red Sox will go with any day now. The choice should be easy, right?