2011 NFL Season: Week 13 Picks for All Games as NFL Mikee Stays at Plus 20
November 30, 2011
Rich Schultz/Getty Images
After two weeks of dead even play against the line, being twenty games ahead of .500 is excellent going into Week 13 of NFL action.
Every game is now do-or-die as Philadelphia travels to the hostile confines of Seattle to face the Seahawks, who are not in the playoff race and have nothing to lose.
Philadelphia will win this game, though there will be more problems in games to come. The Vick experiment should be soon over, with the Eagles shopping for a quarterback soon. Philadelphia -2.5
Chicago will beat Kansas City handily at home and strengthen their wild-card position for the playoffs. Chicago +10
Oakland may have their playoff hopes dashed as they make the long East Coast trip to Miami. Teams are now respecting the Dolphins' balanced offense, as Miami's players have responded after a seven-game losing streak killed their playoff hopes for 2011.
Trades will be made, coaches will be changed and Miami will have sunnier days in the future. A trade for a big-name quarterback or a high-quality rookie quarterback is eminent.The Dolphins will win a close game at home, but the Raiders will still have a chance in that weak AFC West division. Dolphins -2.5
The struggling Jets get a break in what should be an easy win versus Washington. A wild-card berth or division win will be out of reach with one more game lost, as far as the Jets are concerned. Jets +6.5
Atlanta in a home game versus Houston without Matt Schaub should be a lock, Atlanta is moving forward at a pace to grab the NFC South division. The Falcons are running the ball well with Michael Turner and keeping the interceptions down.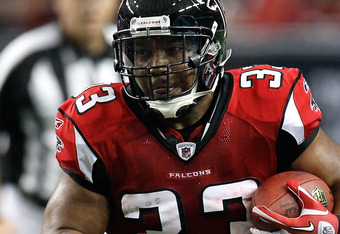 Kevin C. Cox/Getty Images
Houston will be in trouble this week. Run, run, run won't work. Atlanta wins in a laughable contest.
Pittsburgh will cover against Cincinnati this week at home. The only difference in this game, as opposed to the last meeting, is that Pittsburgh will score more points and cover this time. Pittsburgh -7.5
New England will cover whatever points Vegas dreams up this week. Indianapolis will win the Andrew Luck sweepstakes, of course. If the spread is 20.5, I will take Indianapolis and their 20.5 points just for kicks.
Tampa Bay hosts division rival Carolina and its star rookie Cam Newton, who is the leading candidate for Rookie of the Year honors. This should be a very close game,
Talent seems about equal on both teams, so the home team has a small advantage here, Take the Bucs in a close one. If it's more than four points in favor of Tampa, it will be a chancy wager. Tampa escapes by three points max. Tampa Bay -1.5
Minnesota will not lose to a Tebow-run offense. Take the Vikings. Minnesota -1.5
Green Bay visits the Giants in Week 11; of course, I can't pick against them. It's been good all year. Green Bay and the over has been a fantastic bet 11 out of 16 times this season. Green Bay -6.5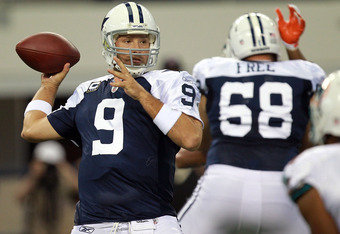 Ronald Martinez/Getty Images
Detroit, in the more difficult part of its schedule, will lose again to New Orleans. The playoffs are looking more and more distant for the Lions. New Orleans -6.5
Dallas will continue its run to the playoffs with an easy win over Arizona. Arizona needs a tremendous draft and some free-agent pickups to become pertinent in the NFL. Dallas -6.5
Baltimore will reach 9-3, winning versus Cleveland. The division is the Ravens' to win, as long as they don't lose one late in the season. Baltimore -6.5
The San Francisco 49ers, division winners, will get another win as they try for home-field advantage for two playoff games.The Rams look to the future. 49ers -14
The struggling San Diego Chargers, who play better late in the season, should beat Jacksonville to keep their playoff hopes alive. Chargers -3.5
The Chargers will lose in the first round, should they make the playoffs. So will any other team in that division.
Good luck to all your teams.
Analysis by NFL Mikee, Thomas Moreland