Five Keys to Loss Against the Packers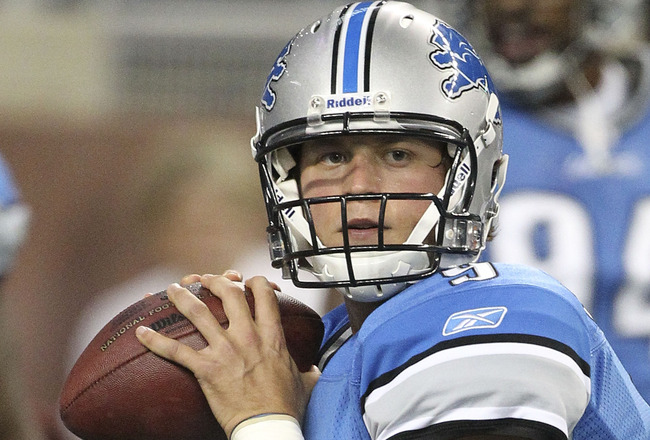 Leon Halip/Getty Images
The last time the Lions won on Thanksgiving Day it was 2003. I was a junior in high school. We beat the Packers and I thought it was the greatest thing in the world. The Lions have been blown out in practically every Thanksgiving Day game since.
The game was ugly from the start. You know it's a bad game when the commentators talk about Stafford's gloves nearly every play. But that's just the beginning.
In the first half, the Lions were at least competitive, despite losing running back Kevin Smith to injury. The score at halftime was 7-0 Green Bay, which is beyond acceptable. The Lions were in it. Key word----were.
When the second half started, it appeared as if the Leos didn't even belong in the same building as the Packers; and it was their own stadium!
Penalty after penalty and injury after injury doomed the Lions. Let's face it. Whether you're playing against the Packers or the Jaguars----heck even if you're a college team playing against my beloved 3-9 Central Michigan Chippewas----you aren't going to win with sloppy play and penalties.
As if that wasn't enough, the interceptions and turnovers came piling in and the Packers started piling on. And then there was Ndamukong Suh. We'll get to him later.
All in all, there were five major keys to the Lions suffering yet another Thanksgiving Day loss to the Packers. By the way, they might as well make that the game every year, since it seems every other year we play the Packers----and have you ever noticed that Dallas always gets the easier draw on Thanksgiving? But I digress.
Here are the five keys that stood out, in my mind, to the Lions' loss on Thanksgiving.
Ndamukong Suh's Ejection Hampered Lions Defensive Line
This looks wildly familiar, doesn't it? Oh, wait, it just happened. That's why.
Remember when Albert Haynesworth was playing for the Titans and he virtually stomped a guy's head off? Well, Suh didn't necessarily take it to that extreme, but still, his play was inexcusable.
When Suh came into the league last year he was a dominating force. Quarterbacks feared him, teammates revered him. There's a reason he won Defensive Rookie of the Year last year and was selected to the Pro Bowl (He didn't participate due to injury). Remember his Dunham's Sports commercial? "What are we hunting?" "Quarterbacks." Yeah, that one.
Ironically, off the field, Ndamukong displays a presence of a genuine, virtuous, soft-hearted, teddy bear-like person. The Chrysler commercial that he's in, when he stops in front of his mom's house would leave many to believe that Suh is a sentimental figure. Apparently, that's not the case.
In the above video, we see Suh trying to plead his case to the ref. Sorry kiddo. That's not going to work. Suh proceeded to stuff Packers guard Evan Dietrich-Smith's head into the ground three times before allegedly stomping on him. I saw the replay and it looked like a stomp to me. Sure, there are those who could argue that he was trying to get firm footing after breaking free of Dietrich-Smith's grip, but the way he moved his foot suggested otherwise.
Suh got ejected from the game and a likely fine and suspension are pending. The curious thing is, Suh had just gotten back from a meeting with NFL Commissioner Roger Goodell explaining his style of play. Then he comes out and does this? Makes you want to scratch your head.
Even as a Suh fan and supporter there is no excuse for that. Whatever he gets, he deserves.
Jeff Backus Penalty First of Many for Lions During Game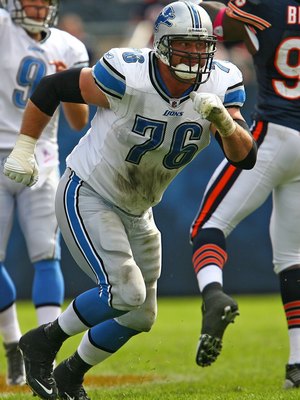 Jonathan Daniel/Getty Images
"Jeff Backus got another penalty?!" That seems to be the collective groan around the Motor City, especially during Thursday's game. Backus's holding penalty, which I believe was the first one of the game, prompted a series of penalties against the Lions for that game. Like most of Backus's penalties, that one was a drive-killer.
I agree with many who say Backus needs to go. However, the Michigan product has done a much more admirable job the past few seasons than previous Lions' left tackles. Backus had the penalty problem at Michigan too. If he doesn't corral himself he will likely find himself out of a job.
Injuries Plagued the Lions All Throughout the Game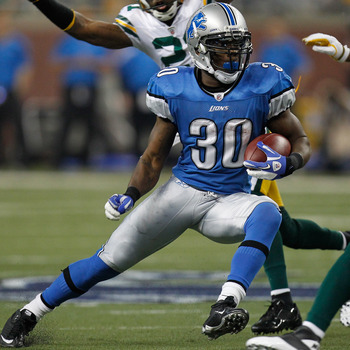 Gregory Shamus/Getty Images
Uh oh, here we go again.
Is it me, or does the injury bug always seem to plague the Lions at the most inconvenient times? I know, I know, every team loses players to injury. But Kevin Smith was one player the Lions couldn't afford to lose.
With Jahvid Best on IR (concussion), and Mikel LeShoure on IR (torn achilles tendon), Kevin Smith was brought in to shoulder the load. He started off great against the Packers, then went down to injury. Whoops.
And his injury wasn't the only one. The Lions also lost cornerback Chris Houston and safety Louis Delmas during the game. If neither of them can return the secondary will have suffered a major setback.
Matt Stafford Must Overcome Finger Injury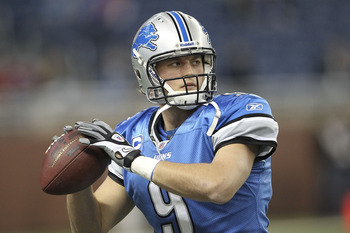 Leon Halip/Getty Images
Okay, can someone please tell me why, if his finger is hurting that badly that he has to wear gloves to grip the ball, Matt Stafford is still playing and not letting it rest and get better?
I understand you don't want to baby your franchise quarterback too much, but let's face facts. The finger is affecting his throwing. Period. His finger is bothering him. Even Terry Bradshaw said on the FOX pregame show on Thursday that it's remarkable how Stafford can get any leverage on the ball to throw it to his receivers.
I admire Stafford's toughness, I really do. But there comes a time when you need to stop playing hero. Shaun Hill is a more than capable backup and if all else fails they could always play Drew Stanton. Stafford needs to let this injury heal or his numbers will be severely affected, and so will the team.
Lions Secondary Could Benefit from Chris Harris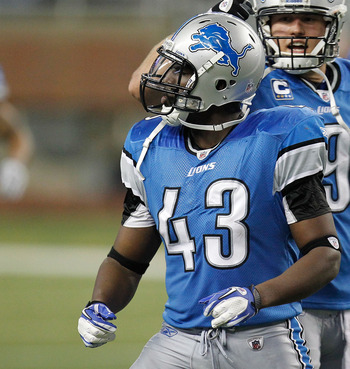 Gregory Shamus/Getty Images
The Lions' secondary suffered a major setback Thursday, when cormerback Chris Houston went down to injury. I think Brandon McDonald did too, because for some strange reason I saw safety John Wendling coming in at cornerback even though he's a safety.
Look, there's a reason Chris Harris was claimed off of waivers from the Bears. When he started against Carolina he played remarkably well. Amari Spivey is struggling in the defensive backfield. He could use a rest or two. I think it's time we saw Chris Harris in the starting role.
Now while I understand we can blame the loss solely on injuries and poor play, these are the five things—throw in Hanson's missed field goal for good measure—that stood out to me most in the Lions' 27-15 loss to the Packers. While the score doesn't indicate it, the game was ugly. If the Lions want to make the playoffs, they cannot afford another game like this.
Keep Reading

Detroit Lions: Like this team?