Matt Hasselbeck: Tennessee Titans QB Needs to Be Recognized for the Winner He Is
November 26, 2011
Kevin C. Cox/Getty Images
Despite the fact that the AFC South isn't looking so hot this year, one star is shining and still isn't getting any credit for it.
No matter where he goes, Matt Hasselbeck wins.
On the season, the former Seahawk has 14 touchdowns to eight interceptions, not astronomical numbers by any means, but Hasselbeck is getting the job done.
He's thrown for 2,357 yards with a 61.1 percent completion percentage and an 86.1 quarterback rating—it's not about the numbers, though.
Hasselbeck wins, despite a dearth of weapons around him, and the signal-caller has never gotten the recognition he deserves.
Just this year, the Titans quarterback lost top weapon Kenny Britt to an injury and past that, he hasn't gotten anything from his running game with the ineffective Chris Johnson.
Look at Hasselbeck's accomplishments—he's been to a Super Bowl, earned a playoff berth (even though it wasn't pretty) last year and led his team to an upset playoff victory. He also led the Titans to a 5-4 record before going down and giving way to the inexperienced Jake Locker last game.
Not only has he come in and been effective, he mentored Locker and the younger quarterback was effective against the Falcons despite losing the game. The University of Washington graduate threw for a solid 140 yards, going 9-for-19 with two touchdowns and no interceptions.
Hasselbeck prepared Locker for the big stage, one of his biggest jobs this year, and he deserves to be commended for such.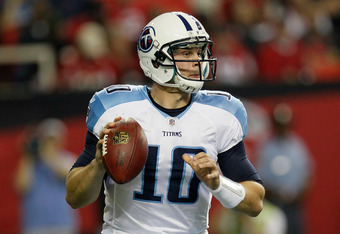 Kevin C. Cox/Getty Images
I'm not going to predict that the Titans win the South, but with Matt Leinart taking the reins in Houston, don't count it out of the realm of possibilities.
Look for the Titans to continue having success with their winning quarterback at the helm.
I recently wrote an article about an unlikely quarterback, Vince Young, having "it". I said that Young, Tim Tebow and Aaron Rodgers all have "it." I'm convinced Hasselbeck does, too.
I could be completely wrong, and I'll temper my evaluation of Hasselbeck by noting that the Titans don't have a cakewalk to the playoffs and may finish with a losing record. I just have a gut feeling after all I've seen with Matt Hasselbeck that he has the intangibles of a top-level quarterback, though.
Matt Hasselbeck is "it."