NFL Week 12: 10 Biggest Winners and Losers from Around the League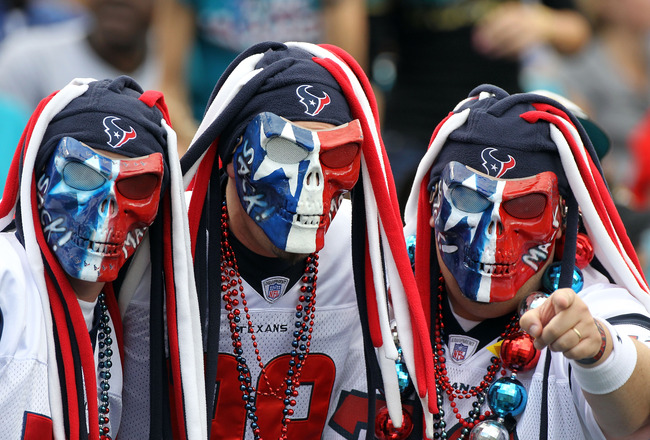 Sam Greenwood/Getty Images
The week in football began with a disqualification and ended with the possible sighting of a lost NFL star.
Not bad for holiday greetings, family celebration and, of course, football.
While some teams continue to plummet (Indianapolis) and some continue to surprise (Cincinnati), others stay the course and some astound us with good and bad play.
There are only 27 shopping days until Christmas and five weeks left until we start looking at playoff games.
Yes, life is good in the NFL.
Here are this week's winner and losers.
20. Loser: Ndamukong Suh, Detroit Lions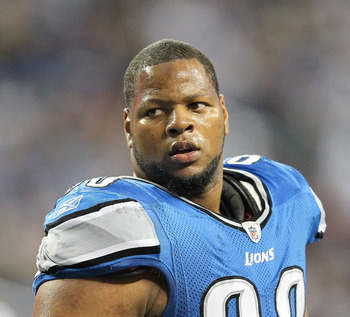 Leon Halip/Getty Images
Maybe the biggest loser of the year? That's stretching it.
But Suh, who is already regarded as one of the best defensive tackles in the game, has an issue with understanding right from wrong when it comes to comments or on the field play.
He needs to straighten up his act or he will be regarded as a dirty player the rest of his career.
19. Winner: Dan Bailey, Dallas Cowboys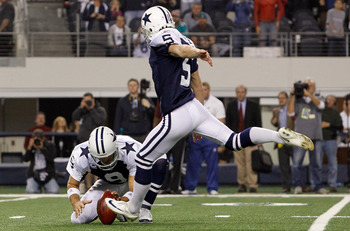 Tom Pennington/Getty Images
The rookie kicker won a game for the Dallas Cowboys for the second week in a row, beating Miami on Thursday.
The Cowboys are now in the thick of the NFC East race and are playing better than they have all season.
Bailey is a big part of that.
18. Loser: Jim Harbaugh, San Francisco 49ers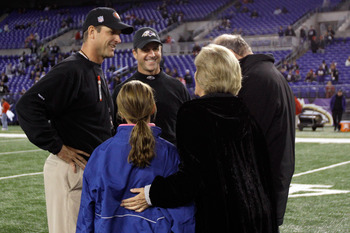 Rob Carr/Getty Images
The rookie head coach lost in the "Harbaugh Bowl" on Thursday night to brother John and the Baltimore Ravens, 16-6.
The loss also meant the 49ers lost their second game of the season and have to wait until next week to possibly capture the NFC West title.
17. Winner: Chris Johnson, Tennessee Titans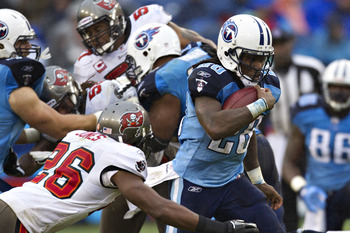 Wesley Hitt/Getty Images
Maybe the Titans found their star again.
Johnson ran for 190 yards on the day in a 23-17 win over Tampa Bay, pulling a Peter Frampton.
He came alive.
Johnson has been a missing link in the Titans offense for most of the season but ran for 190 yards in the contest, his best output of the season.
16. Loser: Miami Dolphins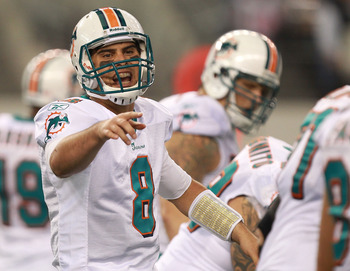 Ronald Martinez/Getty Images
The Dolphins three-game winning streak came to an end Thursday with a 20-19 loss to the Dallas Cowboys.
Miami had been playing well of late and went three straight games without giving up a touchdown.
Dan Bailey hit the game winner on the last play of the game, starting the job security rumors of Tony Sparano again in Miami.
15. Winner: Cedric Benson, Cincinnati Bengals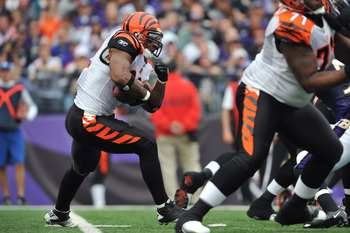 Larry French/Getty Images
The Bengals and Cedric Benson did it again, this time against their in-state rivals, the Cleveland Browns.
Cedric Benson, along with rookie quarterback Andy Dalton and the Bengals beat the Browns 23-20.
Dalton threw for 270 yards, while Benson ran for 106 yards and a score in the contest.
Cincinnati is now 7-4 on the season and still in the thick of the playoff race.
14. Loser: Tampa Bay Buccaneers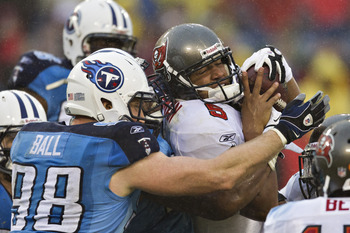 Wesley Hitt/Getty Images
The Bucs are free-falling.
Five losses in a row, this last one at the hands of Tennessee, 23-17.
The Buccaneers allowed Chris Johnson to look like an All-Pro again and gave up over 200 yards rushing on the day.
13. Winner: Reggie Wayne, Indianapolis Colts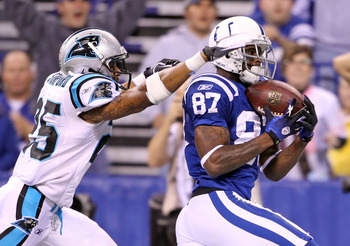 Andy Lyons/Getty Images
I am throwing some love toward Reggie.
The veteran receiver has been stuck in purgatory this year. He had a good game, catching five passes for 122 yards and a touchdowns in a 27-19 loss to Carolina.
In a season where everything is just in shambles for the Colts, Wayne still proved he can play and get into the end zone.
12. Jacksonville Jaguars
Sam Greenwood/Getty Images
The Jaguars defense played well.
Again, the offense let them down.
Despite a 166-yard offensive performance from Maurice Jones-Drew, the Jaguars could not score more than 13 points and fell to the Texans, 20-13.
11. Winner: Roddy White, Atlanta Falcons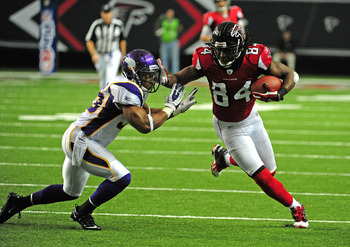 Scott Cunningham/Getty Images
White was the big winner today, as he caught 10 passes for 120 yards and a touchdown in a 24-14 win over the Minnesota Vikings.
White's "best friend," Matt Ryan, threw for 262 yards and three touchdowns on the day.
Atlanta improved to 7-4 on the year and have won two in a row.
10. Loser: Buffalo Bills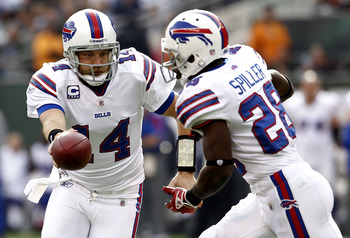 Jeff Zelevansky/Getty Images
The Jets have their number this year.
The Bills lost again to their division rivals, 28-24.
The Bills were once 5-2 on the season, but now have lost four in a row and are on the outside looking in on the AFC playoff picture.
9. Winner: DeAngelo Williams, Carolina Panthers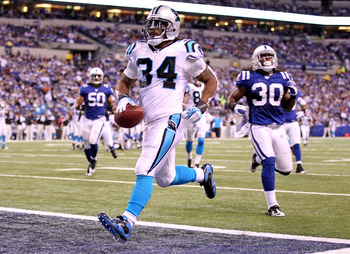 Andy Lyons/Getty Images
Williams may have only run for 69 yards on the day, but he scored twice and helped Carolina to a 27-19 win over the winless Indianapolis Colts.
Cam Newton, the Panthers rookie phenom, was efficient as a passer, completing 20 of 27 passes on the day.
The Panthers are 3-8 this season and have won more games than they did all of last season.
8. Loser: Philadelphia Eagles Defense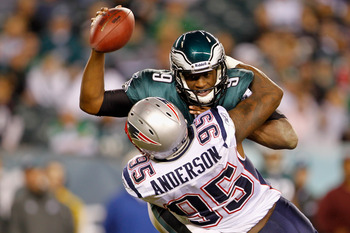 Rich Schultz/Getty Images
On a day when backup quarterback Vince Young throws for 400 yards, the defense allows Tom Brady and the New England Patriots score 38 points and throw for 361 yards and three touchdowns in the 38-20 loss.
Not much more needs to be said about this team.
7. Winner: Beanie Wells, Arizona Cardinals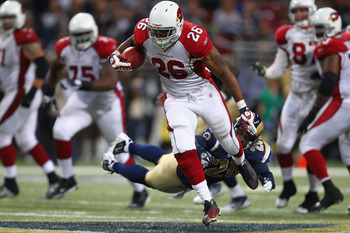 Dilip Vishwanat/Getty Images
Wells ran over St. Louis for 228 yards on the day in a 23-20 road win.
The Cardinals also won an important division contest and moved to 4-7 on the season.
Wells was part of an offense that produced 268 yards on the ground.
6. Loser: Chicago Bears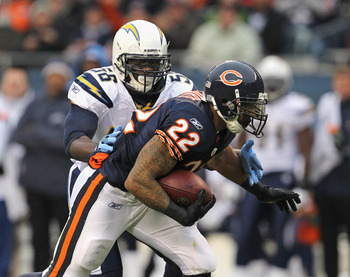 Jonathan Daniel/Getty Images
On a day when they could have stood all alone in second place in the NFC North, Chicago lost to Oakland, 25-20.
The Bears started Caleb Hanie at quarterback in place of Jay Cutler. They could not overcome a Raiders team that relied on six field goals to get the win.
5. Winner: Green Bay Packers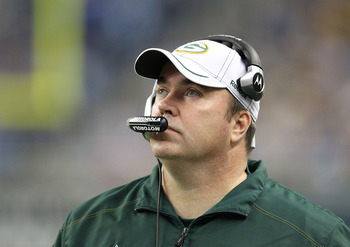 Leon Halip/Getty Images
11-0. Can anyone beat them?
They looked like there was so much riding on this game and, well, the Packers dispelled all those thoughts in the second half.
Enough said.
4. Loser: Steve Spagnuolo, St. Louis Rams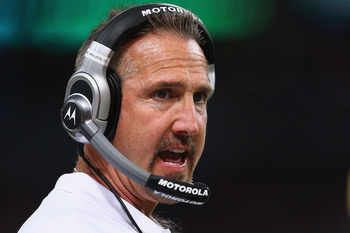 Dilip Vishwanat/Getty Images
This was supposed to be the team that shocked us all this season.
Spagnuolo must be hearing whispers.
The Rams allowed Beanie Wells to run for 228 yards on the day—enough to get anyone's attention.
3. Winner: Rex Grossman, Washington Redskins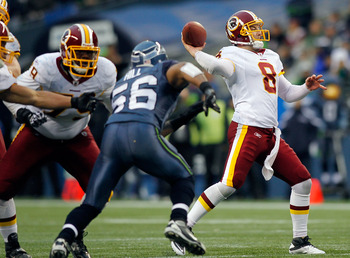 Jonathan Ferrey/Getty Images
Boy, did he need this one. Grossman threw for 314 yards in a 23-17 win.
The Redskins needed this win to hold out hope of remaining in the playoff picture in the NFC.
2. Loser: Jim Caldwell, Indianapolis Colts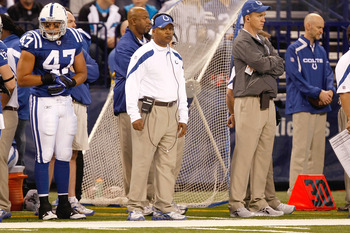 Scott Boehm/Getty Images
It is not fair to keep ganging up on him, but they cannot but a win.
The Colts lost 27-19 and in doing so, they gave Carolina its first road win since 2009.
Andrew Luck, where are you?
1. Winner: Sebastian Janikowski, Oakland Raiders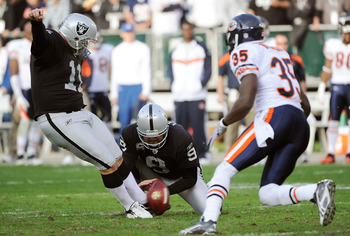 Thearon W. Henderson/Getty Images
Earlier in the year, my FSU alum kicked a 63-yard field goal. This time, he kicked six field goals to beat the Chicago Bears.
Carson Palmer threw for 301 yards in the win that allowed the Raiders to remain atop the AFC West.
Keep Reading