Albert Pujols and New York Mets: How It Could Happen and Why It Might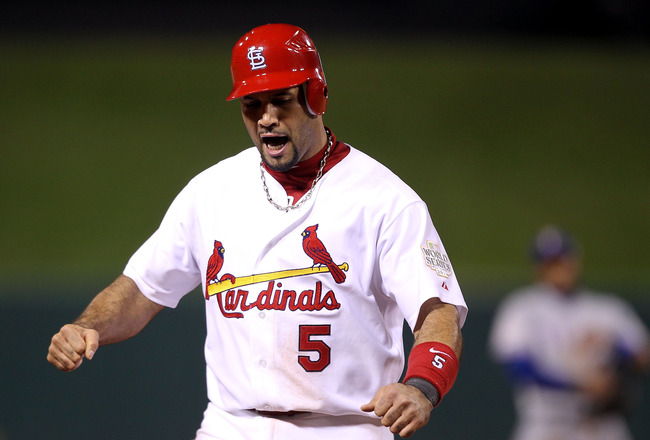 Ezra Shaw/Getty Images
With the 2011-2012 offseason in full swing, the biggest topic in baseball has been whether superstar first baseman Albert Pujols will re-sign with the Cardinals, whom he has spent the first 10 years of his career with, or test the free-agent market. Arguably the best hitter in baseball within the past decade and future Hall of Famer, Pujols has put together one remarkable season after another and has also become the symbol of baseball's post-steroid era.
While the Cardinals have a very good chance to re-sign Pujols, the Marlins have lately created some buzz by offering Pujols a nine-year contract. The Giants and Cubs have also been rumored to be interested in Pujols' services. But one team that has not said much about Pujols but could still make a big offer out of nowhere is the New York Mets. The Mets are a team in desperate need of another star player with Jose Reyes likely to not return. Furthermore, the team needs a big time power hitter to protect David Wright in the lineup. Pujols would certainly fit the bill.
With this being said, here are five reasons as to how the Mets could sign Pujols and why it just might happen.
1. Jose Reyes Is Likely to Leave the Mets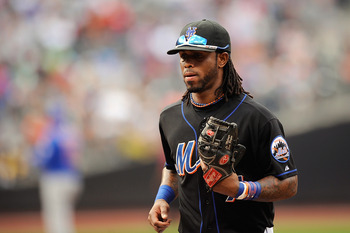 Patrick McDermott/Getty Images
With Jose Reyes unlikely to re-sign with the Mets, the Mets will have lost one of their two main cornerstones for the past nine seasons. In a city like New York, teams are expected to have multiple superstars together on one team, and if Reyes leaves, Wright will be the lone cornerstone left on the Mets.
As a result, the Mets will need another face to the franchise. If they were to go after Pujols, he would replace the void left by Reyes. Furthermore, if the Mets decide to not commit to Reyes, they could use most of the money they have to go after Pujols, who would bring instant results to the Mets. It would be tough for Pujols to turn down a deal to play in the biggest city in the world. It would also give the Mets a star first baseman to rival the Yankees' Mark Teixeira.
2. The Mets Are Known for Making Big Free-Agent Signings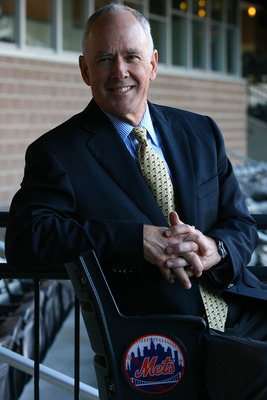 Andrew Burton/Getty Images
Ever since he became the Mets' general manager, Sandy Alderson has gone about his job differently than his predecessor, Omar Minaya. In other words, while Minaya signed free agents with a blank check, Alderson has been working very carefully around a strict budget and has not really signed any major players since becoming general manager.
In this offseason, he has stated he would like to get a high-profile closer, plus a few other players for the minimum salary as the Mets are trying to cut their payroll. With Joe Nathan already having signed with the Rangers, the Mets may turn to someone like Jonathan Broxton to be the new closer. However, for all that he has been saying, Alderson just might have a plan up his sleeve that no one knows of because he may not want to give it away yet. It's possible he may be trying to sign a high-profile player like Pujols at the last minute, which was similar to how Minaya completed the Johan Santana trade with the Twins.
Again, Alderson has stayed true to his word so far, but don't be surprised if he has been bluffing this offseason.
3. Fred Wilpon Is Unlikely to Lose His Court Case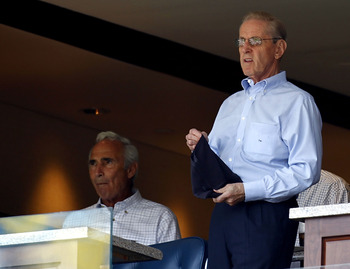 Jeff Zelevansky/Getty Images
Over the past few months, baseball and its fans have learned Fred Wilpon, the Mets' principal owner, is not as likely to lose up to $1 billion to Irving Picard and the victims of Bernard Madoff's Ponzi scheme.
Assuming this is the case, the Mets are very likely to have more money for the offseason than one may have thought at the beginning of this lawsuit. As of right now, Wilpon and the Mets are likely to lose less than $200 million from the Madoff Ponzi scheme, if anything. This means the Mets may have more money to spend or save than they may have previously thought.
The main reason the Mets are trying to lower their payroll was because of the lawsuit Wilpon has had to deal with, but if all goes well, the Mets could have more money to use to improve the team, and signing Albert Pujols is certainly one thing they could do with that money.
Ike Davis and Daniel Murphy Can Become Expendable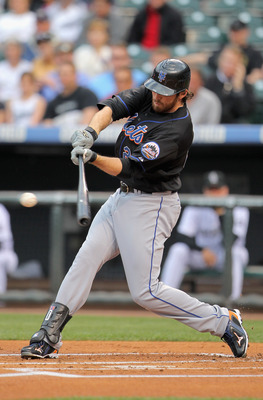 Doug Pensinger/Getty Images
While Ike Davis may already be viewed as the Mets' first baseman of the future, Sandy Alderson has stated multiple times no one is "untouchable." If the Mets were to sign Pujols or another star first baseman, they would definitely try to trade Davis for most likely some prospects. Furthermore, Davis was injured for most of the 2011 season, so his health has become more questionable as a result. It will be interesting to see if Davis can stay healthy for the years to come.
When Davis got hurt in 2011, Daniel Murphy moved from second base to first base in order to fill the void. He had a great season by batting .320 until he too got hurt in August and missed the rest of the season. Now, with Davis healthy and ready to go for the 2012 season and due to the fact that Murphy has suffered major injuries in the past two seasons, Murphy's future with the Mets is questionable once again. He can play second base, but being that it is not his natural position, he and the Mets should be cautious of the potential injury risks.
All in all, Davis is slated to be the Mets' first baseman in 2012 and Murphy is likely to be a utility player, but both can be expendable if the Mets try to sign Pujols to a long-term contract.
Citi Field's Fences Are Moving in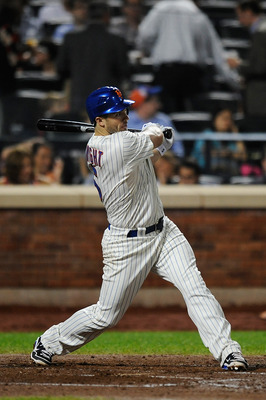 Patrick McDermott/Getty Images
After the 2011 season ended, the Mets announced they are going to lower the left-field wall and move it in and also move in the right center field fence so the ballpark looks not only more symmetrical, but evenly favorable to both hitters and pitchers.
In its first three seasons, Citi Field was a genuine pitchers' park. Many long fly balls in left field turned into outs and the right-center field alley mainly benefited doubles and triples hitters instead of home run-hitting sluggers. By moving the fences in and lowering the left field wall, the Mets and their opponents are very likely to hit more home runs in Citi Field in 2012. This could definitely benefit players like David Wright and Jason Bay, who have both struggled generally speaking to hit for power in Citi Field. With the fences coming in, Mets' hitters will be expected to contribute more towards the team's success.
The moving in of the fences could also benefit someone like Albert Pujols in case he decides to sign with the team. Being a National League hitter, Pujols has played at Citi Field before and did not have the greatest success there. However, if the fences are in and the left field wall is lowered, this could definitely lean Pujols towards choosing the Mets over other teams whose ballparks may not look as favorable to him.
Keep Reading

New York Mets: Like this team?