NFL
NFL Power Rankings Week 12: What Will Be the Impact of Thanksgiving Games?
Jonathan Daniel/Getty Images
November 24, 2011
Tomorrow is Thanksgiving Day and football fans across the nation have reason to be thankful for three games with marquee matchups. Unlike in previous years, every Thanksgiving game this year has teams that are in the playoff picture.
Five of the teams playing tomorrow are in the top 10 of my rankings. The exception is the Miami Dolphins, a team that is on the rise after winning three games straight. They are now one of the hottest teams in the league and not a team for the NFC East-leading Dallas Cowboys to overlook.
The action starts at 12:30 p.m. with the Detroit Lions hosting the undefeated Green Bay Packers. Then at 4:15, the Dallas Cowboys will host the Miami Dolphins. Finally at 8:20, older brother John Harbaugh will be coaching his Baltimore Ravens against younger brother Jim's San Francisco 49ers. 
Although many of this week's games take place on Sunday, it's hard to think that they will be more important than Thanksgiving's games, particularly the Detroit game and the Baltimore game. These two games could determine playoff positioning, and they will feature four of the best teams in the NFL.
Here are my predictions on what will happen with these games.
Green Bay Packers @ Detroit Lions
The Green Bay Packers have established that they are the best team in the league with 16 consecutive wins, counting their Super Bowl run last year. At 10-0, they have a serious chance at going undefeated this year and perhaps going down as one of the greatest teams in NFL history.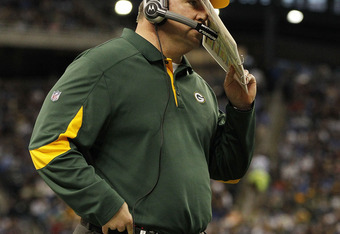 Mike McCarthy continues to prove he's one of the best coaches in the NFL today.
Leon Halip/Getty Images
Standing exactly in their way is the surprising Detroit Lions. Ranked No. 3 on my power rankings, this team has faced adversity all year and usually responded with success. They have had three fourth-quarter comebacks already thanks to an explosive offense that has learned how to win the close games.
Their defense is also vastly improved as they relentlessly rush the quarterback with their big guys up front. If any team could pressure Aaron Rodgers and make him have a bad game, it could be this team. Between the improvements the Lions have made on both sides of the ball, it looks like they will be a challenge for the Packers and actually have a good Thanksgiving game for once.
Although the Lions may be the team most likely to beat the Packers, don't count on it happening tomorrow.
Even with their fifth-ranked defense, the Lions are going to have trouble stopping an explosive Packers offense that has so many playmakers to give the ball to. The Lions could also have difficulty keeping Rodgers off the field with a run offense that has struggled since Jahvid Best went down with injury (Kevin Smith has been inconsistent his whole career and the Carolina Panthers simply have a terrible run defense, so I would not expect an encore performance this week.) 
Green Bay 27, Detroit 23
Miami Dolphins @ Dallas Cowboys
This game has become a much more intriguing matchup over the last three weeks. The Dolphins have gone from Andrew Luck contender to surprise team in only a few weeks. Although their wins have all come against struggling teams, they have been blowout victories that suggest the Dolphins may be ready to actually beat someone good.
At the heart of the Dolphins' recent play is quarterback Matt Moore and running back Reggie Bush. Moore has been steady with seven touchdowns since he took over after Chad Henne's season-ending injury. Bush has finally looked like a starting running back, as he leads the team in rushing yards and has four touchdowns in the last three games.
The Cowboys meanwhile are leading the NFC East and look like they could win the division thanks to an easy closing schedule. Tony Romo is typically very good during the month of November and the Cowboys as a team seem to peak during their annual Thanksgiving game. On paper, the Cowboys are comfortable seven point favorites over the Dolphins.
However, the Cowboys haven't always done well being the favorites, as shown by their loss to the Philadelphia Eagles and their overtime game against the Washington Redskins. They seem like they could be ready to slip while the Dolphins have talked about winning out the rest of the season. That's likely not going to happen but for one more week, the Dolphins should stay in the win column.
Expect a low-scoring game that will showcase two of the league's underrated defensive units.
Miami 10, Dallas 3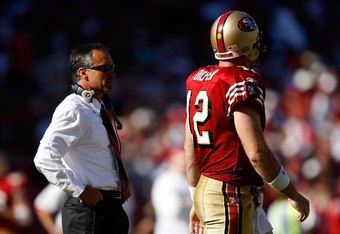 Believe it or not, the Ravens Super Bowl winning quarterback Trent Dilfer started for the 49ers the last time these teams met.
Allen Kee/Getty Images
San Francisco 49ers @ Baltimore Ravens 
NFL Network's Thursday Night Football really lucked out with this matchup. The reason it was picked was because this is the first NFL game to ever feature brothers as opposing head coaches. Now it's turned into a potential Super Bowl preview between the No. 2 team on my power rankings (49ers) and the No. 4 team (Ravens).
The 49ers have played extremely well this year, winning seven straight to give them a surprising 9-1 record. Should they win this week and the Seattle Seahawks lose, they will clinch the NFC West. Although the 49ers have gotten a reputation for being a defensive team with a strong running game, their passing game has improved over the past few weeks, and quarterback Alex Smith has been playing the best football of his career.
The Ravens are currently the best team in the AFC North and possibly the entire AFC. They are 4-0 this year against teams that are over .500. They are also undefeated at home and have built up one of the best home-field advantages of any team in the league.
This game is hard to pick since the teams match up so well with each other. Both teams have elite defenses and so-so offenses that have been criticized for holding the team down. When it comes down to it, the 49ers have a disadvantage in that they have to travel three times zones for a game after only four days rest. 
In a game that will be relatively close, I like the Ravens' home-field advantage. Also, as good as the 49ers have been, they have been winning ugly for nearly two months, so that's got to end eventually.The Ravens will prove to have the better defense and will get their first shutout since 2009.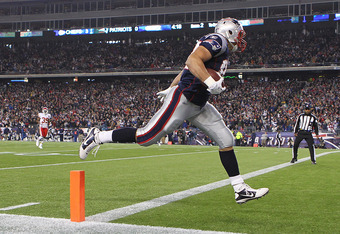 Should the Ravens lose, the Patriots could be the AFC's top team on my power rankings next week.
Jim Rogash/Getty Images
Baltimore 13, San Francisco 0
My Power Rankings 
1. Green Bay Packers
2. San Francisco 49ers 
3. Detroit Lions 
4. Baltimore Ravens
5. New Orleans Saints
6. Chicago Bears
7. Houston Texans
8. Pittsburgh Steelers 
9. New England Patriots 
10. Dallas Cowboys
11. Oakland Raiders
12. Atlanta Falcons
13. New York Giants
14. Cincinnati Bengals
15. Tennessee Titans 
16. Denver Broncos
17. New York Jets
18. Buffalo Bills
19. Tampa Bay Buccaneers 
20. Philadelphia Eagles
21. Kansas City Chiefs
22. San Diego Chargers 
23. Cleveland Browns
24. Seattle Seahawks
25. Jacksonville Jaguars
26. Miami Dolphins 
27. Washington Redskins
28. Arizona Cardinals
29. St. Louis Rams
30. Minnesota Vikings 
31. Carolina Panthers 
32. Indianapolis Colts
Like the new article format? Send us feedback!