NFL Picks Week 12: Thanksgiving Day Predictions and Storylines
November 23, 2011
Elsa/Getty Images
Note: The quotes in this article are fictional.
Green Bay at Detroit (+7)
It's Thanksgiving in Detroit, and everywhere else for that matter. The Lions are 7-3 and fighting for a playoff spot. By upsetting the Packers, the Lions would pull to within two of the division lead, as well as significantly improve their Wild Card position.
"In years past," Jim Schwartz said, "opponents observed Thanksgiving as a holiday because they were playing us. No more. For the first time in awhile, we won't be 'served' for lunch."
Matthew Stafford passed for five touchdowns last week against the Panthers. Will another five be enough against the Packers? Probably, if none of those go to the Packers.
There's a difference in these two teams. The Packers are potent; the Lions have potential. 
The Packers are 10-0 after last week's 35-26 win over Tampa Bay and all eyes, including those of the 1972 Dolphins, will be on their quest for perfection.
"I think it's great that the '72 Dolphins are watching," Aaron Rodgers said, "but I doubt they're hearing. Someone take a picture of those guys. And make sure they say 'cheese,' because that's as close as they'll come to acknowledging the Packers.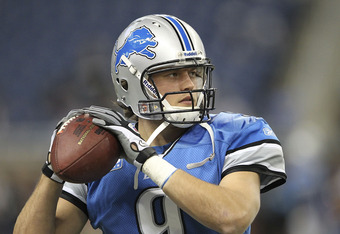 Leon Halip/Getty Images
"As for the Lions, we expect them to give us their best shot. Hopefully, it will be legal and not upside my head. I'm making this a personal battle between Stafford and me. He wears gloves on his hands. I wear rings."
Thursday's game has eerie similarities to the 1962 Thanksgiving contest in which the Lions handed the Packers their only defeat of their championship season.
What's even more uncanny is how the styles of the quarterbacks in that game, Bart Starr and Milt Plum, resemble that of Tim Tebow.
But that was then, and this is now. Most quarterbacks can complete an eight-yard out-pattern. Stafford and Rodgers can do that and more.
Rodgers can do it better, however.
Green Bay shakes off a slow start, and Rodgers throws for four touchdowns.
Packers win 38-27.
Miami at Dallas (-9)
The Cowboys escaped Washington with a 27-24 overtime win over the Redskins to improve to 6-4, good for a tie with the Giants atop the NFC East.
Tony Romo threw for 292 yards and three touchdowns to lead the Cowboys, who have won three straight.
"I've said it once," Romo said, "and I'll say it again: I will lead the Cowboys to a Super Bowl win. But not this year. There's no way an NFC East team will win the Super Bowl.
Heck, I'm not even sure an NFC East team can win the division. Like my pregnant wife, I'll still be 'due' come February.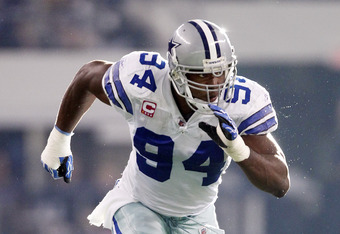 Layne Murdoch/Getty Images
"Now we're in a tie for the East lead. If we beat the Dolphins, we'll hold the division lead for at least four days. That's great, but I'd gladly exchange four days in November for one day in January. Everybody knows I operate well from the shotgun but not from a pedestal."
The Dolphins are no longer pushovers after having won three consecutive games, their latest triumph a 35-8 win over Buffalo.
Miami is now 3-7 and pose a legitimate threat to the Cowboys.
"I know legitimate threats," Tony Sparano said. "They usually involve my job.
"We may be the most feared 3-7 team in the NFL. Who fears 3-7 teams, you ask? Tenured coaches, that's who."
The Dolphins win the opening coin toss and defer to the Cowboys. Dallas graciously agrees to receive the Miami kickoff, as well as the 'Fins gift of a bag of fake snow and a Leon Lett bobble head doll.
The Dallas captains respond, in kind, with The Sparanos DVD box set, a series which ended abruptly after four seasons.
The Cowboys jump on the Dolphins early, building a 10-0 first quarter lead, and hold off a late Miami rally for a 26-20 win.
San Francisco at Baltimore (-4 1/2)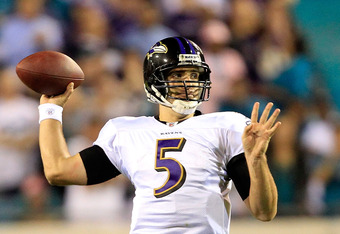 Sam Greenwood/Getty Images
It's brother versus brother as the 49ers and Jim Harbaugh travel to Baltimore to face John Harbaugh's Ravens Thanksgiving night.
San Francisco improved to 9-1 after last week's 23-7 win over the Cardinals.
"This is the first NFL game featuring brothers as opposing head coaches," Jim Harbaugh said. "Coupled with the game's injury report, this is a case of 'bloods and crips.' I don't expect gang warfare, but I do expect gang tackling, big hits and physical contact on par with my postgame handshake with Jim Schwartz."
The Ravens bounced back from Week 10's loss in Seattle with a 31-24 win over the Bengals last week, earning a key divisional victory. Joe Flacco led the way with 270 yards passing and two touchdowns.
"I'm not sure if that's Flacco being his 'usual' self," John Harbaugh said, "or his 'unusual' self. I guess we'll find out in the playoffs.
"As for the 49ers, we've got our team leader, Ray Lewis, back on the field calling the defense and calling out the offense. Ray will arguably be the best quarterback on the field Thursday night."
Prior to kickoff, the M&T Bank Stadium speakers blare MC Hammer's "Turn This Brother Out," and Jim Harbaugh can only chuckle while quipping to Lewis, "That's bro,' Raven."
After the kickoff, the teams settle into a defensive stalemate, with yards hard to come by. In the end, David Akers's 51-yard field goal attempt sails wide left as time expires.
Baltimore wins 16-13.