NFL: Week 12 Could Be Best National TV Lineup of Games Ever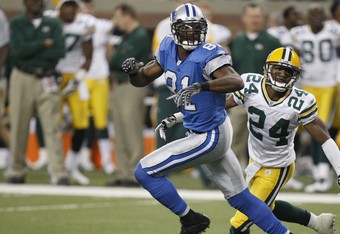 Gregory Shamus/Getty Images
This week of football could be the most memorable of the year, if not the best five games played in front of a national audience we've ever seen in a week.
All five games have not only division implications for each team, but can also play a factor in playoff seeding.
There are usually only two national TV games played each week, but this week is Thanksgiving week.
Thanks to the NFL Network, newly formed in the last few seasons, we now have three games on Thanksgiving to watch to go along with Sunday night and Monday night football.
The first game on Thanksgiving is always the Detroit Lions, the second game is always the Dallas Cowboys and now a third game on the NFL Network.
Usually, the Detroit Lions game doesn't mean a thing in week 12. In fact, the last five years many have questioned why the Lions were even still a part of the Thanksgiving lineup. Many wanted a rotation of teams to play.
The Lions game this Thanksgiving will be huge. This game has not only NFC North division implications, but also playoff positioning for a change.
The Green Bay Packers bring their perfect 10-0 record to Ford Field to take on the 7-3 Lions. Many think the Lions can upset the Packers. This will be a huge game with many story lines around it. Both have great offenses and physical defenses.
The next game isn't a huge, but has its own story lines as well.
The Miami Dolphins travel to Dallas to take on the Dallas Cowboys. A few weeks ago, this game looked lackluster, but thanks to a Dolphins three-game win streak, and with the Cowboys now tied for the NFC East lead, this game will surely not disappoint.
The Cowboys need to win to put pressure on the Giants. Plus, they need to stay with the Bears and Lions in the wild-card hunt.
Anyway, how can you forget that famous 1993 snow game on Thanksgiving between the Dolphins and Cowboys?
The night cap on the day of great games is a huge one in itself. For the first time ever, two brothers that are head coaches will coach against each other when 49ers head coach Jim Harbaugh takes his 9-1 team east to take on his brother, John Harbaugh, and his 7-3 Baltimore Ravens.
The 49ers are a huge surprise and playing for home-field advantage in the NFC. The Ravens are tied with the Pittsburgh Steelers for the AFC North division lead and are also playing for AFC home-field advantage as well.
Both teams are defensive minded and very physical. This game will be very memorable.
Those three games are satisfying enough, but on Sunday Night Football's telecast, we have the Pittsburgh Steelers at Kansas City Chiefs.
The Steelers and Chiefs rivalry goes all the way back to the start of the NFL days—and the Chiefs are tough at Arrowhead. Both teams are playing for division titles even though the Chiefs have struggled as of late.
Patrick Smith/Getty Images
To close this week of great football, the NFC East-leading New York Giants (6-4) travel to the NFC South-leading New Orleans Saints (7-3).
Many think the Giants can win the NFC with their stout defense, but they have struggled the last few weeks. The Saints' high-powered offense will be a great test and a great matchup.
This game has division implications for both teams and playoff positioning for seeds.
Right now, this is the playoff picture if the season were to end today. Compare this with these games and you have to be amazed.
NFC:
1. Green Bay Packers (10-0)
2. San Francisco 49ers (9-1)
3. New Orleans Saints (7-3)
4. New York Giants (6-4)
5. Detroit Lions (7-3)
6. Chicago Bears (7-3)
In the hunt: Dallas Cowboys (6-4), Atlanta Falcons (6-4)
AFC:
1. Houston Texans (7-3)
2. Baltimore Ravens (7-3)
3. New England Patriots (7-3)
4. Oakland Raiders (6-4)
5. Pittsburgh Steelers (7-3)
6. Cincinnati Bengals (6-4)
This article is
What is the duplicate article?
Why is this article offensive?
Where is this article plagiarized from?
Why is this article poorly edited?