Minnesota Twins: Losing Joe Nathan Is Terry Ryan's First Mistake
November 22, 2011
Ronald Martinez/Getty Images
It took Minnesota Twins general manager Terry Ryan a little less than two months on the job to make his first big blunder. On Monday, the Texas Rangers announced the signing of four-time All-Star closer Joe Nathan to a two-year, $14.7 million contract, with a club option for a third year.
The Twins career leader in saves is taking a $3.8 million pay cut from 2011 to join the American League's World Series representative for the past two seasons.
This leaves a huge hole at the end of the Twins bullpen. Sure, in a 99-loss season there isn't much need for a closer, but if Ryan is going to turn the Twins around, a reliable closer is a must.
In a report in the St. Paul Pioneer Press, the 37-year-old Nathan said the Twins' offer was close to that of the Rangers, but it was the chance to play for a contender that sealed the deal.
Nathan leaves Minnesota with 260 saves, a 24-13 record and a 2.16 ERA. Since joining the Twins in 2004, Nathan has the fourth most saves in baseball—even after missing the entire 2010 season and only earning 14 saves in 2011. 
That leaves free agent Matt Capps and setup man Glen Perkins as potential candidates to replace Nathan. The departure of Nathan will give Capps a little more leverage in negotiations, potentially costing Ryan and the Twins more than if they planned on re-signing him over Nathan initially.
Without having Tommy John surgery as an excuse, Capps had a worse season than Nathan, with only 15 saves along with nine blown saves and a 4.25 ERA—his third highest ERA in seven big league seasons.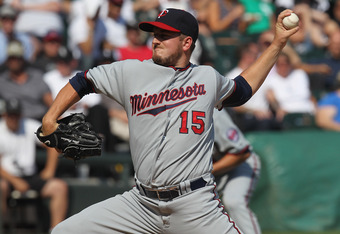 Jonathan Daniel/Getty Images
Ryan needed to convince Nathan that he had a plan that would have the Twins, who won 94 games in 2010, once again competing for the AL Central.
Unfortunately, all Nathan needed to do was to look at Ryan's signing of shortstop Jamey Carroll to see that the Twins appear to still be bargain-basement shoppers instead of World Series contenders.
The good news for Nathan is that the Rangers plan to move their current closer, Neftali Feliz, to the starting rotation. The move is in anticipation of losing free-agent starter CJ Wilson. The bad news is that the Rangers gave Nathan number 63, because 36 is Wilson's number.
Perhaps Ryan can pull off a deal to bring Wilson to Minnesota, making him the ace of the starting rotation. Both players can then still wear number 36, and Ryan could regain some confidence with Minnesota Twins fans.