MLB Playoff Expansion 2012: Reported Plan Doesn't Go Far Enough
February 3, 2017
Jamie Squire/Getty Images
The Major League Baseball playoffs will be expanded by one team in each league starting in 2012, according to ESPN's Buster Olney. While changes to the league's playoff structure were needed, this plan doesn't do enough.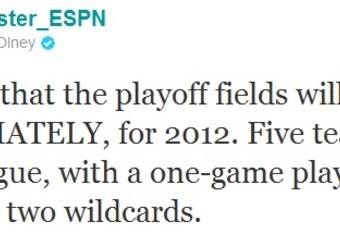 Under the new idea, two wild cards from each league would face off in a win-or-go-home clash for a Division Series berth. It's hard to imagine a one-game series generating much more interest in the playoffs as a whole.
Baseball has the most grueling schedule in any major sport. One-hundred and sixty two games over the span of 26 weeks. After that extended journey, it seems kind of ridiculous that two playoff teams will get knocked out a couple days later.
And even the winner of the play-in game will be at a disadvantage.
They'll probably have used their ace to advance, which means the top seed probably won't have to deal with that pitcher until Game 3. In a series that is only five games long, that's a huge advantage for a team that's already got home field on its side.
What MLB should have done is adopted a style similar to the NFL's. Six playoff teams from both leagues, with the top two getting first-round byes.
Make the first round three games and keep the other three rounds the same (five-seven-seven). At least under this scenario, every team is guaranteed a playoff home game, and the randomness of single game is somewhat neutralized by needing to lose twice before elimination.
The only problem would be time. Baseball has already flirted with early November finishes. But instead of extending the season into fall, they should chop off a portion of spring training.
Do teams really need more than a month to prepare? Probably not.
Start the season in late March, which should leave the playoff timing relatively unchanged at the back end. While teams like Cleveland, Colorado and Minnesota might have a road-heavy schedule to start, the front offices won't be complaining about extra summer homestands.
Commissioner Bud Selig has been notoriously slow to react when it comes to major decisions, so it's good to see he's attempting to fix the playoff problem. It's far from perfect, but better than nothing.
Hopefully next season's playoffs are just a test run on the road to bigger changes.