Tyler Palko and the Kansas City Chiefs: I Was Right All Along
November 22, 2011
Elsa/Getty Images
The title sounds arrogant.  It is.  As one of the only Matt Cassel supporters left, I knew, and I wrote, that it would be a disaster in New England.
That's not earth-shattering.  Most of us knew that the Chiefs had little chance to win the game.
The shocking part to me was the incredible support that the Chiefs received in unveiling Palkos.  Chances are you'll get a chance to see their other QB as well, Rick Stanzi.
What's most frustrating to me, as a Chiefs fan, is that I have been clamoring for the Chiefs to run that type of offense that they did tonight, with Cassel.
No-huddle, a few "wild-cats," quick passes, fast offense, lots of first and second-down passes.  If Tyler Palko can make it work, so can Matt Cassel.
The Chiefs operated as if they had "nothing to lose."  They don't.
In addition, I'm sure we were all impressed with the defense the Chiefs showed through the first quarter, and into the second quarter.  Where has that been all year?
I admired Tyler Palko tonight.  I thought he did a great job under the circumstances.  He looked poised and controlled, for the most part.
The interception he threw in the end-zone was horrific, though.  My 11-year old daughter would not have thrown that ball. In all, Palko threw three picks.  Two were on poorly-thrown balls, and one, as I just mentioned, was on an inexplicable throw.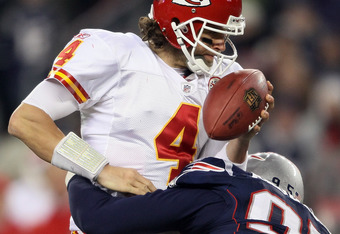 Elsa/Getty Images
He was also not helped by stupid penalties.  That, however, is what separates the good from the bad teams, as we saw tonight.
Barry Richardson was not as bad as I thought he would be tonight.  Palko only got sacked three times.  That's only .5 times above the season average for the Chiefs.
The Chiefs had 119 yards rushing, which is more than I thought they would.  They would have done better if not for a couple of penalties, though, especially the one on Jones  who, by the way, averaged six yards a carry.
The bottom line, however, is that they scored three points.
Palko actually had two more passing yards than Tom Brady.  Of course, Brady threw two touchdowns, while Palko threw none and had three interceptions.
I know, and you know, the Patriots are a better football team than the Chiefs. At full strength, though, I believe the Chiefs would have stayed in this game until the end.
I think Palko will get better as the year goes, especially since they put Cassel on IR.  He's the man now. 
I wish him well.