Atlanta Braves Trade Rumors: Why Yankees Are Perfect Suitors for Jair Jurrjens
November 23, 2011
Mike Zarrilli/Getty Images
Both the Atlanta Braves and the New York Yankees are in need of a large trade this offseason.
The Braves are looking for a shortstop, as well as a power-hitting outfielder. The Yankees are mainly looking for starting pitching.
It appears as though these two teams can fulfill each other's needs.
Here is the trade proposed in this article: Jair Jurrjens to the Yankees for Eduardo Nunez and Nick Swisher.
According to mlbtraderumors.com, the Braves have taken interest in a possible trade for Yankees shortstop Eduardo Nunez.
In 2010, throughout 464 at bats in triple-A, Nunez hit .289.
Also, in 359 at bats in the major leagues during the past two seasons, he hit .267.
His defense, however, is not impressive.
In his short time in the major leagues last season Nunez managed to commit 20 errors.
A large issue for the Braves when finding a shortstop is that they are looking for a very short-term deal.
It is likely to be only one more year before the Braves' shortstop prospect, either Tyler Pastornicky or Andrelton Simmons, is able to take over the starting role.
The good part about Nunez' poor defense is that it couldn't hurt much to move him to left field once someone else wants to take the shortstop position.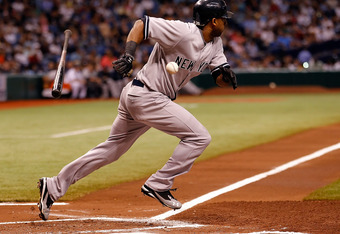 J. Meric/Getty Images
The player the Yankees would receive in this hypothetical offer is Jair Jurrjens, who was one of the best pitchers in baseball last season before he suffered from injuries.
He was 13-6 with a 2.96 ERA last season.
Jurrjens is needed by the Yankees because they lack starting pitching depth, and he would be a great improvement to their starting rotation.
The Braves should be willing to give up Jurrjens, because even though he has great potential, their farm system has more than enough pitching prospects to fill the 2012 starting rotation.
Of course, for the Yankees to acquire Jurrjens from the Braves, it would take more than Eduardo Nunez.
If the Yankees are willing to trade away Nick Swisher, this deal could work perfectly.
Swisher has played mainly in right field, but throughout his eight-season career, he has played 117 games in left.
Last season, he had a batting average of .260, and hit 23 home runs and 85 RBI.
This would be an improvement over the Braves' poor offense from the outfield in the past.
Swisher is in the final year of his contract, so if Nunez was to be moved to left field, he would get out just in time.
This deal would give both teams what they are looking for.
Neither team would be hurt much by their loss, and from what they would acquire, both would be greatly improved.