NFL Fanbases That No NFL Player Actually Wants to Play for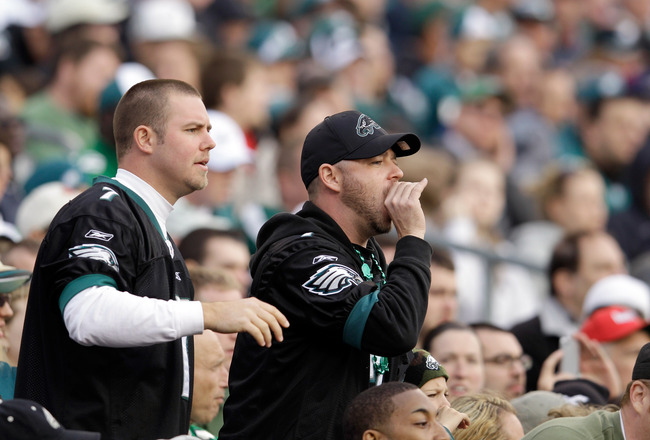 Rob Carr/Getty Images
The NFL is full of polarizing fanbases. There are some fans that not only love and support their teams but also stick with them through thick and thin. On the other hand, there are fan bases that will turn on their team and players in a heartbeat.
In addition to both the crazed and sane fanbases in the NFL, there are fan bases who care way too much about their team and fan bases who don't care nearly enough.
No player will ever admit it, but there are certain teams in the NFL that no one wants to play for. There are without a doubt teams that every NFL rookie hopes and prays he will not be picked by in the NFL draft.
Here is a list of NFL fan bases that make players think:
"I can't wait until I'm a free agent."
No. 5: Jacksonville Jaguars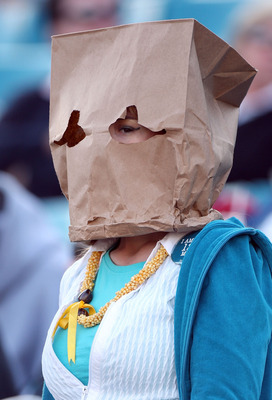 Sam Greenwood/Getty Images
The Jacksonville Jaguars don't have a lot going for them. They just lost to the lowly Cleveland Browns and they still can't find ways to fill their stands, even with the NFL's fourth-ranked passing defense, 12th-ranked rushing attack and an exciting rookie quarterback.
To avoid their games being "blacked-out" in the Jacksonville area, the Jaguars, through online coupon company Groupon, started to offer tickets to fans at 75 percent off the normal price. If that deal wasn't sweet enough, it also included a ticket for a free firehouse sub.
While that tactic worked to lift the looming blackouts, the Jaguars still can't fill their stands.
The one hope for the Jaguars was to draft Mr. Florida himself, Tim Tebow, and when the Jaguars didn't do that their fans flat out gave up on them. Jaguar's fans are by far the least committed fan base in all of the NFL.
Here's hoping the Jaguars figure the whole selling tickets and avoiding blackouts thing out and turn their franchise around. Until then they will have the fifth spot reserved for them on this list.
No. 4: Miami Dolphins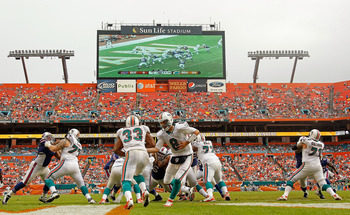 Mike Ehrmann/Getty Images
I spy with my green eye, something that is orange. If you guessed hundreds of empty seats in Miami's Sun Life Stadium, you're right!
Here is another fanbase that just doesn't seem to care about their NFL team. Year in and year out the Miami Dolphins have thousands upon thousands of empty seats for all of their games. While that is in large part due to the fact that the Dolphins have been terrible recently, it still doesn't make it okay for their fans to stop supporting the team.
Dolphins fans are still waiting for that elusive NFL championship that not even QB Dan Marino could bring them. In the 12 years since Dan Marino's retirement, the Dolphins have cycled through 11 mediocre-at-best starting quarterbacks, which hasn't necessarily helped invigorate their fans.
Dolphins fans are still waiting for the next Dan Marino. Until they learn to lose every game of an NFL season, instead of just 10 or 11, the Dolphins won't be able to get the quarterback they need and will have one of the worst fanbases in the NFL.
No. 3: Buffalo Bills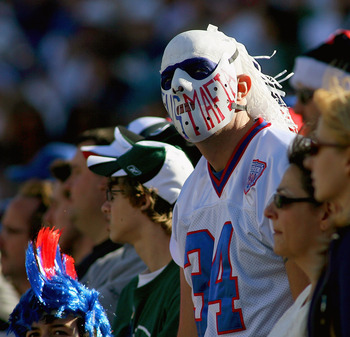 Rick Stewart/Getty Images
What better way to demoralize a fanbase than make it to four straight Super Bowls only to lose each and every one of them. Oh, did I forget to mention in the 17 years since then the Buffalo Bills have only recorded five winning seasons?
Talk about a fanbase that is down and out.
If all that losing wasn't enough to break the hearts of Bills fans nationwide, the Bills, after a surprising 4-2 start to the season signed extremely overrated QB Ryan Fitzpatrick to a six-year, $59 million extension. That contract extension all but seals the Bills' nosedive into mediocrity for the next six years.
The Bills are now a very underwhelming 5-5, dropping their last three games by a combined total of 77 points.
There isn't much to be excited about in Buffalo, with the overrated Fitzpatrick, aging RB Fred Jackson and immature WR Steve Johnson leading the way.
While the Bills' fans still go to games, there is no doubting that the anger and disappointment is boiling up to a point that will soon be too much to handle. Buffalo is right at the top of my fanbases-I-would-never-want-to-play-for list, and it should be at the top of yours too.
No. 2: Cleveland Browns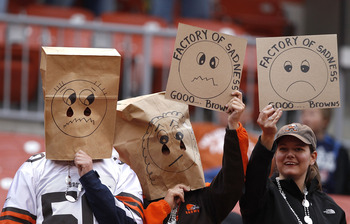 Matt Sullivan/Getty Images
When a player is drafted by the Cleveland Browns, the first two thoughts that run through his head are, "Crap I have to live in Cleveland now," and, "I can't wait until I'm a free agent."
The Browns have had only three winning seasons in the past 18 years. Because of that, Browns fans don't have a lot to be thankful for and they show it week in and week out.
Whether it is by wearing bags on their head every week or holding signs that say "Factory of Sadness," the Browns fans adamantly show their disapproval of their team. At least they still show up to the games, though.
The worst part for prospective players isn't that the Browns are terrible, it is the fact that because of the consistent losing the fans expect unrealistic things out of their players. Browns fans expect whoever is drafted or signed to their team to immediately turn the Browns into a legitimate contender.
When that doesn't happen, the fans immediately turn on their team.
Now that LeBron is out of Cleveland and banned from the city for his entire life, the championship hopes of the city itself rest solely on the shoulders of the Cleveland Browns. Bad news for Cleveland that that elusive championship is getting further and further away, and the fans know that.
1. Philadelphia Eagles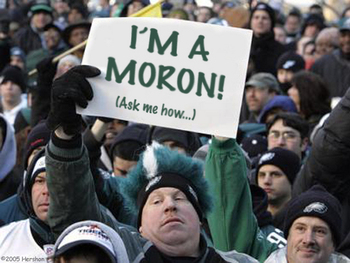 I think everyone can agree on the number one team on the list here, the Philadelphia Eagles. Saying that the Eagles fanbase is insane is a massive understatement.
Here are some words that describe Eagles fans: crazy, psychotic, unrealistic, fair-weather, demented and unbalanced.
If you want a good laugh on a Monday morning, just tune into any Philadelphia sports radio station. If the Eagles won their last game, all you will hear about is how much of a genius coach Andy Reed is, how amazing the Eagles are and how smart they were to trade QB Kevin Kolb and make Vick the future of the franchise.
If the Eagles lost their last game, you'll hear rants and raves about how QB Michael Vick is an absolute waste and how Andy Reed needs to be fired immediately.
Eagles fans will turn on you in a heartbeat. No matter what you do, whether you throw for a bazillion yards or run for hundreds of touchdowns, the Eagles will undoubtedly find some reason to hate on you. It's almost like they are just sitting back and waiting for players to mess up so they can throw them under the bus.
The Philadelphia Eagles fanbase is one that is polarizing to say the least. You either love them or hate them, and I think you know where I stand on that one.
There are times when you would be hard-pressed to find a more supportive fan base, but more often than not Eagles fans are supporting dismantling the franchise rather than supporting the team itself.
When will Philadelphia understand that there is more to life than sports? Probably never, and that is why the Eagles will forever sit at the top of this list.
Keep Reading