Week 11 NFL Super Quick Picks
November 20, 2011
Jonathan Daniel/Getty Images
Looking for last minute advice on who will each game? My picks are 98-45 on the season after going 10-6 last week. Also, I need to get my picks on record. Here are my super quick picks:
Tampa Bay @ Green Bay
The Packers are rolling and are unquestionably the best team in the NFL. The Bucs are slipping on the other hand. Green bay should win this one.
Carolina @ Detroit
Detroit had a poor game against Chicago last week, but this is still the same Lions team everyone feared at the beginning of the year. Also, Carolina still stinks. Look for Detroit to rebound.
Jacksonville @ Cleveland
This is a game between two poor teams. But there is something good about the Jaguars – their defense. Cleveland will have trouble moving the ball. A low scoring win for Jacksonville is likely.
Oakland @ Minnesota
This is a tough game to call as both teams are inconsistent. The Raiders offense should continue to improve with Carson Palmer getting more reps. It could be close or it could be a blowout. Oakland wins.
Buffalo @ Miami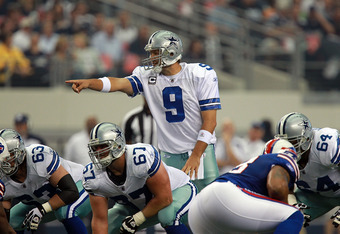 Ronald Martinez/Getty Images
I know Miami is a popular pick, but I really think that going down big early hurt the Bills because they couldn't use Fred Jackson. Look for Fred to get the ball early and often in a Buffalo win.
Dallas @ Washington
Washington is pretty bad. Dallas smoked Buffalo last week. Tony Romo is playing well and Demarco Murray has been a revelation. The Cowboys win it pretty easily.
Cincinnati @ Baltimore               
Baltimore seems to beat good teams and then lose to bad teams. Cincinnati is a good team. Baltimore is the better team, but they should have beat Seattle last week too. I'm still going with the Ravens though.
Arizona @ San Francisco
A pretty bad team is on the road against a very good home team. How often do you go with the bad team in this case? Almost never. The 49ers should win without much trouble.
Seattle @ St. Louis
If Seattle was at home, I would pick them. But they aren't. Look for Stephen Jackson to get a healthy amount of carries as the Rams grind out a win at home.
Tennessee @ Atlanta
Tennessee is not a bad team. Atlanta is not a great team. Still, I like Atlanta. They are at home, and have played a much tougher schedule up to this point. Go with the Falcons here.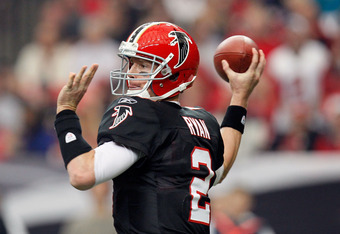 Kevin C. Cox/Getty Images
San Diego @ Chicago
At first glance, this seems like an obvious pick. Chicago is on fire right now. They are also at home. Conversely, the Chargers are underachieving. However, it wouldn't be surprising for the Chargers to randomly play well and the Bears to have a terrible game. Look for a San Diego upset victory.
Philadelphia @ New York Giants
No Mike Vick this game. The Giants have both a good offense and a good defense. If Vick was playing I would be tempted to take the Eagles, but he isn't. The Giants should win.
Kansas City @ New England
To beat the Patriots, you have to pass the ball and score a good number of points. I don't see Tyler Palko doing that to Bill Bellicheck. The Patriots are the easiest call of the week.