LeSean McCoy Takes Eagles' Fans on a Trip Down Memory Lane
November 18, 2011
When it comes to memory, everyone retains traces of their "first"—their first love, their first car, their first job—so it's no different for one to remember their first favorite running back. 
My first was Brian Westbrook. Does anyone remember him? He used to be one of the most dynamic and versatile football players of his time. He averaged more than eighteen carries a game for only one season (2007, 18.5), yet could beat opponents in so many ways. 

Westbrook was every defensive coordinator's nightmare. He found holes in between the tackles, he would motion out the backfield and line up in the slot, he returned kicks, he returned punts, he used to be the most dangerous recipient of the screen pass and he was also tremendous at pass protection.
As a third-round pick in 2002, Westbrook remains Philadelphia's career leader in yards from scrimmage (9,785) and should be remembered as one of the greatest Eagles ever; however, his presence and influence have almost been erased thanks to the breakout season of LeSean McCoy.
Don't get me wrong; as an Eagles fan I am absolutely thrilled about McCoy, but watching Westbrook struggle with injuries and 30-year-old-itis makes me worry about our current star. Both backs are comparable in size, style and scheme—McCoy's listed at 5'11", 208, while Westbrook's listed at 5'10", 203. 

Each back is a make-you-miss expert and if you look around, those types of backs just don't survive too long in a featured role (Chris Johnson, Knowshon Moreno, Darren McFadden, DeAngelo Williams, Jahvid Best, Ahmad Bradshaw, Felix Jones, Reggie Bush). The only current exception is Fred Jackson, who is having a career year at the age of 30, but is basically in his fourth season. 
Westbrook and McCoy both started off as backups in their rookie seasons and became the unquestioned featured back by their third. They are both victims of Andy Reid and Marty Mornhinweg's pass-oriented offense, where a mobile quarterback always threatens to steal carries.

I hate career projections, especially for running backs because of the numerous variables that threaten consistency, but I am not opposed to comparing season projections. 
For sample size sake, let's look at 2004 to 2008—the five years Westbrook was in his prime.
The 2004 campaign not only marked the year Westbrook was finally featured, but also the arrival of Terrell Owens. This is important because McCoy currently has explosive playmakers at each skill position, while Owens was the only Eagles wide receiver or tight end that ever made a Pro Bowl during this time.
Westbrook's stats over this five-year period:
1084 rushes, 4,915 yards, 4.5 ypc, 29 RuTDs
But of course, what separated Westbrook from other running backs was his ability as a receiver:
355 catches, 3,191 yards, 8.98 ypcatch, 24 ReTDs
Total five-year stats: 1,439 touches, 8,106 yards, 5.63 ypt, 53 Total TDs
Single season averages from '04-'08:  287.8 touches, 1,621.2 yards, 5.60 ypt, 10.6 Total TDs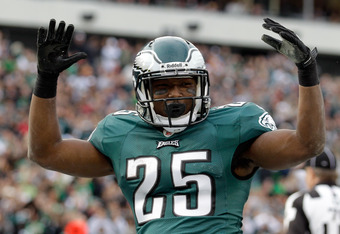 Rob Carr/Getty Images
While these numbers are pretty damn impressive, the knock on Westbrook is that he never finished a full schedule and averaged 14 (rounding up from 13.8) games in each season of his prime.
Westbrook's averages per game from '04 – '08: 
20.56 touches, 115.8 yards from scrimmage, 5.63 ypt
McCoy has been fortunate enough so far to have never missed a game  due to injury, though he did sit out Week 17 in 2010. 
McCoy's 2011 on-pace stats:
Rush: 293.3 att, 1,613 yards, 18 RuTDs
Receiving: 55 rec, 346 yards, 4 ReTDs
Total: 348 touches, 1,960 yards, 22 TDs, 5.63 ypt
While it's unlikely that McCoy will continue to score a touchdown in every game, his stats are comparable to Westbrook's career 2007 (28 years old) season:
Total: 368 touches, 2,104 yards, 12 TDs, 5.72 ypt
So what do these stats and projections really mean?
To be honest, I don't really know. It just goes to show how easily McCoy makes you forget.