Hope in Denver: The Reason for the Broncos Resurgence
November 20, 2011
Bart Young/Getty Images
The Denver Broncos have won three in a row and four of their last five. They have put their name back into the mix in the AFC West, and have given a legion of fans something to be happy about.
They have one man to thank for that.
Von Miller.
Since being selected with the second overall pick in the 2011 draft, Miller has been a revelation. He flies around the field and seems to always be around the ball. On the season, he's made 48 tackles, six stuffs and has 9.5 sacks to go along with three forced fumbles.
Over the Broncos' last five games, Miller has 23 tackles, 4.5 sacks and a forced fumble. During that stretch, the Broncos defense has kept opponents under 16 points in three games.
While all the media attention is being placed on Tim Tebow, Miller and the Broncos' defense gets lost in the shuffle. Their drastic improvement from last year has fueled the Broncos' run, and have kept them in games when the offense sputters. 
When the Broncos' offense went three-and-out on eight of their first ten possessions on Thursday against the Jets, the Broncos' D didn't bend.
When Tebow completed two passes and only accounted for 112 total yards against Kansas City, nobody paid attention to Miller and the Broncos' defense.
Credit to Tim Tebow for bringing the Broncos back to victory in a couple of those games—but don't forget about the defense that kept them in it.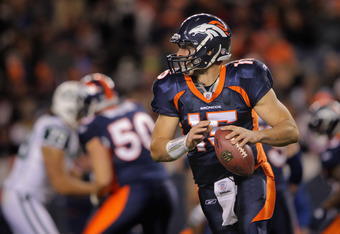 Doug Pensinger/Getty Images
This year's unit, led by Miller, is nowhere close to the same inept group that the Broncos trotted onto the field last season.
They currently rank 17th in the NFL in yards allowed per game, which is vastly improved from ranking dead last during the 2010 season. They're 15th in rushing yards allowed at 115 per game, which is a dramatic improvement from ranking 31st last season with 154.6 yards allowed on the ground per game.
They're also causing more turnovers, coming in at 10th in the NFL in forced fumbles after ranking 19th last season. Lastly, they rank third in the NFL in sacks, with 27. That's already four more than they had all of last season. 
For all the hype around Tebow, Denver's offense is still 27th in the NFL in total yards, with only 309 per game. Some of their worst offensive performances have actually come in the last five weeks.
This week against the Jets, they had 229 total yards of offense. They had 313 yards against KC, 312 against Detroit and 308 against Miami—all of which puts them in the bottom third of the NFL in yardage output.
As the season continues and the Broncos continue to drive towards a playoff spot, their defense will need to continue to step up.
As they've proven over the last five weeks, as Miller and the defense goes, the Broncos go.