MLB: Thoughts on New Changes from a Baseball Purist
November 18, 2011
Rewind back, past the heart-pounding World Series that we had this year, and think to September 28th. The day we saw two monumental collapses and two incomprehensible comebacks come to fruition. Personally, I look at this day and believe it is one that I will tell my future son (who will be a baseball geek) with great excitement.
Now, come back to yesterday, when Bud Selig announced that there will be a wild card added in both leagues, where the two wild cards would play each other in a sudden death, one-game playoff. No different from any other major decision, there are pros and cons to this move and there are two ways I look at it:
Thought No. 1 (Con)

With the addition of this extra wild card, I think we will miss out on what we saw at the end of the season. Imagine those dramatics with the implementations that were made yesterday. Let's look specifically at the standings of the American League:
AL Wild Card Standings:
Tampa Bay Rays        --
Boston Red Sox         1 GB
LA Angels                   5 GB
With the way things worked out this year, the last week of season would have been a forgone conclusion. You could say the Angels had a chance mathematically, but you would have been delusional to think they would advance. The very fact of the matter is the scenario we saw on the last game of the season becomes just another day of baseball, and we miss out on the best regular season day that this generation has ever seen.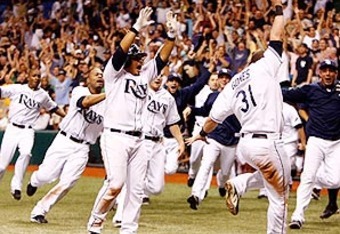 On the contrary, I would like to see a sudden death game between the Rays and Red Sox furthering a division rivalry, but one game does not a season make my friends. That being said, to a fan like myself, I would love to see my team get in that one game playoff and test whether they are deserving of a shot in the playoffs. 
My only other reservation is this scenario: What if you have a team, let's say the Red Sox or Rays, that are bar none, head and shoulders above their competition. For the sake of argument, what if you have a Rays team that is 10 games up on a Red Sox team that is in place for that second wild card. I realize I am essentially grasping at straws here, but I hate the idea that said team that is 10 games back throws their ace out and musters up enough runs to beat the superior team.
Maybe that's just the price of competition but going forward, outside of the wild-card round, I want to see the better team. The fact of the matter is, a team might just have a bad game. If you think about it, it could come down to who's pitching on the day of the sudden death game and, just by happenstance, an undeserving team falls into a win. That's not what I want to see. We want to see the best of the best. 
Thought No. 2 (Pro)
Being a senior in college, I belong to a generation that only knows the one wild card format. I think there are a lot of people my age that don't even realize that, before the strike in 1994, there were just two divisions in each league, with the winners playing each other.
It was so important to win the division because it was the only way you could make the playoffs. It developed fierce rivalries, some that have become obsolete since (think back to Royals vs. Yankees). I am 100 percent in support of placing importance on winning the division. While it is not the same as it once was back in the 80's, teams will now realize that winning the division is vital, as they don't want to put their fate into one nine-inning game.
This argument is no different then the ones when playoff expansion first took place. When they expanded the playoff system from two teams to four teams, people were worried that they would never see years like 1967 again (which is regarded as one of the best seasons ever).Then, in 1994, people were worried about missing out on scenarios like the Bucky Dent game. The point is that people have worried about this situation before and it turned out to be fantastic. I do believe we will get used to the format as baseball fans, and we will enjoy it.
My last problem with playoff expansion is the slippery slope it brings. My fear is that the league wants to expand further into the playoffs. Then we reach a place we don't want to get to, where making it to October becomes less of a feat and more watered down.
Now, as for some of the other, more minor issues:
The Astros Move to the A.L. West
This was one of those glaringly obvious things that needed to be done and was agreed upon. It made no sense to why the A.L. West was made up of just four teams and the N.L. Central had six. This deal makes the most sense geographically, and is better for business. It also sets up a natural rivalry in the great state of Texas, making it a very intriguing division that I think the state of Texas will eat up, as well as many other baseball fans. I could see it as a rivalry both on the field and in the free agent market. They may not be the largest markets, but never underestimate the power of Texas pride. 
Elongated Interleague Play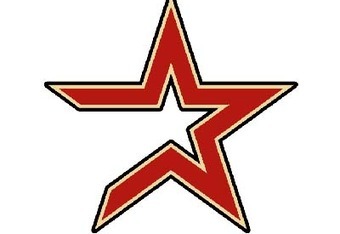 I really hope that this is a step in the direction of getting rid of the designated hitter. Say what you want about it, but even as a fan of a team in the American League, I don't like it. When you have pitchers batting, there becomes a chess match that becomes a game within a game. The World Series this year was a prime example and you could see the importance shine through when the managers both made questionable decisions having to do with their pitchers coming to the plate.
I have always enjoyed interleague play, it's always a nice change of pace in the middle of the year, and I think I will enjoy a few more match-ups stretched out throughout the year. Maybe they will take the place of a few divisional games, adding more drama to the division race and excitement at the beginning of the season.
I want to finish by recognizing the MLB and the MLBPA for not making this labor negotiation long and drawn out like we have seen in the past seven months from the NFL and NBA. I know the issues weren't the same, but they have sealed the deal in a short amount of time. Hopefully this will set an example for the NHL, so their contract negotiations don't get dragged out. Overall, I commend Bud Selig and company for getting it done in a timely manner, and I already can't wait for Opening Day.