NFL Power Rankings: Teams Sure to Continue Failing
November 15, 2011
Mike Ehrmann/Getty Images
In the NFL, playoff positioning is of the utmost importance, and these three teams will see their postseason hopes diminished even further in Week 11.
Now that we're past the halfway point, being outside of the top two in your division is a serious issue. These teams are all in a slide, with little to brag about in the last few weeks.
Here are three teams whose playoffs hopes will take another hit on Sunday.
Buffalo Bills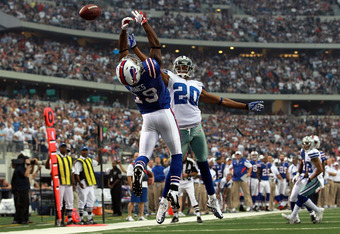 Ronald Martinez/Getty Images
The Buffalo Bills were 3-0 and took a 17-3 lead into halftime in Cincinnati.
The Bengals rallied in the second half, scoring 10 points in the fourth quarter to upend the Bills and send them into a tailspin. The Bills rebounded with a win over the Philadelphia Eagles before losing three of their last four.
The Bills travel to Miami on Sunday to play the Dolphins, winners of two straight. The Dolphins have a rhythm on offense and will score enough points to send the Bills to .500.
Washington Redskins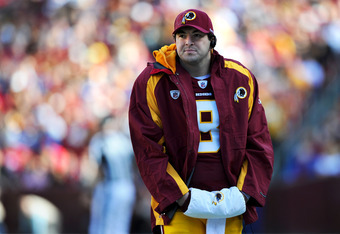 Patrick Smith/Getty Images
The Washington Redskins were 3-1 with a game against the 1-4 Eagles next on their schedule.
Not only did they lose to Philadelphia, but the Redskins have dropped five straight to go from first to worst. The five-game skid includes losses to the Carolina Panthers and Dolphins, who are a combined 4-14 this year.
The Redskins' issues at quarterback have been completely exposed and their running game has deserted them. The Skins match up with the Dallas Cowboys this week, who are coming off a 44-7 clubbing of the Bills.
Expect the Redskins to drop to 3-7, losing any hope of making the postseason.
Tampa Bay Buccaneers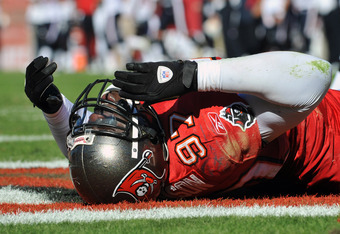 Al Messerschmidt/Getty Images
The Tampa Bay Buccaneers were 4-2 entering a Week 7 game with the Chicago Bears.
The Bucs were handled by the Bears, although they only lost by six. Losses to the New Orleans Saints and Houston Texans have exposed some serious problems in Tampa Bay.
The Bucs, however, are a good enough team to rebound—that is, if they weren't playing the Green Bay Packers.
The Packers are winning and getting better by the week, which makes for a deathly combo for a team traveling to Lambeau Field.
Tom Loughrey's Week 11 NFL Power Rankings 
1. Green Bay Packers
2. San Francisco 49ers
3. Pittsburgh Steelers
4. Houston Texans
5. New York Giants
6. New England Patriots
7. New Orleans Saints
8. Dallas Cowboys
9. Baltimore Ravens
10. New York Jets
11. Cincinnati Bengals
12. Chicago Bears
13. Detroit Lions
14. Atlanta Falcons
15. Oakland Raiders
16. Tennessee Titans
17. Buffalo Bills
18. Tampa Bay Buccaneers
19. Miami Dolphins
20. Philadelphia Eagles
21. San Diego Chargers
22. Denver Broncos
23. Seattle Seahawks
24. Arizona Cardinals
25. Kansas City Chiefs
26. Minnesota Vikings
27. Washington Redskins
28. Carolina Panthers
29. St. Louis Rams
30. Jacksonville Jaguars
31. Cleveland Browns
32. Indianapolis Colts