Grading Every Michael Vick Start of 2011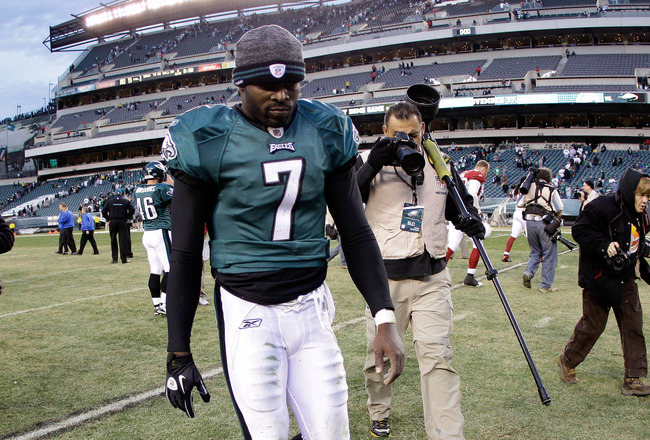 Rob Carr/Getty Images
Through nine games this season, Michael Vick has been wildly inconsistent, and his performances have ranged from Pro Bowl quality to downright awful.
His $100 million contract has been the subject of scrutiny and rightfully so, as the Philadelphia Eagles have far too much talent to be just a 3-6 team.
A breakdown of every one of Vick's starts can be found in the ensuing slides. Trust me when I say that as an Eagles fan, this didn't bring back a lot of fond memories.
Week 1: Philadelphia Eagles 31, St Louis Rams 13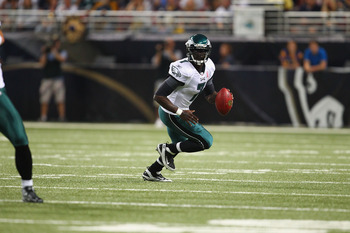 Dilip Vishwanat/Getty Images
This was Michael Vick's first game since signing a six-year, $100 million contract extension in the offseason.
The raw numbers for Vick were odd, as he completed just 43 percent of his passes and averaged just 5.84 yards per attempt, although he did throw two touchdowns to no interceptions.
The St. Louis Rams were a good team for Vick to play in Week 1, and his completion percentage reflects his shakiness to start the year. He also lost a fumble, but the Eagles were superior enough that the game's outcome was never really in doubt.
Vick's legs were crucial in the game, as he ran 11 times for 97 yards, averaging nearly nine yards per carry. In all, he accumulated 284 of the Eagles' 403 yards on offense.
Grade: B
Week 2: Atlanta Falcons 35, Philadelphia Eagles 31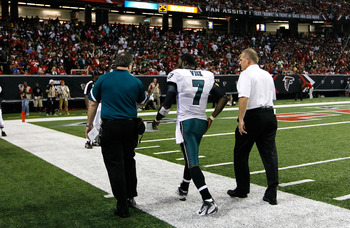 Kevin C. Cox/Getty Images
This was a big primetime game between two teams expected to be powerhouses in the NFC, and it also put Michael Vick back in the city that drafted him into the league 10 seasons prior.
Vick's numbers were strong—67.9 completion percentage, 8.64 yards per attempt, two touchdown passes to one interception and a 103.6 passer rating. He was held in check running the ball, as he picked up just 25 yards on the ground, but he led the Philadelphia Eagles to 24 points in a 18:02 span from the second quarter through the third quarter.
Vick suffered a concussion on a hit late in the game and had to be removed for second-year quarterback Mike Kafka. Vick's 267 total yards in less than three quarters of play grades well, as does the 24 points he helped the Eagles offense put up.
Grade: B+
Week 3: New York Giants 29, Philadelphia Eagles 16
Rob Carr/Getty Images
Last time these two teams met, Michael Vick pulled off a comeback for the ages, leading the Philadelphia Eagles to 28 unanswered points in the final 7:28 of the game to steal a victory from almost certain defeat.
In this game, his status leading up to the game was in doubt, but he passed his concussion tests and was medically cleared to play. Vick led the Eagles back from an early 14-point deficit, before he suffered a hand injury early in the fourth quarter and had to leave with the Eagles still clinging to a two-point lead.
The injury was initially revealed to be a broken hand but turned out to be nothing more than a hand contusion that wouldn't keep Vick out the following week. Mike Kafka came in and threw a pair of interceptions in eight minutes of play, and the Eagles couldn't come back without their Pro Bowl quarterback.
Vick's passing stats for the game were mediocre—16 of 23 for 176 yards, no touchdowns and an interception for a 73.8 passer rating. He ran the ball seven times for 31 yards, averaging a solid 4.4 per carry but a far cry from the near-seven he put up per attempt last year.
Grade: C-
Week 4: San Francisco 49ers 24, Philadelphia Eagles 23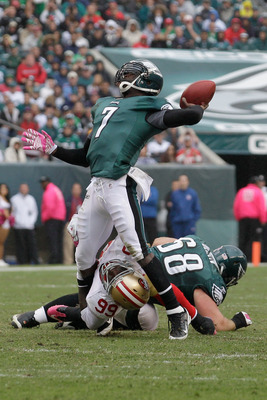 Rob Carr/Getty Images
This game goes into the books as a loss, but Michael Vick played one of the finest performances of his career.
Vick threw for a personal-best 416 yards, going 30 of 46 passing with two touchdowns and an interception, posting a 99.5 passer rating. He also ran the ball eight times for 75 yards, averaging nearly 10 yards per rush, accounting for a whopping 491 total yards for the game.
The fact that Vick played this one is impressive considering the hand injury he suffered the following week. In this game, Vick dislocated a finger, but it wasn't enough for him to even miss a snap.
The fact that the Philadelphia Eagles went on to blow this lead shouldn't rest on Vick's shoulders. He was in the process of leading a game-winning drive in the final minutes of the game when Jeremy Maclin fumbled the ball away.
Grade: A-
Week 5: Buffalo Bills 31, Philadelphia Eagles 24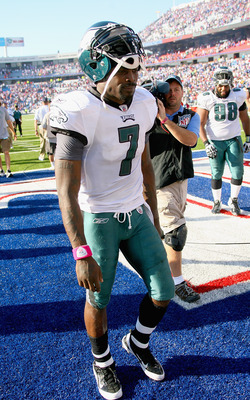 Rick Stewart/Getty Images
It's difficult to fully evaluate Michael Vick's performance in this game. He completed 65 percent of his passes, threw for 315 yards and two touchdowns, and ran for 90 more yards on six carries, including a 53-yard run.
He also led the Philadelphia Eagles to 10 fourth-quarter points, nearly pulling off a miraculous comeback before a pass in the arms of Jason Avant was taken out and picked off by Nick Barnett. Vick was credited with four interceptions on the game. Not all were his fault—in fact, he received an unusually high amount of pressure, but as the quarterback, he gets the credit for the turnovers whether they were his fault or not.
The four interceptions set a new career-worst for Vick, and the new 66.1 passer rating was his lowest game total at that point as an Eagle.
Grade: C-
Week 6: Philadelphia Eagles 20, Washington Redskins 13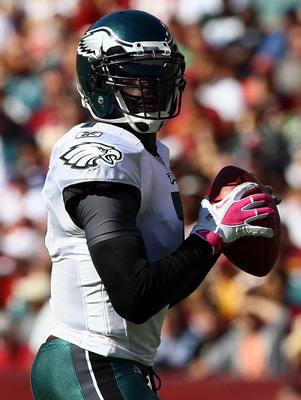 Win McNamee/Getty Images
Considering the Philadelphia Eagles had to reshuffle their offensive line for this game, Michael Vick's 79.6 passer rating wasn't as mediocre as it seems.
Vick got the Eagles back on track with a win, halting the team's four-game losing streak. He threw for 237 yards and a touchdown in the air, and added 54 yards on the ground.
He did turn the ball over once on an interception, but in all it was a solid performance, considering the Eagles really needed to come away with a victory.
Grade: B
Week 7: Philadelphia Eagles 34, Dallas Cowboys 7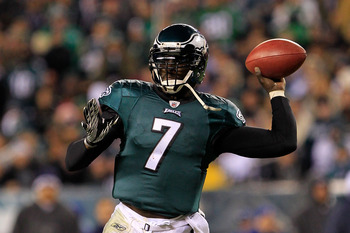 Chris Trotman/Getty Images
This was easily Michael Vick's best performance of the season. He thoroughly outplayed Rob Ryan's top-ranked defense, leading the Philadelphia Eagles to 34 points in a rout of the division rival Dallas Cowboys.
Vick completed 21 of 28 passes for 279 yards, two touchdowns and no interceptions. He posted a passer rating of 129.9, his second-best as an Eagle.
Vick also ran seven times for 50 yards and momentarily helped get the Eagles back into the NFC East division race.
Grade: A+
Week 8: Chicago Bears 30, Philadelphia Eagles 24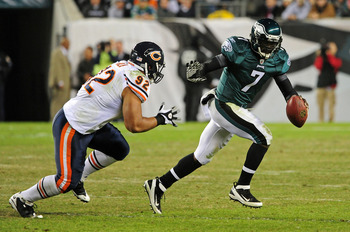 Scott Cunningham/Getty Images
This was an absolute must-win for the Philadelphia Eagles, and Michael Vick turned in a subpar performance.
Vick's key numbers were all below average: 55.3 completion percentage, 5.61 yards per attempt, and a 60.5 passer rating. He had an opportunity to lead the Eagles on a game-winning drive late in the fourth quarter with the team down by six points, and threw a high pass to Jeremy Maclin on a critical 4th-and-10.
Grade: D
Week 9: Arizona Cardinals 21, Philadelphia Eagles 17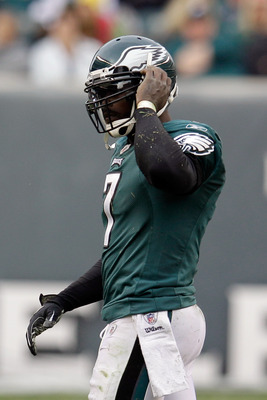 Rob Carr/Getty Images
The Philadelphia Eagles set an NFL record by blowing a fourth quarter lead in a home game for the fourth time in one season.
Michael Vick's performance didn't give the defense much breathing room though. Vick led the Eagles to just 10 points (seven of the 17 scored in all came courtesy of an Asante Samuel interception touchdown). He threw for just 128 yards and two interceptions, posting an abysmal 32.5 passer rating.
Word came out afterwards that Vick had broken two of his ribs on the second play of the game and played through the pain. While the toughness is impressive, football players are paid to perform, and Vick missed open targets all game.
Grade: F
Keep Reading

Philadelphia Eagles: Like this team?