Knowshon Moreno Injury Update: Moreno Is Done for the Season
November 14, 2011
Jamie Squire/Getty Images
The Denver Broncos have announced today that Knowshon Moreno will miss the remainder of the season with a torn ACL.
The team believed the injury that removed Moreno from Sunday's game early was nothing more than a mild knee strain. Unfortunately, as the story always goes for Moreno, the injury was much more significant.
Moreno has officially been ruled out for the season, and Denver has activated RB Jeremiah Johnson from the practice squad.
The big question for Denver is how serious the injury to star RB Willis McGahee's hamstring is. At this point, little has been released by the team as to the extent of McGahee's injury and his status for Denver's game Thursday night against the New York Jets. What head coach John Fox has revealed is that Denver is planning to make a move.
Both Lance Ball, who filled in for Moreno's and McGahee's absence on Sunday, and Johnson showed some terrific skills in Training Camp and Preseason. However, it wasn't enough to keep either of them relevant to the team.
Ball ran for 96 yards on 30 carries on Sunday, so it's clear that he's capable of running against a poor rushing defense. How he and Johnson would fare against a better team is yet to be determined.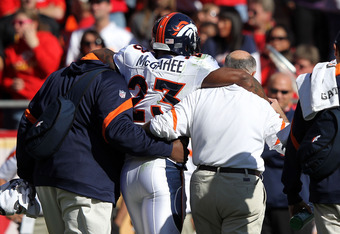 Jamie Squire/Getty Images
If McGahee gets similar news regarding his most recent injury setback, the Broncos could see their suddenly exciting season see a very quick turn for the worst.
Denver may actually be playoff-bound in 2011, even as the AFC West Division Champion.
How this organization and front office handles the newest string of injuries—of which they are all too familiar with in 2011—will be the deciding factor in whether their season continues the way they have planned.