Lions vs. Bears: Lack of Discipline Shows Detroit Deserves Dirtiest Team Label
November 14, 2011
Jonathan Daniel/Getty Images
The Lions have dropped only three games this season, and the theme has been consistent in each loss. A lack of control, a failed search for consistency and big errors from their biggest stars.
Against the 49ers, Jason Hanson missed a field goal in a six-point game, and Jim Schwartz nearly lost his mind over Jim Harbaugh's back slap and skip routine.
When the Falcons came into Ford Field and walked out with a win, they did it with help from a fumble recovery and 10 Detroit penalties, seven of which resulted in first downs in a game decided by just seven points.
And when the Chicago Bears laid a 37-13 beating on the Lions in Week 10, it came at the expense of four Matt Stafford interceptions (two of which were returned for scores), two Detroit lost fumbles and four Lions penalties, including three that turned into first downs.
It's not tough to figure out. When Detroit loses their tempo and gets thrown off their game, they make big mistakes, and with no running game to lean on, they don't have a solid strategy to protect a lead.
There are more than a few ways to define "dirty," and while most are using the term to describe Detroit's nasty demeanor, the title actually fits for another reason.
Dirty can also mean sloppy or unorganized. And that's where the label works. On Sunday we saw a team that was, at least, partially exposed. Their offensive strategy has devolved into playground heaves to Calvin Johnson and a running game that accomplishes nothing more than keeping Maurice Morris off of fantasy league waiver wires.
The defensive line, the unquestioned strength of the defense, is great when they have early success. When they're consistently getting into the backfield and forcing opponents to throw the ball on third down, they're top-tier. But when things aren't going as smoothly, they revert to a plan similar to the one employed by the offense.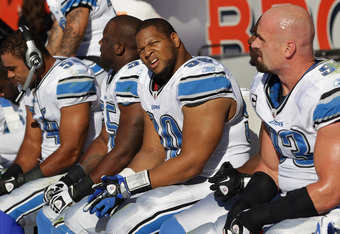 Doug Pensinger/Getty Images
They let emotion drive decision, and they play without loyalty to their responsibilities, opting instead to attempt a big hit. And they don't always seem to care whether the whistle has blown or the quarterback has already thrown the ball.
Clearly, that doesn't work. The Lions don't have the secondary talent to hide a bad performance from their front four, and when Ndamukong Suh & Co. find themselves with opponents' helmets in hand, it's usually in a losing effort. In fact, they averaged just 2.3 sacks per game against the 49ers, Falcons and Bears, a mark that would rank right in the middle of the NFL. Far from acceptable for a group that considers themselves among the league's elite.
The Lions are one of the most penalized teams in the league, and at first glance it's easy to stamp them as a devious and unnecessarily violent team. But "dirty" teams have won before, and Detroit's done that only once in their past four games.
It's not their acts that need cleaning up. It's their focus and understanding on the field.