MLB's Business-First Approach Keeps Kids from Enjoying Full Games
November 13, 2011
Ezra Shaw/Getty Images
When I was a young boy, growing up in New York City, and then later in Boston, I used to love to go to baseball games, first to see the Yankees, Brooklyn Dodgers, New York Giants and then the Boston Red Sox and Boston Braves play.
In those days, most of the games, if not all of them, were played in the afternoon. There were doubleheaders Sundays and Holidays, all for the price of one admission.
Many cities had what they called "Knot Hole Gangs" where kids could get a bleacher ticket for next to nothing.
Hot dogs, peanuts and a cold drink were your choices. THAT WAS REAL BASEBALL FOOD...Not the crap of today.
During the summer months when we were all off from school, we would go over to the ballpark during the week to see games...and guess what, the players would walk over to us as we hung around the field standing in the front row, give us autographs and other stuff.
They would even sign for us when they came out of the dressing room to go and get their vehicles.
That is all gone now as MLB has done whatever they can do to take the young boys and girls, out of the game, playing the vast majority of their games at night, and of course, every World Series game is at night, too.
For all intents and purposes, the sport that needs to woo the young fans back to the game is telling them to bug off, we don't need you anymore.....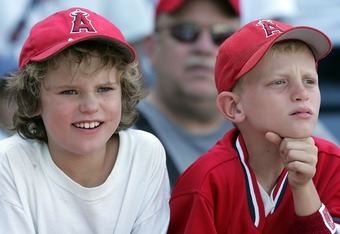 Lisa Blumenfeld/Getty Images
Now, Major League Baseball is all corporate controlled, it's for the big mucky mucks and any adult willing to pay obnoxious prices for tickets, sit hundreds of feet away from the playing area (the older ball parks made you feel like you were really a part of the game) and bother you with food such as sushi, Perrier water and salads.
Sure, you can still get a hot dog, for six bucks or more, and then when you are ready to chomp into it, you find it is either too cold or it has wrinkles on it from sitting in the pot since last night's game.
Sure, Daddy may take his son/daughter to an occasional game, at night, but even that is gone, for the most part when for a dad, wife and two kids to go to ONE baseball game, several hundred dollars are involved.
But it's those hot summer weekdays when kids used to go down to the ballpark. Those days are gone forever with night games, and the corporate greed of Major League Baseball and all the big corporate mucky mucks who pay for seats that on many occasions, go empty.
Those seats can, and should be, filled with the knot hole gang kids, kids like me and my friends were, and kids who, otherwise, would be spending those summer days on the streets and getting into trouble, one way or another.
Baseball, unfortunately, is hurting kids, of all ages, with their greed and their scheduling of so many night games.
And, it is sure to get even worse. What a pity. What a disgusting pity.